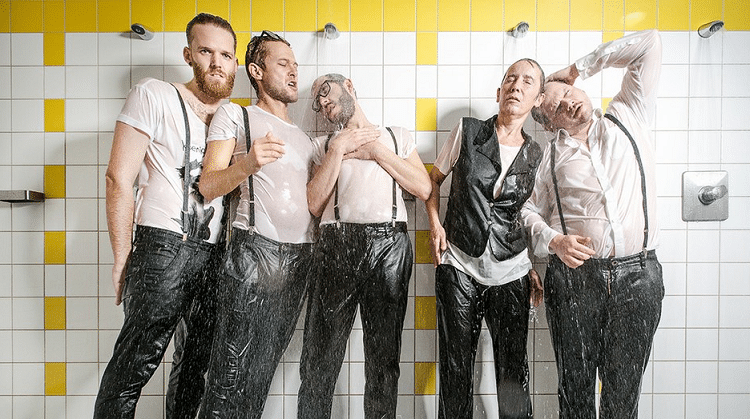 5/8ERL IN EHR'N have been making a name for themselves in Austria. And their newest and fifth album "Duft Der Männer"  (The Smell of Men) is destined to make the band and their "Wiener Soul"  (Vienna soul) sound even more well known. They continue to sound ever more like themselves. In other words, if there is one thing this quintet has accomplished, it was to create a brand new niche in the musical universe. A sound somewhere between soul, Wienerlied, and jazz.
As on all of their albums, 5/8erl in Ehr'n cover a broad spectrum of song forms and subject matter. From solemn ballads to political songs and groovy summer tunes about subjects ranging from first kisses to football and even bobos. Compared to the last two albums it is clear that "Duft der Männer" is more on the calm and contemplative side of things.
The album begins with a melancholic tone and that hated moment that every fan of open-air pools knows all to well. Closing time. No less soulful is "Kuss", a story from the first to the last kiss.
5/8erl in Ehr'n prove they have a sense of humour with "Campari Soda", a hymn to the summer cocktail. A trashy copy of italo-pop that makes one wonder just how often the singers Max Gaier and Bobby Slivoysky broke down in laughter while singing the Italian vocals. Those fluent in Italian will have realised that its less about cocktails and drunken fun as it is about a certain political agenda. The same can be said about "Fahnderl im Wind". A song about those Austrians who change their opinions so often they end up having none of their own.
BUFFON, STUMPF, KERN AND JESUS
"Cheesy Kern" might just be the Austrian summer hit 2017. It is easy to imagine people whistling along to the extremely accessible melody on the streets as well as in the concert halls. The story on top of the melody includes a comedic look at every kind of personality from famous football legends to Christian Kern and even Jesus Christ. The driving bass from Hannibal Scheutz and the laid back guitar of Miki Liebermann make the bits about the Federal Chancellor that much more likely to put a grin on the face of the politically inclined listener.
After "Geh Bitte Bobo", a song about the Viennese bohemian bourgeois who would be most likely to whistle along to "Cheesy Kern", the album ends as it began. Calm and thoughtful. "Sterne essen Kapitäne" is a dreamy ballad with a cryptic title that develops a strangely individual and wonderful groove. Songs like "Hob mi gern" and "Wann I di ned kennen würd" are dedicated to the exploration of interpersonal relationships and do it both musically and lyrically with an extreme love of detail.
5/8erl in Ehr'n have once again created an album that charmingly examines the Austrian soul while deftly combining the diverse musical influences of soul, jazz, Wienerlied and pop. In other words, Vienna Soul.
Sebastian J. Götzendorfer
5/8erl in Ehr'n live:
12.05. – Salzburg / Arge
13.05. – Salzburg / Arge
18.05. – Dornbirn / Spielboden
19.05. – Innsbruck / Treibhaus
20.05. – Innsbruck / Treibhaus
21.05. – München / Volkstheater
31.05. – Graz / Orpheum
01.06. – Linz / Posthof
09.06. – Wien / Arena Open Air
15.07. – Spitz a.d. Donau / Glatt & Verkehrt
28.07. – Regensburg / Klangfarbenfestival
29.07. – Vöcklabruck / OKH Open Air
11.08. – Bildein / Picture On
Links: