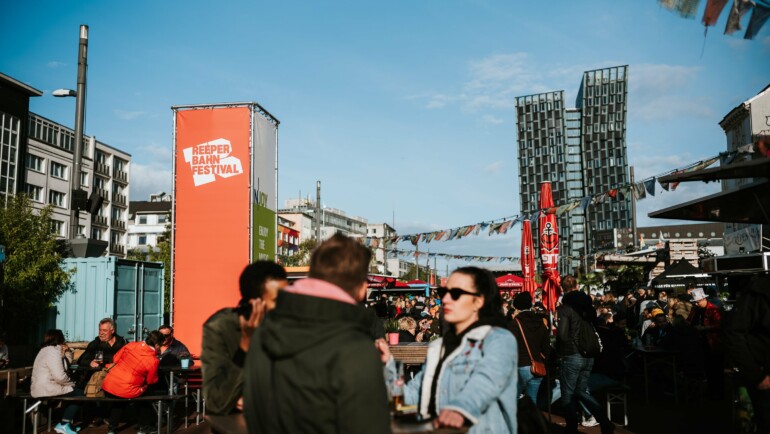 More than 25 shows and sessions by 17 Austrian artists, a delegation of more than 80 Austrian companies and one amazing festival experience – Reeperbahn Festival 2019 turned out to be one of the most exciting and fun as well as successful festival editions in recent years.
As a starting point of the festival experience, the Austrian Heartbeats Night brought more than 300 delegates and countless festival visitors to club Indra on Wednesday, September 18th. A networking reception and four showcases provided ample opportunity to get to know the movers and shakers of the Austrian music scene and see young Austrian talents perform.
At first, Anger brought the songs of their just-released debut Heart/Break (Phat Penguin) to Hamburg and proved that their unique take on contemporary pop can get any party going.
Oehl returned to the compact stage at Indra after joining Herbert Groenemeyer´s "Tumult" tour, with sincere and heartfelt songs and a noticeable joy in playing to the packed club. Their immediate connection with the audience left fans and chance spectators emotional and over-joyed after a dense 40 minute set.
Even after a 917xfm radio show and an acoustic session, Lisa Pac had more than enough energy left to finally get the crowd dancing. Her mix of sunny electro pop and R&B vibes turned out to be just right for a vibrant late night party mood.
Sieh dir diesen Beitrag auf Instagram an
Sketches on Duality already wowed audiences in the afternoon at an NDR Blue Backstage session, drawing comparisons to Gil Scott-Heron and A Tribe Called Quest. At Indra, the XA 2019 nominees closed the night with laid-back hip-hop grooves, sophisticated jazz arrangements and a sharp-witted performance by rapper Jahson The Scientist.
---
Links:
Reeperbahn Festival, Sept 18-21,2019
The next Reeperbahn Festival will take place from 16–19 September 2020. Conference Tickets for Reeperbahn Festival 2020 can be purchased online for €138.00 (plus VAT and a sales fee) at the Early Bird Rate until the end of the year.