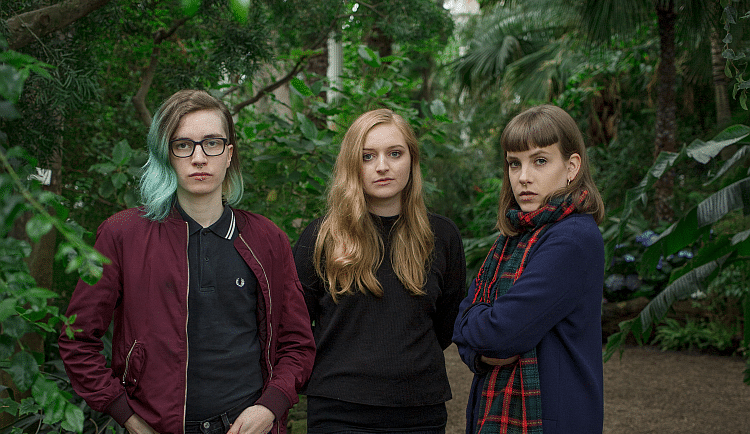 It doesn't really matter if it is grunge or not. The debut release from the Viennese trio AIVERY on Siluh Records is guaranteed to excite fans of rough, edgy, non-mainstream rock.
One thing can be said after a first listen to this album: You will have to look somewhere else for interchangeable, trivial, and uncritical music. On their full-length debut "Because", Aivery reveal themselves to be a band that doesn't worry about being hip and prefer instead to do their own incredibly cool, authentic, and unglamorous thing.
Franziska Schwarz (bass, vocals), Doris Zimmermann (drums) and Jasmin Rilke (guitar) – the three heads behind the Viennese band – aren't shy about their music preferences. Their songs, enriched with elements of punk and noise, are a celebration of the grunge of days long since past. In other words, this trio's songs get raw and edgy.
FAR FROM FASHIONABLE
Except that this happens in a somewhat different, more unconventional manner than you might expect. Aivery combine their powerful guitar riffs, multifaceted vocals, surging bass-lines and super heavy drum sound into something completely self-contained. A mangy form of grunge that is anything but classic or nostalgic.
That's primarily because these three musicians aren't afraid to break with the standard simple structures to explore the more technically challenging and musically complex. They skillfully play with contrasts and use dynamics and changing energy to create a suspense that grabs the listener from the very first second.
Aivery have delivered a debut album that is definitely more than just a talent-show. You can feel that there is more to this band, a nonconformist creative energy that – once let loose – develops into a wonderfully stirring listening experience.
Michael Ternai (translated from the German by David Dempsey)
Aivery on Tour
11.09. München, tba. (DE)
13.09. Leipzig, tba. (DE)
15.09. Internet Explorer, Berlin (DE)
16.09. Anna und Arthur, Lüneburg (DE)
17.09. Cafe Exzess, Frankfurt (DE)
18.09. Stuttgart, tba. (DE)
19.09. Jellyfish, Innsbruck
20.09. K4, Nürnberg (DE)
Links:
Aivery
Aivery (Facebook)
Siluh Records