The results are in! The jury has made its deliberations and the AME FOCUS MARKETING projects have been chosen. In April 2021, AUSTRIAN MUSIC EXPORT put out an open call for its first ever FOCUS MARKETING stipendium, to support domestic music creators (in all genres) with project funding to further develop their creative and professional work. Musicians, labels, publishers, management, agencies and other industry players were all invited to apply. Austrian Music Export, together with the esteemed jury of music professionals, are pleased to announce the eleven recipients, from whom we can all expect to see even more of in the near future.
Selected Projects 2021
Cari Cari is a DIY duo, consisting of Stephanie (Vocals, Drums & Didgeridoo) and Alexander (Vocals & Guitar). They are based in Europe, having lived in London, Hamburg & Vienna. The duo has been baptised "the lovechild of The Kills and The XX" (IndieShuffle) "with a pinch of Morricone" (FM4) and "the raw grit of Cat Power" (BestBefore). Their songs "White Line Fever" and "No War" were used in the Hollywood productions "Shameless" and "The Magicians" while their single 'Nothing's Older Than Yesterday' gave them some significant recognition in Austria, Germany and around Europe leading to excessive touring and performances at renowned festivals such as "The Great Escape" (UK), "Eurosonic Noorderslag" (NL) and "Nova Rock" (AT).
Catalytic Sound is a co-operative, in the truest sense, between artists and patrons. The musicians involved provide the diversity and depth of their individual discographies and record labels. Fans of the music, acting as the 'members' of the co-op, gain access to the huge range of these materials from one source. Catalytic Sound has the aim to find solutions that overcome the dwindling and conventional economic resources for musicians.
Moreover, the co-operative initiated the Catalytic Sound Festival 2020 which took place in Chicago. This year the project will continue and expand – each weekend in October 2021 there will be Catalytic Sound festivals in different cities around the world: Chicago, New York, Washington D.C, Amsterdam, Rotterdam, Haarlem, Trondheim and in Vienna. Calyctic Sound artists include: Susanna Gartmayer, Mats Gustafsson, Elisabeth Harnik, Didi Kern, Christof Kurzmann, Judith Schwarz, and more (TBA).
DIVES was formed in February of 2016 after Dora De Goederen, Tamara Leichtfried and Viktoria Kirner met at the Austrian Girls Rock Camp. The Viennese underground scene was immediately taken by their surf-ish sound. German SPEX magazine sees the band in one line with "indie heroes such as the Shop Assistants, Feelies […] with influences of bands such as La Sera or Waxahatchee". DIVES are contemporary and yet, there's an 80s vibe going on here, referencing artists like Altered Images but also the early Black Tambourine or La Luz. Their full-lenght debut album "Teenage Years Are Over" was released on 15 November 2019 via Siluh Records, followed by a tour in Germany and shows at Viva Sounds Gothenburg and Eurosonic Noorderslag 2020.
Although the local club culture has become somewhat static, it still can surprise in the formal aspect. No project can illustrate this more vividly than Elektro Guzzi. Playing the idea of ​​techno with the means of a classic line-up was first conceived as a joke. But those who have experienced Elektro Guzzi live, know about the energetic qualities of the trio. Not to mention the ludicrous image-sound-gap which is developed in their performances. In June 2021, they released their latest album "TRIP" and with it, a "turning point" in their 15-year journey. The "magic of the live set" has been captured on record, and the result is powerfully dance-worthy.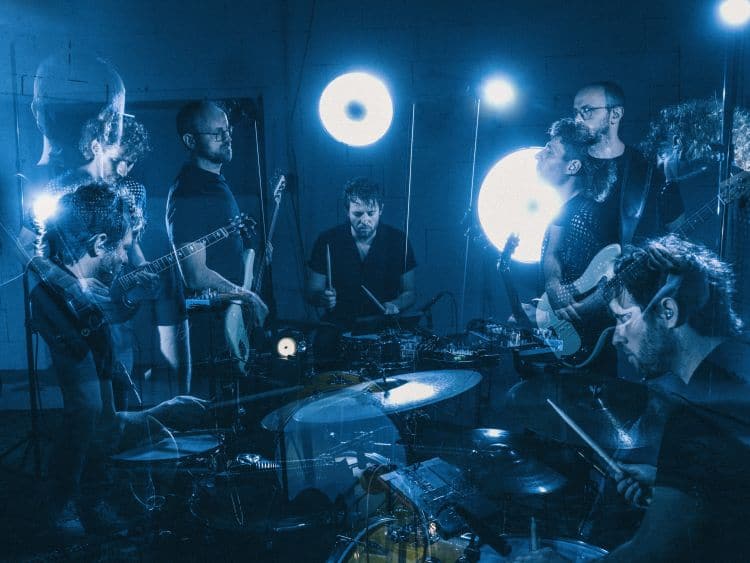 Katharina Klement is an Austrian composer, pianist and improviser who has earned her reputation as an active personality in the pulse of the independent new music and experimental scene in Vienna and abroad. She has a wealth of instrumental and electronic compositions, installations, crossover projects combining music and text, language and video. Her exemplary willingness to push the boundaries of exploration often contain a systematic rigour which precedes the indirect result of her improvisations and compositions, being a true voice in the pursuit of independent art. Within this, her ability to create an atmosphere of openness for interpretation, where musical creativity can thrive, plays a central role in her creative ethos.
She has numerous awards, grants and commissions and is heavily involved in international performances and concerts, including Festival Kaleidophon Ulrichsberg, "Hörgänge" Wien, Tage für Neue Musik Zürich, Festival Hörgänge Wien, Porgy & Bess Wien, Radiokulturhaus Wien, Festival Inventionen Berlin, Hotel Pupik Schrattenberg, Festival Midi-Alternativa Moskau, Donaufestival Krems, Festival Wien Modern, Artoteca Milano, "Roulette" New York.
The genre-bending, globetrotting artist hailing from Linz already has an impressive track record, with support by the likes of Fader and Nylon, as well as shows throughout Europe and the US, including festivals like Reeperbahn Festival, Primavera Festival, The Great Escape or SXSW. "My Fault", the first EP, was released as a free download in 2014, quickly followed by a tour with Bilderbuch. In 2017, Mavi Phoenix followed up with "Young Prophet" (LLT Records) and was nominated for the Amadeus Austrian Music Award. A string of well received singles followed, with Aventura becoming one of the most viral songs of 2017. In October 2018 Mavi Phoenix released the second EP "Young Prophet II". The latest album was released in 2020 and carries the title "Boys Toys" (LLT Records).
Pauls Jets first singles ("Üben Üben Üben", "Diese Villa ist verlassen" and "22703") are all hymns of a not so distant utopia and they have triggered an unanimous hype among the German music press like Musikexpress, Radio FM4, TAZ, laut.de and so forth. "The Austrian band of the moment" (Austrian newspaper "Der Standard") is more eclectic, frayed, youthful and anarchistic than its predecessors. The trio hovers between hushed euphoria and vague melancholy. Their debut album was released in March 2019 via Lotterlabel and was aptly titled "Alle Songs Bisher" ("All Songs So Far").
The Ralph Mothwurf Orchestra (RMO) is a 22-piece ensemble composed of high-profile instrumentalists rooted both in Jazz and Contemporary Music. Its musical interest lies in merging the traditions of contemporary Modernism and Jazz. The compositions, consequently, put together a soundscape keen on coherence and full of regard for both worlds. The pieces could be conceived of as high-voltage instrumental music with great improvisational forms. Crucial in putting together the ensemble was a considerable percentage of female instrumentalists in addition to balancing long-established with young professionals. Eight pieces written for and performed by the RMO were recorded in 2019 and released on the label "Edition Ö1 – Contemporary Jazz" in December 2020. Album: "ZELT".
Founded in 2013 by former students of the Performance Practice in Contemporary Music (PPCM) programme of the Klangforum Wien at the University of Music and Performing Arts in Graz, the Schallfeld Ensemble consists of musicians from eight countries. The repertoire relies primarily on young, aspiring composers, comprising both those known to the ensemble and others yet to be discovered. The repertoire includes chamber music compositions (live electronics are an integral component), collective improvisations, and pieces which highlight gestures and rhythmic elements. The ensemble has also drawn attention to itself with expanded sound settings in which attempts are made to establish a relationship between space and sound. Also offered are pedagogical and participatory projects for children, teens, and adults.
When you talk about Shake Stew, you are talking about one of the most exciting jazz formations in Austria at the moment. Lukas Kranzelbinder and his troupe, consisting of the top class musicians Mario Rom (trumpet), Johnny Schleiermacher (tenor saxophone), Manuel Mayr (bass), Niki Dolp, Mathias Koch (both drums and percussion), and new member, Astrid Wiesinger (alto saxophone), deftly create musical arcs of suspense. The critically acclaimed debut performance, "The Golden Fang" at the International Jazz Festival Saalfelden in 2016, and numerous subsequent concerts abroad (e.g. in Mexico, Morocco, Croatia and Germany) quickly made Lukas Kranzelbinder's septet an internationally sought-after formation. The Carinthian bandleader and double bassist represents a modern and highly explosive interpretation of jazz that is detached from all stylistic questions. Their latest album, "(A)live" was released in 2020. In 2021, they won the Deutscher Jazzpreis for "Band of the Year, International".
Yasmin Hafedh has secured her place among the most interesting and complex female MCs in the German-speaking region. One of the leading voices in poetry slams, she discovered her passion for this art form very early on; her interest in hip hop also led her to express herself through rap. The artist has performed for the past two years with a eight-member jazz band, Yasmo & die Klangkantine.
In her raps, Yasmin Hafedh conveys her critical, yet clever take on life, female perspective, feminism and social developments. After a number of singles and much-lauded festival performances, her ensemble released a full-length oeuvre, a perfect symbiosis of hip hop and jazz. Yasmin Hafedh co-curated Popfest Vienna 2019.
---
The Jury
Michel Attia (FM4), Thomas Heher (Comrades/Waves Vienna), Christoph Huber (Porgy & Bess), Ingrid Köhn (BMEIA), Katharina Seidler (Falter/FM4), Martin Seiwald (BMKÖS), Elke Tschaikner (Ö1), Andy Zahradnik (Media Control)
---
ABOUT FOCUS MARKETING
The FOCUS MARKETING project funding is a new pilot project of Austrian Music Export, which aims to enable a professional international presentation of Austrian music in an environment currently characterized by event cancellations, work and travel restrictions as well as the cancellation of music fairs, showcase festivals and comparable platforms.
The support is aimed at the international marketing and communication of Austrian artists and their artistic projects, such as publications, tours or international collaborations. A focus will be placed on innovative approaches to communicate domestic repertoire to an international audience.