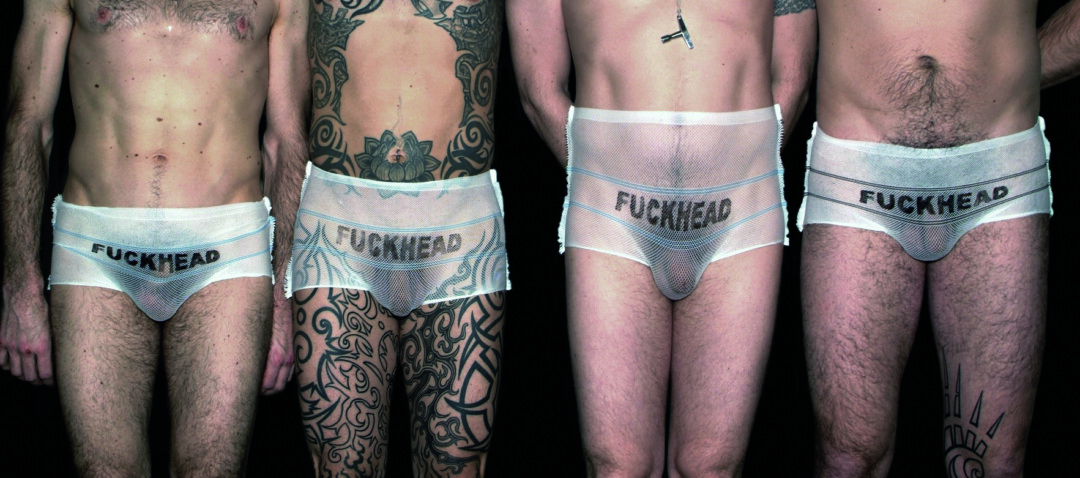 BIOGRAPHY
In 2013 one of the most important musical institutions of the domestic underground celebrated its 25th anniversary. The Upper Austrian formation Fuckhead whose provocative-actionistic approach often polarizes and divides opinions, has long been recognized beyond Austrian borders as a pioneer of the extreme performance art and has always managed to reinvent itself over the years.
No matter in which creative state, Fuckhead have always gone their own way. Carrying pure activism to the extreme, the Upper Austrian formation has been practising their incomparable mannerisms of artistic nonconformity for a quarter of a century. Appearances and performances of the band that shuffles around the frontman Didi Bruckmayr are hard to beat in terms of brutality, intensity, ecstasy and physicality. Hardly any other band is as disturbing, fascinating and polarizing. Didi Bruckmayr, Siegmar Aigner, Didi Kern and Michael Strohmann celebrate the conscious and excessive violation of tastefulness, as well as the excessive and controversial play with all sorts of machoid masculinity stereotypes. People are supposed to be offended and confronted with things that are not often seen and experienced in this heavily exaggerated form.
Musically covering the ground from techno and ambient over all possible electronic forms of (industrial) noise to the various forms of the hardest rock, which is virtually the entire spectrum of stylistic niches, the approach of Fuckhead, which was founded in 1988, is to defy all conventional traditional dogmas and definitions. Rather than ever subjecting to the constraints of the mainstream or other expectations, the center of their actions has been induced by artistic originality, nonconformity and the freedom to do whatever they feel like. This is expressed not only in their performance, but also in their overall sound, which is relieved from any musical categorization and can simply be described as extreme.
RELATED ARTICLES