The aspekteFESTIVAL is breaking the biennial rhythm – or keeping it – depending on how you see it, through the craziness of the pandemic. The 45th edition of the festival for new music took place, after a one-time postponement from 2020 to 2021, as an online festival. This year, from Wednesday, March 16 to Sunday, March 20, Ludwig Nussbichler and his team invite the audience to explore the currents of contemporary music: in nine concerts with eleven world premieres, in the exhibition "100 years of IGNM" organized by the Mozarteum University and in the panel discussion & book presentation "Gender in New Music". The works of the British composer Rebecca Saunders will play a central role.
BRINGING THE FASCINATION OF NEW MUSIC TO LIFE
Rebecca Saunders is Composer in Residence at the aspekteFestival 2022, and so her music, with seven hand-picked compositions, threads through this year's program. The composer, who was born in London in 1967 and lives in Berlin, is one of the most sought-after and interesting composers of our time; among other prizes, she won the prestigious Ernst von Siemens Music Prize in 2019. In order to do justice to her demanding music, it is also predominantly interpreted by ensembles and musicians for whom she composed her works, such as the Trio Accanto, the vocalist Juliet Fraser or the Quatuor Diotima, which opens this year's aspekte with a program celebrating the 100th anniversary of the International Society for New Music (IGNM). With an anniversary exhibition curated by the Mozarteum University and a concert by the oenm . oesterreichisches ensemble für neue musik. However, the premise is not only a retrospective one; rather, these and the following concerts will venture exciting insights into current musical creations and positions.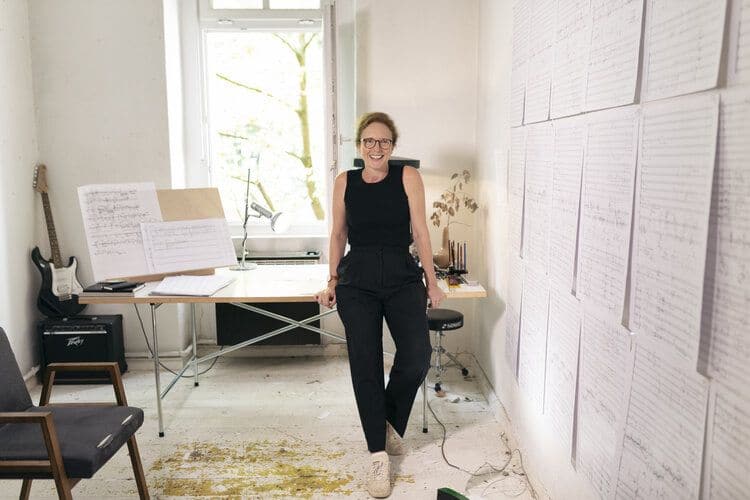 The works of Rebecca Saunders will be juxtaposed with compositions by Gerard Grisey, Misato Mochizuki and Peter Jakober, as well as pieces by younger composers. In this context, for the first time – as a continuation of the promotional idea of Jugend komponiert – young composers selected from around 30 submissions will be heard in cooperation with Ensemble PHACE and radio Ö1, as well as world premieres by Alexandra Karastoyanova-Hermentin, Achim Bornhoeft and Josef Ramsauer. Once again, two excellent ensembles representing the young generation will be present: the ensembles NAMES from Salzburg and PHACE from Vienna. Thus, the Salzburg Festival for Music of Our Time will once again showcase a slice of the current diverse and lively music scene.
PROGRAM
Wednesday, March 16, 2022
aspekte 1 – Opening Concert "Unbreathed"
Quatuor Diotima
7:00 – 8:00 PM, Mozarteum University, Solitär
aspekte 2 – Exhibition opening
"Attention International! Salzburg & 100 Years of IGNM"
8:10 – 8:50 PM, Mozarteum University, Foyer
aspekte 3 – "Fury"
œnm . œsterreichian ensemble for new music
Michael Seifried, double bass
Lars Mlekusch, conductor
9:00 – 10:00 PM, Mozarteum University, Solitär
Thursday, March 17, 2022
aspekte 4 – "Dust"
NAMES – New Art and Music Ensemble Salzburg
Christian Dierstein, percussion
7.30 – 9.45 PM, SZENE Salzburg
Friday, March 18, 2022
aspekte 5 – "That Time"
Trio Accanto
7.30 – 8.30 PM, Mozarteum University, Solitär
Saturday, March 19, 2022
aspekte 6 – Youth composes, Finale
András Gergely Gerhardt, trumpet
Karin Küstner, accordion
Petra Seidl, bassoon
2.00 – 3.15 PM, Mozarteum University, Small Studio
aspekte 7 – aspekteSPIELRÄUME
4:00 – 5:00pm, Mozarteum University, Small Studio
aspekte 8 – "Next Generation"
Ensemble PHACE
Lars Mlekusch, Conductor
7:00 – 8:00 PM, Mozarteum University, Max Schlereth Hall
aspekte 9 – "Skin"
Ensemble PHACE
Juliet Fraser, soprano
Lars Mlekusch, conductor
9:00 – 10:00 PM, Mozarteum University, Max Schlereth Hall
Sunday, March 20, 2022
aspekte 10 – "Gender in New Music"
Panel discussion with book presentation
4:00 PM – 5:15 PM, Mozarteum University, Small Studio
aspekte 11 – "murmurs"
ensemble mosaic
Lennart Dohms, conductor
6:00 PM – 7:45 PM, Mozarteum University, Solitär
---
Links: