Internationale Kulturbörse Freiburg 2016
January 25 – 28, 2016
Freiburg/Germany
In 2016 the Austrian world music scene will be showcasing its outstanding musical qualities on the international stage at the Internationale Kulturbörse Freiburg. The Internationale Kulturbörse Freiburg is an international trade fair for stage productions, music and events, and is one of Europe's oldest festivals with a long-standing tradition. The aim of the fair is to give international and national participants of the scene an insight into current stage productions and to inform about new trends and developments in the music and event industry. The three main pillars of the Internationale Kulturbörse Freiburg are the big trade fair with over 350 exhibitors, around 180 live performances and an extensive seminar program with lectures, discussions and workshops. Austria will be represented at the fair with a joint booth for the participating artists and their agencies.
Internationale Kulturbörse Freiburg | www.kulturboerse-freiburg.de
PERFORMING AUSTRIAN ARTISTS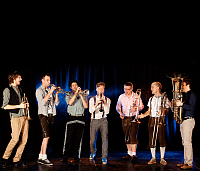 FEDERSPIEL
(Folk, World Music, Crossover)
Date: January 27, 2016
Time: 13:00
Venue: Theatersaal 2
Link: feder-spiel.at
As the recent winners of the Austrian World Music Awards, the seven wind musicians are currently on a roll and making a name for themselves across Europe. The Lower Austrian ensemble combines local folk music with international world music elements. Federspiel's musical signature is above all characterized by the origin and background of each of the musicians – all of their (musical) biographical stories inevitably have some kind of impact on the ensemble's music. Federspiel's repertoire ranges from self-composed works with pop elements to arrangements with traditional Mexican music or the zither as a solo instrument.
Video: youtu.be/K5eDbfEWrvo
---
holstuonarmusigbigbandclub (hmbc)
(Jazz, Pop, World Music)
Date: January 26, 2016
Time: 16:30
Venue: Music Hall
Link: hmbc.at
What kind of music is it? Is it traditional Austrian folk music, pop, or jazz? No one really knows. The five musicians from Vorarlberg are quite the enigma and have successfully managed to defy classification. A hmbc concert is like an adventure – an expedition through a musical jungle, from the Mississippi Delta to the mountain tops of the Karawanks. No musical piece is safe from being put into the musical meat grinder. So what can be expected? Hard to say, because most of the time the musicians don't know it themselves. Expect the unexpected!
Video: youtu.be/EsihnLvPF58
---
Norbert Schneider & Band
(Blues, Funk, World Music, Dialect, AustroPop)
Date: January 28, 2016
Time: 17:30
Venue: Music Hall
Link: norbertschneider-music.com
Norbert Schneider was born in Vienna and grew up in Prottes in Lower Austria. While he first started with classical violin, his fascination with the raw energy of blues caused him to reach for the guitar at the age of 15. In addition to playing music, he soon also discovered a new passion for composing. With his voice, which covers three octaves, and his semi-acoustic Gibson guitar, he bridges the gap between different musical styles such as blues, soul and pop. Over the years, Norbert Schneider has been continuously expanding his musical range by collecting new sounds from all over the world. The young and dynamic musician has won multiple awards – among them the Amadeus Austrian Music Award in 2014, one of Austria's most prestigious music honors.
Video: youtu.be/onuXE2OwvR8
---
Ramsch & Rosen
(World Music, Folk)
Date: January 27, 2016
Time: 15:00
Venue: Music Hall
Link: ramschundrosen.at
Among old paintings, manuscripts, and between the lines, Julia Lacherstorfer and Simon Zöchbauer rummage for old tunes. A layer of dust carefully wiped away, what they discover usually turns out to be a treasure chest – gems to bosom and ears. Their music bridges past and present – a past when clocks ticked differently and a present where we can connect ourselves to the whole world and choose from an immeasurable number of opinions, pick the most precious, the most suitable items for our individual character. The result: A type of unique music that is inseparable from the people who perform it. It needs to take place within them, earnestly, yet with a wink. "The most beautiful moment in a concert is when everything starts to coalesce: we with our music, our music with the audience, the audience with space and time, so that only the present moment exists with its sound and image."
Video: youtu.be/Iecv43bKHcs
---