The VIENNA WAVES FESTIVAL (September 9 – 11, 2021) has nearly completed its festival program, and there are plenty of great acts to catch. Among them are some of the freshest Austrian acts from the pop, rock, indie and electronic scenes.

Apart from each other they are Beyza and Ezgi, together they form Aze. They grew up together and have been making music for 10 years. They say the more time you spend with a person the more like them you become. This allowed two rather different personalities to grow alongside while maintaining a nearly identical core – Music as the Golden Middle. Aze is alive because two independent artists put their heart and soul on the table and each person brings their own preference and habits into play.
So instead of limiting themselves to only one genre, they choose to welcome life's fluctuations. RnB, Jazz and Hip Hop have a heavy influence on their sound just as much as oriental music does. Every Genre, every instrument and every language has the potential of new ways of producing sound and feelings. Music offers "space" to feel, to speak up and to process. That's why a lot of their songs discuss topics starting from hopeless love to struggling in between two cultures growing up.
Cloud Cloud is a dreamy guitar pop duo from Kiel (DE) and Vienna (AT), which writes songs via E-mail and video chat. Their haunting, minimalistic melodies melt into atmospheric melancholy, capturing the familiar and the far away.
Marten Kafke (also known as a member of the Viennese band KIDS N CATS) and Katja Seifert met at a concert in Kiel in 2019 and have been writing their music separately ever since – between Kiel and Vienna – with the help of e-mail and video chat. They already proved that this works amazingly well with their debut EP 'What Are My Options?', which was released on their own label Cloud Cloud Records in 2020.
Their single 'Love', which was released back then, has over 900 Spotify playlist placements to date, including the 'P to the Laylist' playlist of the befriended band Leoniden or the 'FM4 Sunny Side Up' playlist. In June 2020, FM4 also appointed them Soundpark Act of the Month.
Downers & Milk
Downers & Milk are refuge in music – a darkly radiant comfort zone where stories of failure and moving on, of stray minds and dreamy consciousness are told. The song of the Viennese band illuminate the farthest corners of human existence and accompany on a walk through the darker side of sensations. Carried by two distinctive voices, melancholic arrangements unite with roughness and opposition to atmospheric folk noir.
Early Mobley combines indie rock with influences from jazz, neo-soul and funk on the debut. The songs reflect his unique approach to pop.
"The pseudonym chosen by Konstantin Heidler comes from a Helge Schneider movie, and Schneider is not only a gifted comedian, but first and foremost a gifted musician and just like Earl Mobley a jack-of-all-trades." – Austrian Music Export
Florence Arman is an established singer/songwriter who is now launching her career as a solo artist. She is no stranger to the international pop scene, having collaborated with artists such as Rhys Lewis, The Kooks, Barns Courtney, G-Flip, Crystal Fighters, filous, Harry Hudson, Cro and Lena Meyer-Landrut (to name a few). Now she dedicates herself to her own intimate, yet witty and light-hearted artist project. Based in Austria, the young Brit developed her creative voice with the help of her brother (Sebastian Arman) and internationally successful producer filous. In crafting her 7-track debut EP, Florence's heart guides not only her romantic, but also her creative choices. She writes all of her songs on her own and works with a close team of producers to finish them. The more of this extensive collection about her experiences is revealed, the more it feels like Florence is a long-lost friend rather than an aspiring pop star.
GØRL
For her first album, the singer, guitarist and songwriter put together a wild collection of theatrical tracks and psychedelic melodies. Her voice is constantly mistaken for that of a man, which comes as no surprise, as her idols are mainly male. Add to this a touch of Nordic humour, which seems to be ingrained in the native Danish character.
She draws her musical inspiration from decades of rock and pop music; many of her much loved early idols have already gone to Valhalla, or whatever the Vikings call it. Glam Rock and Psychedelic Rock live on in GØRL – possibly with some role reversals, as well as being compiled differently to how its forebearers might have initially intended. With these songs in her bag and her beer horn in hand, GØRL can begin her journey to what could be seen as new shores, with absolute confidence.
Gran Bankrott
Gran is dead! Long live Gran Bankrott! After one EP and two LPs, DIY-jack-of-all-trades Florian Tremmel says goodbye to his solo act Gran to resurrect him in the form of Gran Bankrott.
Gran's already an outstanding act in post punk circles: A skilful mix of groovy driven post punk à la Gang of Four, big poses towards Wire, enriched with synth-laden excursions into darker new wave realms and finally rounded off with a fine touch of dub, pop and funk refinements.
Formed in early 2020, Laikka deal with the great topics of our time, both musically and textually. A deep, melancholic look inside, strong emotions, the feeling of loneliness, diffuse fears, or even boredom in the digital age are often juxtaposed with their own big dreams. The overall appearance of the band is often influenced by a digital aesthetic and the breaking out of classic male stereotypes and attributes.
Liener
Massively dirty electro-pop in a not too difficult to decipher context of German-language pop music from Vienna.
"Matthias LIENER comes from a classical music tradition of the Vienna Boys Choir. The music he makes now blurs gender boundaries and doesn't spare criticism of good manners." – Music Austria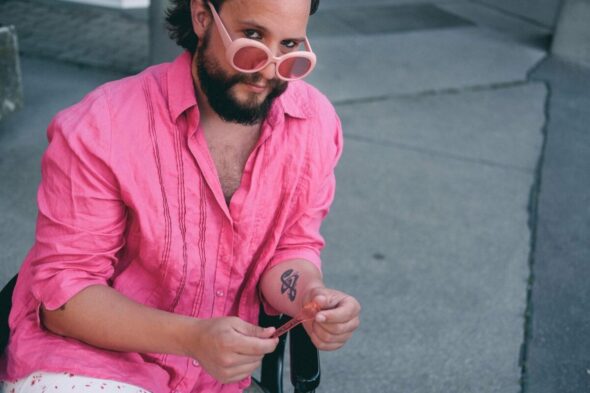 Löwelöwe
With his band Löwelöwe, singer and multi-instrumentalist Christian Hummer enters absolutely new territory in the German-language musical cosmos. The playful psychedelic arrangements and dense melodic structures form a lush, retro-futuristic soundscape – together with a vulnerable voice that tells of the heaviness of lonely nights and the lightness of new love in unagitatedly honest words.
Modecenter
"In any case, a band that would have earned the live stage with good noise already with their first single is Modecenter." – Radio FM4
Oxyjane
Oxyjane's pop-grunge is recalling early Nineties power chords, no-frills, solid beat-keeping drums and cat screaming guitar parts.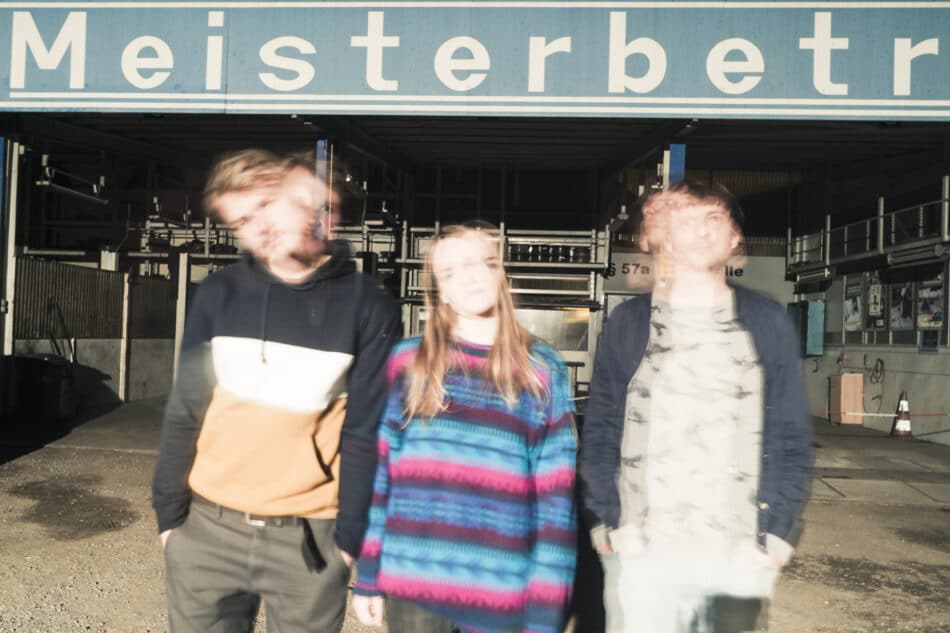 Rahel
Hooks that stay in your ear, a breathy voice and echoing guitars that seem to come from another world: That's how you could describe the music of Rahel. Dream pop meets NDW, 80s beat meets muted synths. Since 2020, Rahel has been holed up in her home studio with producer Raphael Krenn, and the songs that come out of it sound kind of sweet, but they aren't really, if you listen closely: Sometimes Rahel holds up a mirror to the "don't-just-be-sexy" morality and slutshaming, sometimes she sings about the disorientation of her generation. Rahel wants one thing above all: to show attitude. And does not renounce the invitation to dance.
Ruhmer was born in a suburb of Linz and began his musical career as a drummer. Working as a sound engineer on film sets all over the world his life took a surprising turn in 2019; as live drummer of the band "Oehl" he played major tours. Suddenly homeless in Calais, France, he finally devoted himself to his own first musical designs. The debut single "Kill Me Now", which was created there, made it directly to #3 in the FM4 charts.
Sluff
"Sluff's indie rock knows shoegaze and dream-pop like the back of its hand, but always has enough direction and dynamics in its delivery to keep the listeners' attention." – The Gap
Takeshi's Cashew
Takeshi's Cashew (Laut & Luise, Berlin) are a newly formed psych-funk group that explore the boundaries of club culture, world music & 70's psychedelia. All coming from different musical directions, they create a colorful fusion of their respective genres embedded in a club-like beat framework and elevate their often complex arrangements to a beautiful & danceable potpourri.
During summer 2020 Takeshi's Cashew recorded their debut album "Humans In A Pool" in their tiny diy-studio in Vienna. This self produced record will take you on a journey into cosmic krautrock, cumbia, afrobeat & disco, which can only be surpassed by one of their live performances…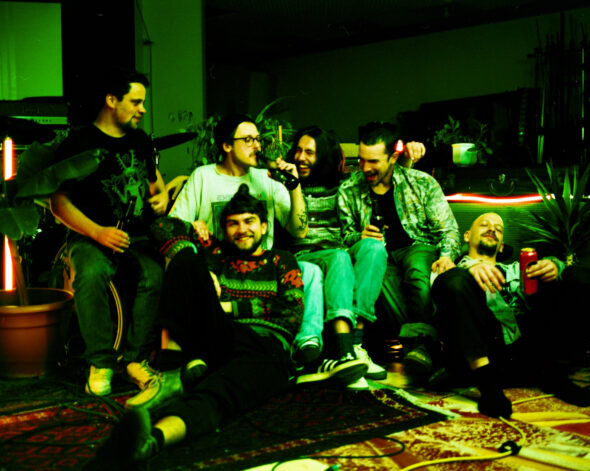 Zinn sings in the light dialect of morbid Vienna, a longing trumpet hides in the retro sound again and again […] the lyrics are reminiscent of minimalist verses á la bands like Die Heiterkeit or International Music. – Radio FM4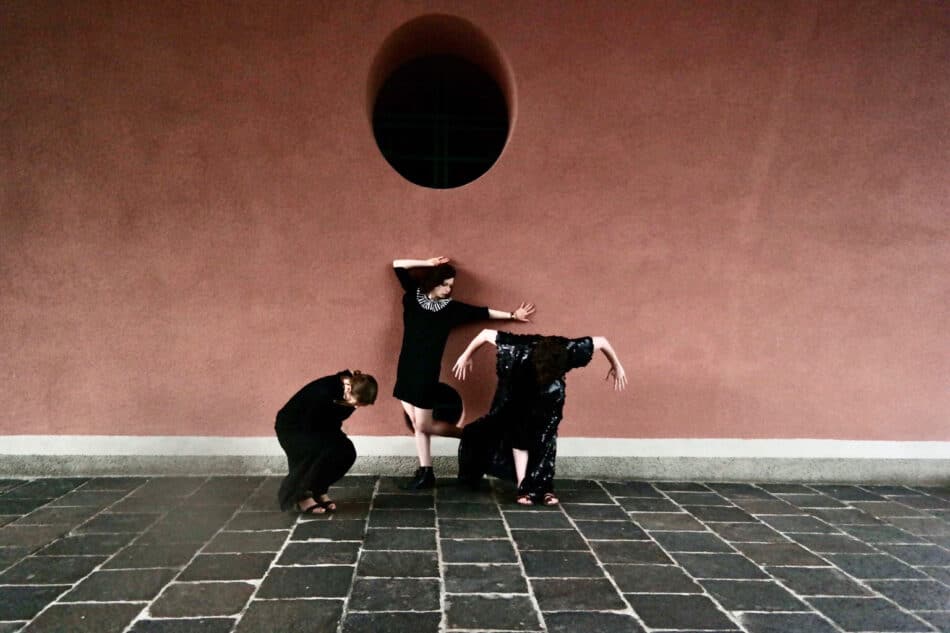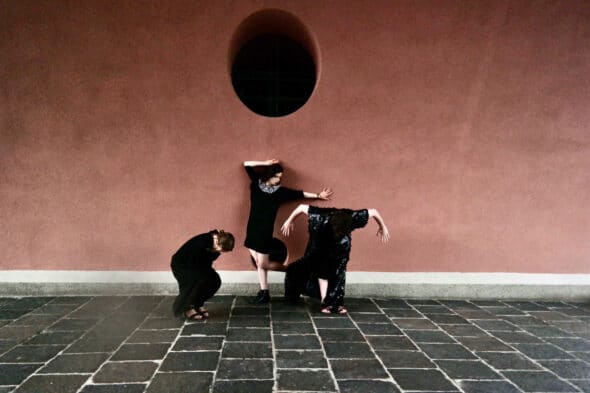 For the complete program and lineup, go to the Waves website.
---
Links: