From March 4 until March 8, 2020, the Elevate Festival once again invites audiences to be inspired for five days and to broaden their consciousness regarding the festival's theme "Human Nature" – and of course to experience lots of exciting new music and art. In 2020 Elevate will once again be presenting a diverse mix of lectures, panel discussions, workshops and documentaries on socio-politically important discourses. Listen to a selection of tracks from Austrian acts on the line-up on our Spotify playlist. 
Elevate Festival 2020 – Human Nature
The focus will be on different aspects that lead the abstract whole into the tangible: from the question of "human nature" itself to an examination of the status quo of nature in the context of the climate crisis, the role of technologies and artificial intelligence as well as the central question of man himself, his search for meaning and the undisputed destructive tendency towards the planet on which we live.
The music acts represent a global spectrum of contemporary electronic music, ranging from legends to newcomers and focusing on the political dimension of club music.
---
AUSTRIAN HEARTBEAT SCHEDULE
THURSDAY, MAR 5
21:00 Peter Kutin pres. TORSO #1 – Mausoleum
22:00 Dorian Concept & Zanshin pres. Halfchance – Mausoleum
FRIDAY, MAR 6
19:45 utrumque (via Acousmonium) – Mumuth
00:30 Fingers of God – Tunnel
01:30 alllone & Deafblind A/V – Dom im Berg
SATURDAY, MAR 7
13:00 Other Worlds – Parkhouse
16:30 Katharina Klement – Mariahilferkirche
21:30 KTL (via Acousmonium) – Mumuth
23:00 Gischt – Dungeon
23:45 C.O.R.N! – Dungeon
00:00 Mieux – Dom im Berg
00:00 Mermaid&Seafruit – Tunnel
SUNDAY, MAR 8
20:00 Conny Frischauf – Orpheum
In Dalia Ahmed, Monophobe, Mama Feelgood & Mr. Farmer, Battle Cat and many more, there's also numerous local DJs to discover at Elevate Day- and Nightline.
Find full line-up & discourse programme here
---
ALLLONE & DEAFBLIND
The project alllone was founded by three producers based in Graz and Vienna. Formed out of loneliness, they joined forces to continue their quest through electronic beatmaking. Gravitating towards 170bpm, but never limited, they seek for harmonic and distorted sounds in their productions. Together with Deafblind, three Graz based artists, who generate live visuals and projection mappings, they will present a brand new A/V work.
---
CONNY FRISCHAUF
Conny Frischauf is a Viennese musician and artist carrying Krautrock heritage forward in her unpretentious songs. Based on repetitive synth melodies, her eclectic catalogue is held together by lyrical wordplay.
---
C.O.R.N!
C.O.R.N! is an abstract and cynical improvisational shred-pop-duo consisting of the two well-educated but supergrounded sound wizards Mykyta Prykhodchenko aka Nick Acorne (Electronics) and Patrick Wurzwallner (Drums), virtuously celebrating the spectacularity of Human Error in a controlled environment.
---
DORIAN CONCEPT & ZANSHIN
With DORIAN CONCEPT, we are talking about one of the most promising acts of the Austrian music scene. Hardly any other Austrian musician has made the jump from his own four walls into the international music world at such a breathtaking pace. It is even more surprising that Dorian Concept – also known as Oliver Thomas Johnson – doesn't have that many releases, but has made a name for himself by playing memorable gigs in various clubs around the world. He is a welcome guest in prestigious international clubs; tours have even led him to Australia and China. With his complex mixes of breaks and abstract electronic sound patterns, he has definitely built a reputation for himself in the electronic music scene.
ZANSHIN is a musician, sound artist and producer of electronic music from Vienna, Austria. The name "Zanshin" is a concept from Japanese martial arts and translates roughly as "omnidirectional attention", reflecting his many inspirations and interests – correspondingly he tries to channel his ideas mostly into three creative outlets: As Zanshin he releases music on Affine Records and disko404 and his tracks and remixes are covering a broad range from driving, polyrhythmic dancefloor affairs to experimental beatless sonic structures, sometimes massive, sometimes fragile. Zanshin appears on stage either as a live act, arranging his tracks live and providing an inspiring, challenging and powerful experience.
---
FINGERS OF GOD
One of this year's local club acts is Fingers of God. Vienna-based DJ and producer Philipp Pettauer combines bass-heavy, rhythm-based electronics with experimental sound design in his tracks. Thus he not only produces tracks for the dance floor, but also creates compositions for the theatre.
---
GISCHT
The busy musician and Ventil Records label operator Ursula Winterauer presents her new solo project Gischt in Graz. Known to many from the indie rock formation Ash My Love, Winterauer turns to experimental electronics and explores the grey areas between digital ambient and slowmotion techno.
---
KATHARINA KLEMENT
Katharina Klement will play the organ of the Mariahilferkirche. The musician and composer from Graz moves in the area of tension between composition and improvisation. She counts the piano as her main instrument, whose tonal spectrum she explores with extended playing techniques. Klement also often integrates electronics and extra-musical materials into her pieces. Besides her work as a musician, Klement teaches computer music and electronic media at the University of Music and Performing Arts in Vienna.
---
KTL
KTL is the name of Stephen O'Malley and Peter Rehberg's Super-Noise-Drone-Duo. As a member of the cult formation Sunn O))), O'Malley is known for his abysmal dark, monolithic guitar drones. Editions Mego label operator Rehberg, on the other hand, filters the most corrosive frequencies out of his modular synth. The result are deep black visions of apocalyptic dimensions – eccentric rituals.
---
MIEUX
Mieux is the name of the electronics project of the Viennese Christoph Prager and Felix Wolfersberger. Their sounds are sparkling and uplifting, an eclectic mix of global styles. Here the synthesizers sparkle like Indonesian gamelan instruments and even chimes are used. Tastemakers like Gilles Peterson are convinced and the Boiler Room attested them a"…one of the most "live" electronic music sets we've seen in a while".
---
MERMAID&SEAFRUIT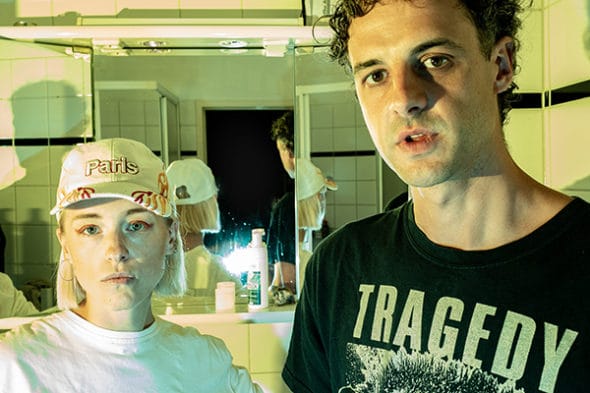 Mermaid&Seafruit consist of the musician Markus Steinkellner, also known as Idklang, and the musician and performance artist Magdalena Chowaniec. Together they mix wildly different styles, combining political lyrics with abysmal basses, R'n'B with noise, hard style with activism. They also like to dive into the crowd.
---
OTHER WORLDS
The Graz-based Other Worlds, also known as the one or the other (depending on your point of view) half of doze, will present his live set. He forms gently meandering synth loops into psychedelic trips.
---
PETER KUTIN
Peter Kutin is a vienna based artist. He works with sound across genres. His live-performances or installations hold a physical and psychological impact and might throw you as much off balance as they will embrace you. In his most recent works, he implements kinetic sculptures or light systems as main performative elements. In doing so he attemps to dissolve the precense of the human performer to a maximum. He creates a dialogue between the trinity of 'object-sound-light' and the audience. His pieces aim to open up a corridor that leads to aesthetic encounters. They have been exhibited, commissioned, performed or screened at various occasions and venues across the globe. In his work, praised with the Golden Nica (Ars Electronica) in 2019, Peter Kutin deals with psychoacoustic effects.
---
UTRUMQUE
IEM-Professor Gerhard Eckel and KTH-Researcher Ludvig Elblaus will work on an acousmatic commission for the Elevate Festival as utrumque. Both musicians understand their practice as artistic as well as scientific. In their pieces they explore the different qualities of hearing and rely on raw but effective sound transformations. While Utrumques Modus operandi is of carefully considered coherence, the resulting pieces and publications are not without rawness and power.
Austrian composer and sound artist Gerhard Eckel is working as Professor of Computer Music and Multimedia at Graz's KUG's Institute of Electronic Music and Acoustics (IEM).
---
Links:
Elevate Festival (Website)
Elevate Festival (Facebook)