MENT Ljubljana presents the full lineup of acts and speakers for the 8th edition of the Slovenian showcase festival, which will take place between 8 and 10 June 2022. Among them are 9 Austrian artists, including FARCE, DORIAN CONCEPT, CID RIM and many more. Scroll down for the full list, check out the "Elevate takeover", learn about the details of the Austrian Heartbeats Reception and get in touch with Austrian Music Export via email for reduced delegate tickets!
---
Austrian ACTS 2022
Showtime & Place: Friday, 10 June, 00:30 @ Klub K4
"Creating his own unique sonic world, Awo Ojiji has delivered a four track body of work that feels at once fresh and familiar." – Bordello a Parigi
Polyrhythmic finks, broken beats and atmospheric textures filled with many unpredictable sound inserts… Awo Ojiji is a well-known DJ and producer from the Austrian underground scene. He is a member of the disko404 collective, a DJ crew, event series and record label founded in 2002. His DJ sets as well as his own electronic music productions are inspired by UK bass genres, loaded with booming raw basslines, dub chords, cuts from juke, jungle and technoid funk. Expect some seriously exuberant results on the dancefloor!
Showtime & Place: Thursday, 9 June, 00:00 @ Gala hala
"Another electronic artist with a jazz background who isn't afraid to let that jazz seep into his electronic work." – Mike Schiller, Pop Matters
The sought-after producer Clemens Bacher is also an established jazz drummer and experienced multi-instrumentalist. We know him from his collaborations with artists like Gorillaz, Sky Ferreira, The Clonious and Dorian Concept with whom he performed at the very first edition of MENT back in 2015. His debut EP came out in 2010 on Affine Records, a Vienna-based label he co-founded, and shortly after he won the Gilles Peterson's World Wide Award for the official remix of Chvrches' song "Recover". A man of many talents, his mystical musical world relies on the limitless potentials of funk, contemporary electronica and drum-driven jazz.
Showtime & Place: Friday, 10 June, 22:00 @ Zorica
"Although highly improvised, there is an almost ghostly musical unity between the two musicians – on an intellectual as well as on a tasteful level." – Where Swallows Fly Backwards
C.O.R.N.! is a sonically abstract duo consisting of the two well-educated but super-grounded improv wizards – Nick Acorne on electronics and Patrick Wurzwallner on drums. Both of them work intensively on interrelating everyday experience with sound escapades when engaging in sound art and other different approaches towards electronic music production. C.O.R.N.! is a visual, performative, organised, chaotic and interconnected music manifesto, which virtuously celebrates the spectacularity of human error in a controlled environment.
Showtime & Place: Friday, 10 June, 01:00 @ Klub K4
"Dorian Concept's playful mixing brings to mind the convulsive pleasures of a late-'90s Aphex Twin cut." – Andy Beta, Pitchfork
Dorian Concept is an Austrian producer and keyboard artist, who performed at the first edition of MENT back in 2015. His work draws on an eclectic variety of sources including experimental electronic music, jazz, hip-hop, ambient and soundscape music. He has released albums on labels like Ninja Tune and Brainfeeder and was the tour-keyboarder for Flying Lotus. He is well-known for his energetic live performances where he plays on multiple synthesizers with jaw-dropping virtuosity. Excited to have him back!
Showtime & Place: Thursday, 9 June, 21:15 @ Channel Zero
"And that's exactly the idea behind it: you can still dance even if everything sucks." – Katharina Seidler, Radio FM4
The Austrian producer, songwriter and artist exists outside genre boundaries. On her latest record "Trauma Bounce", she finds her niche in anything that is heavy in bass and filled with emotion. Without losing her knack for catchy riffs and memorable vocal lines, the album finds Farce in considerably more tangible spheres compared to her debut EP. Designed as a conceptual journey from start to finish, her LP declares war on the much-discussed death of the album and shows us just how far an intentional and well-rounded body of work can go. Farce's music shamelessly requests the listener's full attention.
Showtime & Place: Friday, 10 June, 02:30 @ Klub K4
"..a debut EP which takes you on a journey to discover all the wonderfully dark, mysterious and sometimes beautiful moments of his unique and experimental techno productions." – Deejay.de
The Austrian producer's aesthetic oscillates between experimental music, atmospheric soundscapes and club-oriented rhythms, which are intertwined with a broad spectrum of deeply engrossing melodic elements. His productions are full of dark and mysterious synths backed by slick rhythmic joggling. He released music on national and international labels, such as Sama Recordings, Melbourne-based LKR Records, Night Defined Recordings, BÖSE and Freakadelle Records. As a DJ and live act, he has performed at various clubs and festivals like Unsafe & Sounds, Elevate Festival and Hyperreality. He is also a founding member of the Viennese web radio station RES.RADIO.
Showtime & Place: Friday, 10 June, 03:30 @ Klub K4
"Franjazzco has definitely been one of the most passionate and enthusiastic players in Vienna's underground dance music scene within the last decade…" – LAST.FM
Franjazzco has been around Austrian clubs, raves, festivals and after hours as a DJ since the late nineties. Currently, he is mostly active as a member of the Service crew, hosting regular nights at local clubs, a monthly show on RES radio and the infamous annual Giro di Greifenstein open air. As part of the disko404 collective, he is constantly trying to build bridges between the vivid electronic music scenes of Austria's two biggest cities. His selection is mostly driven by two main influences: a long-lasting love for jazz harmonies and an early socialisation within the local rural rave scene. No matter if it is house, techno, footwork, bass music, hip-hop or whatever genre tag may apply best for the night, his main aim will be to touch your soul and move your feet.
Showtime & Place: Friday, 10 June, 23:00 @ Zorica
"He is someone who follows his own ideas and implements them consistently and uncompromisingly." – mica – music austria
With his catchy synth-laden tunes and sexy hip swing, the multi-faceted and extravagant artist Titus Probst defies conformity. While his debut "Du Warst Auch Schon Mal Schöner" was musically still strongly informed by 80s wave pop, the follow up "Expected" moves towards rave-inspired electro pop, while simultaneously retaining his signature vibe of dreamy nostalgia. His mission is the search for the "perfect" form of pop. Unsparingly honest and selflessly sensitive, his live shows promise a unique and immersive visual experience marked both by old and new media.
Curated by Elevate
Showtime & Place: Friday, 10 June, 00:00 @ Zorica
Uschi Ultra's handpicked music repertoire spans across a wide variety of genres and knows no boundaries. Born in the name of melody, the Austrian DJ allows a range of fascinating vibrations and nostalgic as well as futuristic longings to arise. Her floaty DJ mixes always take you on a unique and delightful journey.
Check out the complete lineup here!
---
Austrian Heartbeats Reception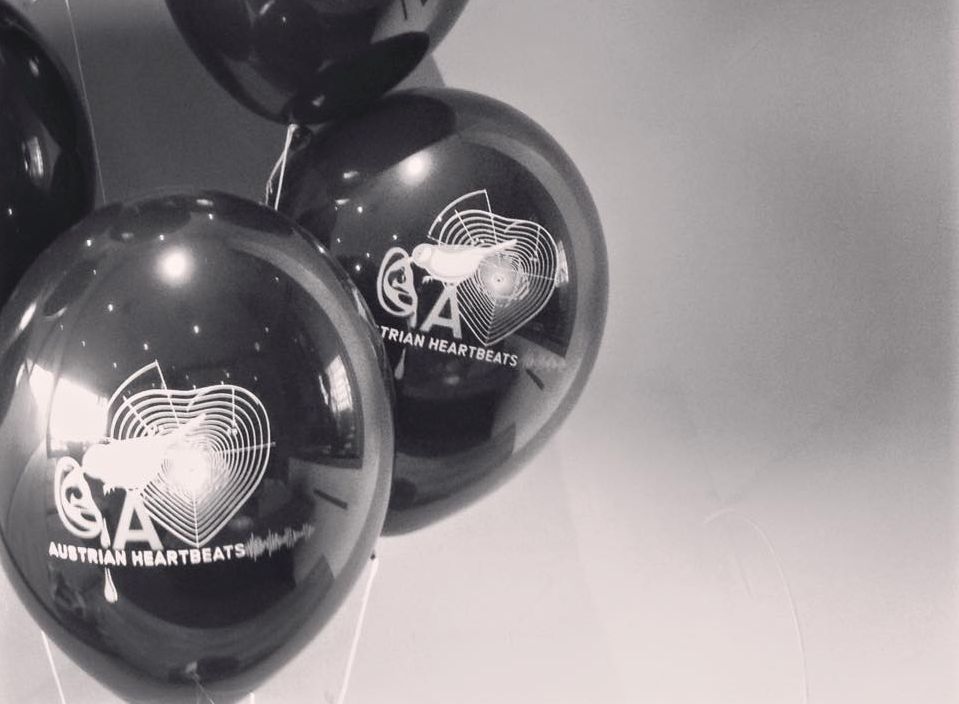 The Austrian Heartbeats Reception in Ljubljana will be presented by Austrian Music Export, Waves Vienna & the Austrian Cultural Forum Ljubljana. Guests and participants can use the opportunity to get in touch with artists, promoters and other industry professionals, while enjoying food and refreshments in a relaxed atmosphere.
Time: Friday, June 10th at 13:00. Place: Art Hotel.
We look forward to seeing you there!
---
A festival of music discovery focused on local, regional and European scenes, in 2022 MENT returns to its traditional three-day format with an international conference, which regularly attracts hundreds of professionals from all over Europe.

This year's programme, spread across 15 locations, includes more than 80 acts from 25 countries. For the grand Wednesday opening at Kino Šiška, the acclaimed American singer-songwriter and producer Yves Tumor is making his Slovenian debut as the main act of the night. Among the many exciting acts performing on Thursday and Friday, we find the Ukrainian hip-hop icon Alyona Alyona, French avant-pop artist Oklou and UK singer-songwriter Martha Skye Murphy, to mention a few.
Less than 200 kilometers away, only a 2-hour drive sets apart Ljubljana and Graz. So it was only a matter of time before the Graz festival Elevate and MENT Ljubljana joined forces. 2022 is the year of the Elevate take over! Curating three floors at the club K4 and the Zorica bar, the international lineup includes 11 artists, among them the singular producer Dorian Concept, an artist who has been growing along with Elevate Festival and actually performed at the first edition of MENT back in 2015. The two floors of K4 will showcase a wide array of contemporary electronic sounds with DJ sets and live acts from Austria, Slovenia, Belgium and Serbia by Awo Ojiji, Dvidevat, Fingers of God (live), Franjazzco, Katcha, Mika Oki and Olgica. The Zorica above K4 will host an eclectic Austrian lineup, including the experimental duo C.O.R.N.!, the exciting and entertaining performer Titus Probst, and the genre-flexible and eclectic selector Uschi Ultra.

The creators of Elevate will join the MENT conference as well for an in depth presentation of the festival, discussing the past 17 years of experience and future goals.

Elevate is an annual interdisciplinary festival held in various venues in Graz, Austria, with a strong focus on cultural and socio-political topics. In addition to performances, concerts, installations and DJ sets, the interdisciplinary programme offers workshops, film screenings, lectures and discussions. With its unique combination of critical-political discourse and art, contemporary electronic music and audio-visual experiments, the festival opens up a space for innovative content. Amongst the guests are human rights experts, climate researchers and activists from all over the world, who gather in Graz once a year with musicians and artists, illuminating pertinent issues of our future. This year, Elevate Festival will happen between 13 and 17 July 2022.
Austrian Timetable sum-up
Farce / Thursday, 9 June, 21:15 @ Channel Zero
Cid Rim / Thursday, 9 June, 00:00 @ Gala hala
C.O.R.N.! / Friday, 10 June, 22:00 @ Zorica
Titus Probst / Friday, 10 June, 23:00 @ Zorica
Uschi Ultra / Friday, 10 June, 00:00 @ Zorica
Awo Ojiji / Friday, 10 June, 00:30 @ Klub K4
Dorian Concept / Friday, 10 June, 01:00 @ Klub K4
Fingers of God / Friday, 10 June, 02:30 @ Klub K4
Franjazzco / Friday, 10 June, 03:30 @ Klub K4