From September 21-24, a selection of some of the most promising young artists will perform at REEPERBAHN FESTIVAL 2022 in Hamburg for this year's edition of Germany's largest club festival. The first waves of acts have been announced, and among them are Austrian artists, FRIEDBERG, Keke, My Ugly Clementine, Petrol Girls, Resi Reiner and Takeshi's Cashew! Stay tuned for updates as the program continues to expand and solidify.
About RB22
From 21 to 24 September 2022, the Reeperbahn Festival programme will be combining a diverse line-up of new, international talent with the thematic diversity of a progressive music marketplace. All kinds of events are waiting to enthral and inspire fans, journalists and industry professionals across a multitude of venues. Since its début in 2006, the Reeperbahn Festival has developed into one of the most important gatherings for the music world and shows how a superabundant musical line-up can be allied with music business interests and civil society engagement.

As well as concerts by international artists, the festival schedule also includes performances from the fields of visual arts or virtual reality, and a thematically diverse film and literature programme. The central hub for this is the Festival Village on the Heiligengeistfeld. Sessions, showcases, networking events and award shows allow music industry professionals visiting the Reeperbahn Festival to think about, experience and listen to music in new ways.

This is particularly reflected, for example, in the Reeperbahn Festival Opening, which has current music-related and socio-political topics centre-stage with top-profile live acts and well-known guests from the worlds of music, entertainment and politics, or as the lead partner of the Keychange initiative, which campaigns for gender equality in music. The ANCHOR – Reeperbahn Festival International Music Award, bestowed by its six judges, is a major accolade for young bands and artists embarking on an international career and as a guide for fans and musicians looking for the best new music.
Ever since it started, the Reeperbahn Festival has focused clearly on these fundamental aspects with its diverse public programme put together by its own management team:
SUSTAINABILITY: Development of sustainable processes and formats of music creation and production
EQUALITY: Closing the gender gap and achieving gender equality at all levels of music culture and the music business
DIVERSITY: Constantly enabling diversity (in terms of gender and programme line-up) with the aim of creating cultural and living spaces free from prejudice and discrimination
TALENT FOCUS: Selective and sustainable promotion of talented people for the development and establishment of artistic and cultural identity value chains
The festival's partner country in 2022 is the USA.
About the Artists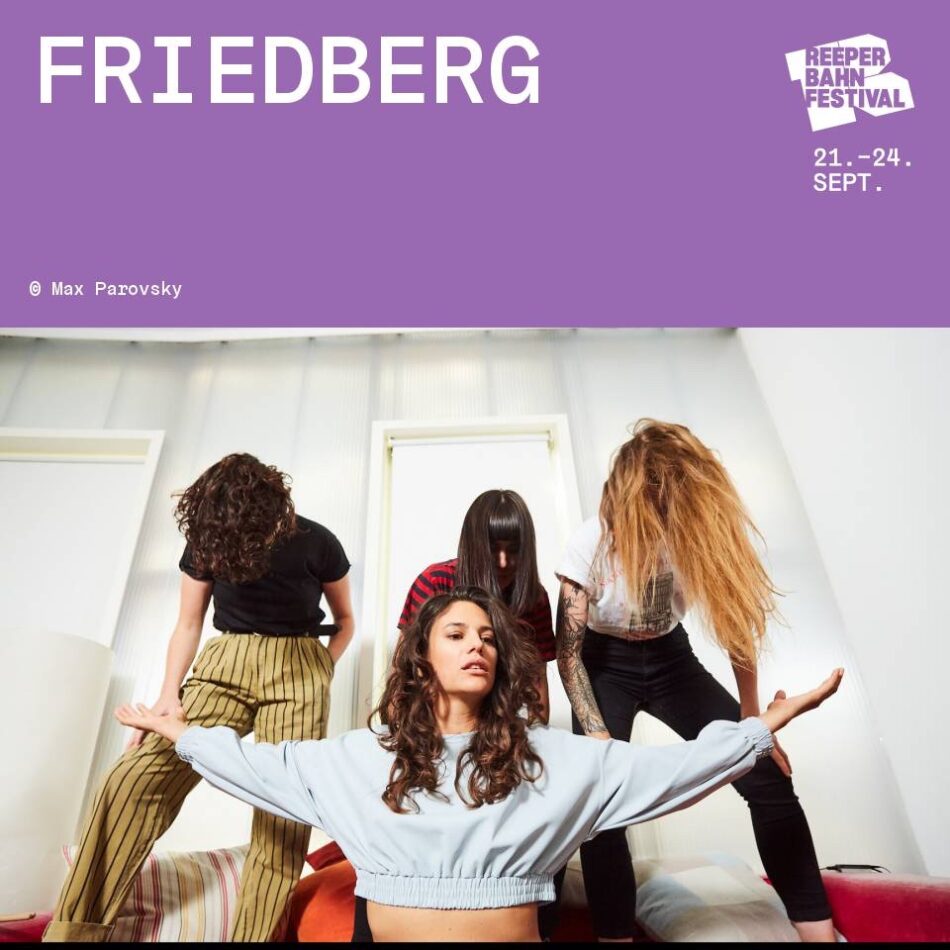 For Anna Friedberg things always seem to happen very quickly. As a solo artist, she uploads her songs to MySpace just to go on tour with artists like Lenny Kravitz and James Blunt shortly afterwards. That was more than a decade ago. The two albums that followed netted her several awards and put her on the map in the UK and Austria. In order to find herself artistically, she goes off grid in the mid-2010s, rents an Airbnb in the Californian hinterland and begins experimenting. The resulting material she takes with her to London, within just a couple of weeks finds three like-minded musicians, forms the band Friedberg and releases her first EP "Yeah Yeah Yeah Yeah Yeah Yeah Yeah Yeah" last year. Electronically amplified indie pop boasting serious disco qualities on tracks like "Lizzy", or putting a cowbell in the spotlight on the catchy tune "Midi 8", is what this all-female combo with the cheeky attitude of a garage band are here for. Everything happens spontaneously and without restraint, with the courage to be extravagant – this gives Friedberg's sound the momentum for a serious breakthrough. And as usual: considering these women, it'll probably happen quickly.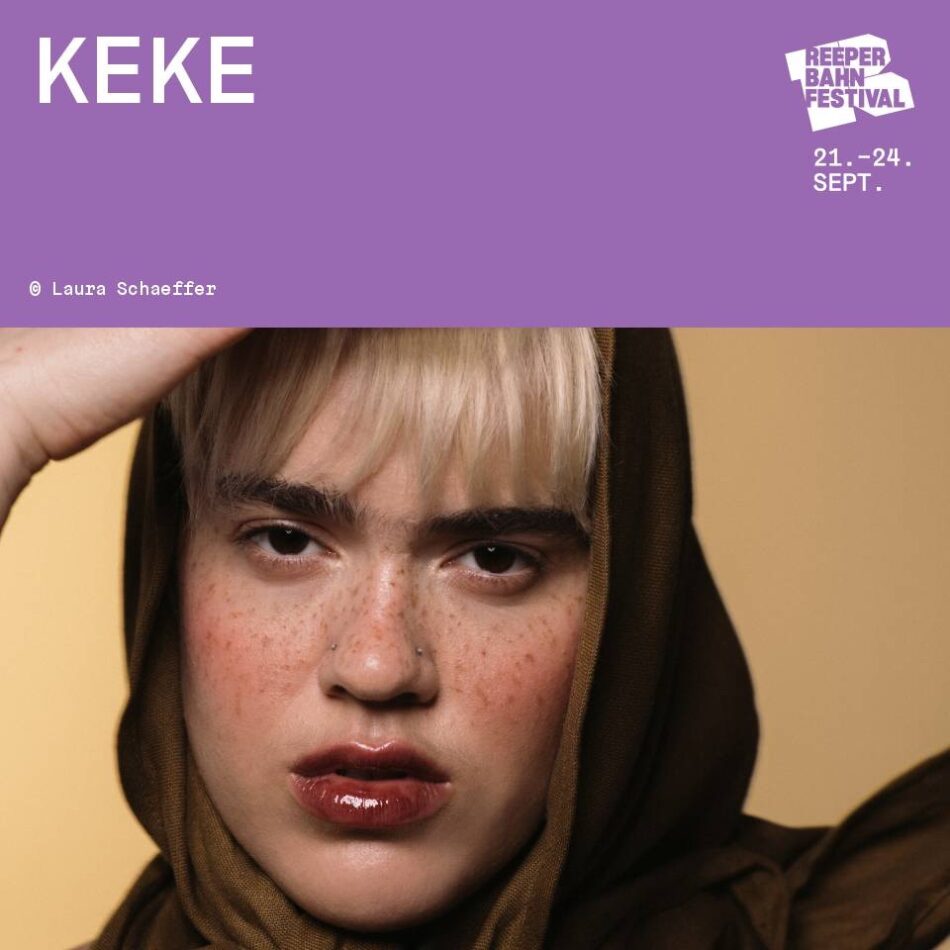 As Kiara Hollatko was finishing high school to subsequently study jazz singing, the world seemed her oyster. While gaining experience at contests as a youth, playing with The Common Blue for a while and already possessing a distinct and unusual musical talent, you'd still be forgiven for being impressed at the fact that she would release her debut EP "Donna" in her mid-twenties and subsequently work with Trettmann, Felix Kummer and LGoony. Because it all just happened super quickly. Before her singles of the last years had started attracting the attention of the German speaking music press, she signed a deal with the Viennese Universal subsidiary Mom I Made It and virtually overnight turned into an artist who confidently rejects the role clichés, beauty ideals or other superficialities commonly seen in the industry. This in turn only emphasises her idiosyncratic style and her significance, the former having recently skilfully moved between cloud rap, R'n'B and acquiring a healthy portion of pop appeal. Always true to herself, KeKe has been one to do what interests her ever since – and she's been doing a damn good job of it.
Before Sophie Lindinger started stirring up Vienna's underground with her band My Ugly Clementine, the bass player and singer had already made a name for herself as one half of the electro duo Leyya. It rained awards and fame back then already – and she has been repeating this trick since 2019 with Mira Lu Kovacs, Kem Kolleritsch and Nastasja Ronck, only better. The project, which boasts a prominent line-up of the city's music scene, seems to be heading for a breakthrough which, one might argue, they had basically lined up for and achieved from the very start. Because even before anyone had heard a single note of theirs, their show at the Rhiz in Vienna had sold out – many more were to follow. While the music of My Ugly Clementine falls into the spectrums of indie, pop and garage-rock-revival, their lyrics draw inspiration from feminist discourses, from empowerment and equality. On their debut album "Vitamin C" (2000), their stylistic and thematic orientation had already garnered them such success that it was named "album of the year" by the umbrella organisation of European indie labels Impala. The band had previously collected an Amadeus Austrian Music Award and the title "band of the year" in 2020 by the radio station FM4. Winning.
Resi Reiner's artistic journey began with acting, which she pursued as a child due to her mother signing her up for a film casting on a whim. The fact that Resi got the part immediately seemed more like a dream than reality at the time. Dreams, however, are what the young actress pursues regularly, it's basically her motto in life. And if you look, you will find. Last year she released "Ich will nach Italien" (I want to go to Italy), one of the most beautiful indie hits in years, and followed it up with "Tischtennis" (Table Tennis) and "Richtig Sommer" (Really Summer), (an homage to the classic "Wann wird's mal wieder richtig Sommer" (When will it really be summer again) by Rudi Carell), two equally indulgent songs filled with sweet longing. Her voice, on the one hand elfin, on the other echoing as if from an old Julee Cruise song, always accompanies carefully textured arrangements of guitar, drums and synthesizers. Dreams of a better today that sound nostalgic without glorifying. A feat that Resi Reiner will hopefully soon immortalise on an album.
When all of Paris was in flames during the French Revolution, it was the women's group Pétroleuses whose pyromania shot free with a resolute political impetus. The name fits the Petrol Girls like a glove, as they have been sticking their fingers up at the Status Quo for ten years now. From feminism or anti-capitalism, to a clear positioning against racism, sexual violence or profit-driven climate collapse: the rage-filled guys and girls of the London quartet make no secret of their stance: on the contrary, they openly take a stand. Rare enough these days, especially when it comes to socially uncomfortable discourse. But this was always the spirit forming the heart of hardcore punk and its representatives. So it's good that the Petrol Girls show no sign of relenting, even after a 2020 re-formation and two years of the pandemic. Instead, album number three, "Baby", is ready to go and will be served up red hot on the Reeperbahn in September.
From a local Viennese insider tip to one of the most exciting bands on the European mainland; for this, Takeshi's Cashew have needed no more than one album. On their debut "Humans in a Pool", the quintet effortlessly fuses the psychedelic aura of the Krautrock era with the vitality of Tishoumaren and cumbia, the smoky grooves of funk and surf rock with the hypnotic power of club rhythms, the narrative character of forgotten exotica soundtracks and the best qualities a jam band could ever hope to offer. These are epic narratives about lust and life, chaos and order, pain and ecstasy, expressed for example in the brilliant song writing evident in tracks like "Sterndüne (Kosmodroom)" (Star Dune (Cosmodroome)) or "There Is No Harmony" (including Werner Herzog quote), without so much as a single word being sung. Not necessary. The meditative, meandering sound of Takeshi's Cashew already carries more feeling and spirit than could possibly be communicated linguistically. The fact that this band is finally coming to Hamburg needs to be called what it is: an absolute highlight – their live shows are without comparison throughout Europe.
Check beck here for dates, times and venues as they appear!