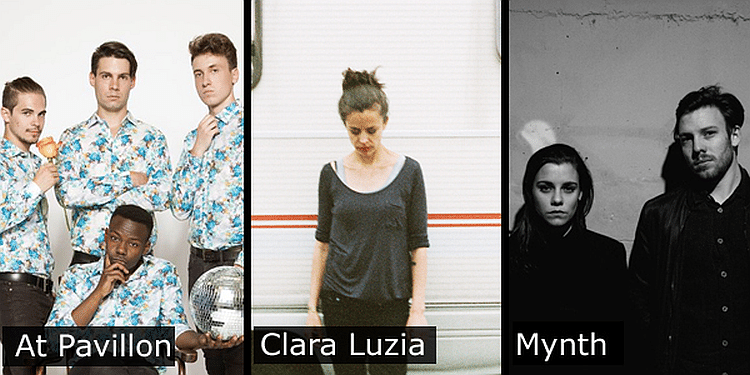 At the end of the year, AUSTRIAN MUSIC EXPORT will be continuing a series of Austrian networking and showcase events in Tel Aviv. A city with an exciting nightlife that we find to be an important partner for cultural exchange. The live acts have just been announced, and this years event will host the first ever Music Tech & Innovation showcase.
Austrian Heartbeats will take place on Thursday the 17th of November. Produced in cooperation with the Waves Vienna festival, the Austrian Cultural Forum in Tel Aviv and Advantage Austria, it is a networking and showcase event featuring Austrian bands, a matchmaking session, and a relaxed Meet & Greet with Israeli music industry representatives, media and artists.
More than 70 Austrian acts applied to take part in this years event, three of which have been selected by the ACF and local promoters: AT PAVILLON, CLARA LUZIA & MYNTH will be performing live at the popular club Kuli Alma.
Austrian Heartbeats will also be celebrating the premiere of Shift Music Fest, a Music Tech & Innovation Day on the 16th of November, organised by our partners from the Waves Music Hackday and Shift Innovation. It is an opportunity for startups focusing on music technology and innovation to give presentations and network in one of the top startup hot-spots on the planet.
If you are interested in taking part in the events, please get in touch at office(at)musicexport.at.
---
SCHEDULE AUSTRIAN HEARTBEATS @ TEL AVIV:
16.11. Tech Day

 in Talk House, Tel Aviv / Shift Music Fest: Music Tech & Innovation Showcase
Talks & Startup Presentations/Pitches
Hackday results presentation
Discussion Panel of experts on the future of music
Performances
17.11. Music Day in Kuli Alma 

Presentation about the current Austrian music landscape by Franz Hergovich, Tatjana Domany (both Austrian Music Export) and Thomas Heher (Waves Festival)
Networking of select Austrian and Israeli labels, promoters, festivals, management- and booking-agencies und media partners.
Reception for participants of the networking event as well as other protagonists of cultural life in Israel
Showcase night with AT PAVILLON, CLARA LUZIA & MYNTH
---
Danceable Disco-Pop with a message – AT PAVILLON
At Pavillon have grown quite a bit since the release of their singles "Lions" and "Face It". Moving beyond the typical rock sounds they have found their style somewhere amid the disco lights. Their latest release "Disco Demolition Night" took its inspiration from film-classics of the 70's and 80's. Packed with funky arrangements straight from the dance-floor of Saturday Night Fever, these upbeat songs aren't just about going out and having fun. They also carry a much deeper message. Lyrics like "it's a shame, that some believe appearance causes danger" refer to individual freedoms and promote tolerance and cooperation. A hope that everyone should be accepted, no matter which clothes they wear, what land they come from, our how they choose to spend their nights. (Watch Lions:
A versatile artist with attitude – CLARA LUZIA
In 2015, after spending years with a large band and an equally large sound, Austrian singer-songwriter Clara Luzia made a move for something more reduced. What was left is bass, guitar, and drums. The Amadeus Award winner chose her interpretation of "Sinnerman"- the title track of the film "Das Finstere Tal" from Andreas Prochaska – as the blueprint for her new creations. Catharina Priemer, the new drummer paved the way for vibrant tremolo guitars that leave plenty of room for voice and open spaces. UK producer Julian Simmons took care of the rest by slowing the pace of Clara's compositions. The lyrics are encoded tales of the search for truths in life. Those who want to can easily decode them. "We are all seeds of the same tree" (Cosmic Bruise) is one of the most important insights. An insight that has it's origin on her last album, "We Are FIsh". The title track of this album was part of a Save-The-Arctic campaign from Green Peace. (Watch Cosmic Bruise: https://www.youtube.com/watch?v=xAx64PFgqxg)
Artistic electro-pop with a hint of melancholy – MYNTH
The twins Giovanna and Mario from Salzburg make up the electronic duo Mynth. They create a captivatingly restrained yet demanding mix of trip-hop and analog synth sounds. The most diverse shades of melancholy are embedded in synth-dream-pop landscapes which are then painted with a soft voice and enveloping heaviness. With pounding beats and a fragile voice they eventually ascend to new summits only to, like all things in their finiteness, eventually blur back into spherical synth landscapes. Minimalist downtempo synthesizer passages float in an atmosphere somewhere between Nine Inch Nails, Portishead, Laurie Anderson, and Caribou. Their debut album Plaat II was released in February 2016 on Seayou Records. (Watch Lola: https://www.youtube.com/watch?v=f6RIpcAoXDU)
Many positive developments have taken place in the Austrian music scene over the past few years. In Israel, few people are familiar with the Austrian music scene and the necessary contacts and networks are missing. Considering the quality of contemporary Autrian musicians, they deserve and require more international attention, a greater audience and more contact to music professionals and networks abroad. "Austrian Heartbeats" strives to create these connections and networks for Austrian musicians and professionals.
Photo credits: At Pavillon © Sara Meister Clara Luzia © Mirjam Unger Mynth © Elisabeth Anna