jazzahead!, Bremen/Germany
April 23 – 26, 2015
For five days this coming April, the international Jazz music scene will once again convene in the German City of Bremen to attend the go-to networking event for the global jazz scene, jazzahead! 2015. The festival's showcase concerts are open to the general public – providing ample opportunity to discover exciting new performers from around the world.
From April 23 – 26, 2015, more than 100 concerts will take place throughout the city of Bremen. Several Austrian acts will be among the countless international artists performing at this year's installment of the festival, within the framework of a special Clubnight dedicated to jazz from the Austrian province of Styria: Patrick Dunst: Tribal Dialects, Edi Nulz, BartolomeyBittmann, Laura Winkler & Wabi-Sabi Orchestra, and Marina & The Kats.
As always, Austrian Music Export will participate in the Festival and Conference, and will uphold the tradition of serving Viennese coffee at its famous Kaffeehaus-inspired booth (Booth No. 6d10). The delegation will also be premiering a brand new publication on "Jazz in Austria", which features a host of useful information and resources. An electronic version is available online at http://goo.gl/Ce1HvG.
Jazz is a mainstay of the Austrian province of Styria. Not only because of the renowned Jazz Institute in the provincial capital of Graz, but also because this European region neighboring on the Balkans is a cultural melting pot. Styrian SoundZ presents five exciting acts from this region. Berlin-based Austrian pianist David Helbock will also be performing at jazzahead! this year, with his trio formation RANDOM/CONTROL, in which the three performers play a total of 30 different instruments on stage.
THE AUSTRIAN LINE-UP AT JAZZAHEAD! 2015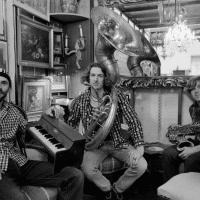 David Helbock & RANDOM/CONTROL
Saturday April 25, 8PM – 8:30PM,
Halle 7.1

In pianist David Helbock's performances, jazz meets ethnic- and folk music meets pop music. In this trio formation, he is joined by brass player Johannes Bär (of hmbc-fame) and reeds player Andreas Broger.
www.davidhelbock.com
---
Patrick Dunst
Saturday April 25, 8PM – 8:30PM,
Club Moments
Tribal Dialects This quartet headed by reeds player and music-anthropologist Patrick Dunst combines award-winning percussion with exotic Persian oud-sounds.
www.patrickdunst.at
---
Edi Nulz
Saturday April 25, 8:45PM – 9:15PM,
Club Moments
Siegmar Brecher's bass clarinet is the solo artist, singer, and bassist of this trio, all rolled into one. Austrian music critic Andreas Felber calls their sound "mangy chamber-punk-jazz."
www.edi-nulz.com
---
Bartolomey/Bittmann
Saturday April 25, 9:30PM – 10PM,
Club Moments
This cello & violin/mandolin duo is taking their classical instruments down some very new paths: With a good deal of spontaneity and improvisation they combine intimate grooves with powerful rock elements.
www.bartolomeybittmann.at
---
Laura Winkler & Wabi-Sabi Orchestra
Saturday April 25, 10:15PM – 10:45PM,
Club Moments
The name of this ensemble headed by singer and composer Laura Winkler isn't the only Japanese reference: all compositions are somehow inspired by the Japanese bestselling author Haruki Murakami.
www.laurawinkler.com
---
Marina & The Kats
Saturday April 25, 11PM – 11:30PM,
Club Moments
The sound of singer Marina Zettl's Swing trio (with support by accordionist Christian Bakanic) is characterized by hot grooves, dreamlike melodies, fiery guitars and and hard-driving percussion.
www.marina-thekats.com
---
With its unique concept combining showcase festival, conference, exhibition and the clubnight – all revolving around the central topic of "jazz" – jazzahead! has become an international gathering not to be missed. Last year, more than 12,500 visitors, incl. 2,800 professional participants from over 50 countries attended, and more than 700 exhibitors from 38 different countries took part in the conference part of the event.
Last year's Austrian participants Kompost3 went on to win the prestigious annual Bremen Jazz Prize last September.