In recent years the changing landscape of Austrian jazz has been characterised by retirements and new arrivals.
'Dynamic' may well be the word that would best sum up the transformations and upheavals that have affected the Austrian jazz scene in recent years. Some venerable institutions have disappeared, but new structures have sprung up in their place. Joe Zawinul's club "Birdland", founded in 2004 in Vienna, was closed in 2008, only one year after the founder's passing. In 2009 the Hans-Koller-Prizes – including the international "European Jazz Prize" – were handed out for the last time. Another bell tolled when one of the scene's most recognised acts called it a day: In July 2010 Mathias Rüegg announced the dissolution of his Vienna Art Orchestra (VAO), the flagship big band of European jazz, after 33 years of active service. Meanwhile, the musicians that emerged from this ensemble since the 1980s, still dominate the scene, primarily through the international presence of saxophonists Wolfgang Puschnig (*1956) and Harry Sokal (*1954), the musicianly trumpeter Thomas Gansch (*1975) and double bass player Georg Breinschmid (*1973), who once played in the Vienna Philharmonics . Both Gansch and Breinschmid are equally skilled virtuosic instrumentalists that also draw upon brass folk music and Wienerlied tradition and delight the audience as an amusing music cabaret duo.
Since the dissolution of the VAO the Viennese big band Nouvelle Cuisine, which was formed in the 1980s, has had the distinction of being the longest-running contemporary jazz orchestra in the land. Through the years, this musical ensemble led by pianist Christoph Cech (*1960) and percussionist Christian Mühlbacher (*1960) has turned into an true hothouse for young talent. On the 2013 CD release "Swing!" its two co-leaders challenged the jazz tradition with their original compositorial approaches. Christoph Cech, whose second Monteverdi-inspired opera "Orfeo" was premiered in 2005 in Vienna, is one in a row of musicians that have been able to make a name for themselves both as improvisers and contemporary composers, others being trumpeter Franz Koglmann (*1947), keyboarder Wolfgang Mitterer (*1958), saxophonist Max Nagl (*1960) and trombonist/pianist Christian Muthspiel (*1962). The latter is known for his "Yodel Group" and has recently caused a stir with his quartet by focussing on the music of John Dowland while employing the talents of legendary electric bassist Steve Swallow.
Other internationally renowned protagonists of the Austrian jazz scene are guitarist Wolfgang Muthspiel (*1965) and the versatile double bassist Peter Herbert (*1960), who became known in the New York scene in the 1990s and now live in Vienna and Paris. Muthspiel is active in a variety of projects, including the guitar trio with Ralph Towner and Slava Grigoryan. In 2013 he also made his debut as a singer/songwriter with "Vienna Naked". Peter Herbert's skills range from free improvisation, string quartet recompositions of Joni Mitchell songs, to music based on Arabic maqams which he plays in the ensemble of the Lebanese singer and oud master Marcel Khalife. The Radio.String.Quartet.Vienna has international found acclaim with its equally powerful and colourful adaptations of rock jazz compositions from the catalogues of the Mahavishnu Orchestra and Weather Report. Another artist worth mentioning is trumpeter Franz Hautzinger (*1963), who created a whole new sensual grammar of sound inspired by electronic music with his quarter tone trumpet on his solo CD "Gomberg" (2000), which he has since employed in a groove-oriented or freely improvised ensemble context. In his current ensemble "Poet Congress" Hautzinger combines instrumentals with the voices of up to three free speech improvisers and vocalists.
Even though the Vienna Art Orchestra has been lost, the overall situation of orchestral jazz in Austria looks promising. While the Jazz Bigband Graz, led by Heinrich von Kalnein (*1960) and Horst-Michael Schaffer (*1971) received international recognition with "A Life Affair" (2005, composed by John Hollenbeck) or the more recent "Urban Folktales" (2012), a slew of newly formed big bands adds up to what could already be termed a small-scale big band boom. The most interesting young large ensemble is "Studio Dan", whose line-up combines chamber orchestra and big band. It was founded by Vienna-based trombonist Daniel Riegler (*1977), and can refer to CD productions with the likes of guitarist Elliott Sharp.
Along with keyboarder Clemens Wenger (*1982), saxophonist Clemens Salesny (*1980), guitarist Peter Rom (*1972) and others, Riegler is a co-founder of Jazzwerkstatt Wien which has been instrumental in the arrival of the young scene. Founded as a musicians' self-help group in 2004, this decidedly non-purist collective soon found kindred spirits in Graz, Bern and Berlin and has become an important player on the Austrian scene thanks to running its own record label, self-organised festivals and concert series, in turn serving as a guiding light to upcoming young musicians. Important ensembles that emerged from the environment of the Jazzwerkstatt Wien include the quartet of saxophonist Clemens Salesny and trumpeter Herbert Joos, the formation Falb Fiction with Viola Falb (*1980), as well as the fabulous Swiss-Austrian trio Rom/Schaerer/Eberle. Originating from the circles of the Jazzwerkstatt Graz, the sister cooperative founded in 2007, the witty chamber-punk-jazz-trio Edi Nulz and the Vienna and Berlin-based singers Ángela Tröndle (*1983) and Laura Winkler (*1988) were able to draw attention to themselves. Young ensembles with an international reputation further include the electrifying trash-funk quartet Kompost3 around trumpeter Martin Eberle (*1981) and keyboarder Benny Omerzell (*1984), and the Vorarlberg pianist David Helbock (*1984), who received acclaim for his solo programme "Purple". Contents: Cover versions of Prince songs, performed with percussive energy on a prepared piano.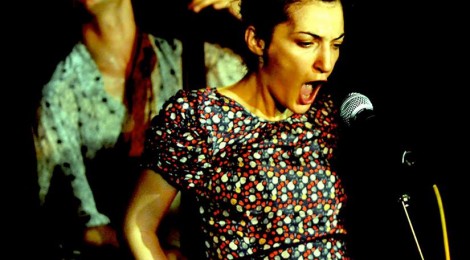 Since the 1990s numerous musicians from all directions have enriched the local music scene: Serbian bassist Nenad Vasilic (*1975) with his "Balkan Band" and the Turkish-born singer Fatima Spar, also known as Nihal Sentürk (*1977), with her "Freedom Fries" have played a major role in breaking borders, so that now the cities of Vienna and Graz can proudly claim themselves as musical Balkan outposts. The fact that musicians like the Swedish saxophonist Mats Gustafsson (*1964) and the American drummer Mark Holub (*1981) have found a new home in Vienna increases the vibrant density of the creative impulses that emanate from today's Austrian jazz scene.
Text: Andreas Felber (translated from German)
Photos:
JBBG © Erich Reismann
Nouvelle Cuisine © M. Lackinger
Wolfgang Muthspiel © Laura Pleifer
Falb Fiction © Lukas Gansterer
Fatima Spar And The Freedom Fries © Christoph Huber