School's out for summer! (Well, almost.) And with the breaking-free of 4-cornered quarters, one is hit with the warm embrace of an inevitably hot summer, and all the soundtracks – live or recorded – to take us through it. Check out some of this summer's highest lights and lightest highs with our AUSTRIAN MUSIC HIGHLIGHTS series. And scroll down to the end for a link to our overflowing list of live dates to catch at in a city, town or forest near (or far from) you!
NEW REALs
"Life is good in the new real" is the umbrella motto of the upcoming Sonic Territories Festival for Sound Art in Vienna, with "Soundness" as its title for this particular chapter. Taking place from June 30th to July 2nd, the festival is celebrating its 5th edition. Under the artistic direction of Mimie Maggale, this year's program "is a call to expect the unexpected" and for expansion into and within the community. The title "Soundness" bears multiple meanings – "sonority," but also "security" and "stability" – which the festival poses as potential responses to the current state of turmoil that our world currently sits in. When everything turns to sh*t, can music be the answer? Perhaps we'll find out at this year's Sonic Territories Festival, and with its talented, multifaceted lineup, the chance of the answer ending up in the affirmative is not so low. Sound artists such as Kenji Araki (AT), Kate Carr (UK), the concept horse (US), Electric Indigo (AT), Patrik Lechner (AT), Opal Opal (RO), Aho Ssan (FR), Oliver Torr (CZ), Hüma Utku (TR/DE) and YUZU (BG) will be performing, alongside various installation artists and DJ's.
Image and space are vividly present in Time of Music's 40th anniversary program. Titled "MUNDI NOVI – NEW WORLDS", this year's Finnish festival provides numerous international premieres and interdisciplinary art collaborations. Among them are the Schallfeld Ensemble's two-day event – July 10th and 11th – with the Composer Course Final Concert I, featuring numerous world premieres and the SYSTEMA NATURAE work, respectively. These events are part of the Ulysses project co-funded by Creative Europe.
The 3rd edition of Kultursommer Vienna starts off with a bang on July 1st with the Vienna Symphony Orchestra open-air in Prater with none other than the iconic ferris wheel as its backdrop. Of course, it doesn't stop there. The gigormous free program features artists and disciplines of all kinds, painting a vibrant picture of what Austrian music and performance looks like today. Just a few highlights to name are Jungle Jade, Sinfonia de Carneval, Catastrophe&Cure, Don't Go, Lorenz Raab / David Helbock Duo, Karl Stirner/Die Strottern, Peter Rom, Bulbul, Jörg Mikula, Duo Aliada, Lizki, M. A. D. – Trio with Didi Kern & Alessandro Vicard from Michael Fischer, Isabel Frey, ROMC, Zion Flex, echoboomer, Tahereh Nourani solo, Naked Cameo and Blueblut. But this is just a taste. For the full meal, go to the festival website.
It's number 42 for the internationally renowned, iconically niche KONFRONTATIONEN – Nickelsdorf Festival for Free and Improvized Music! And in its ripe middle age, this special and utterly satisfying festival continues to go strong – from its radical musical output, to its outpour of energy and inspiration, and, last but not least, the genuine feeling of community it unfailingly creates. For these reasons and more, we can look forward to this festival rolling through this Burgenland village once again, specifically, from July 22-24. As usual, the program packs a plethora of international acts hailing from the US, the UK, all over Europe and, of course, Austria. Among them this year are Christian Fennesz, Burkhard Stangl, Franz Hautzinger, Dieter Glawischnig, Tanja Feichtmair and Werner Dafeldecker. For lovers of free jazz, improv and experimental artistry, this festival is a must-see this year, and every year.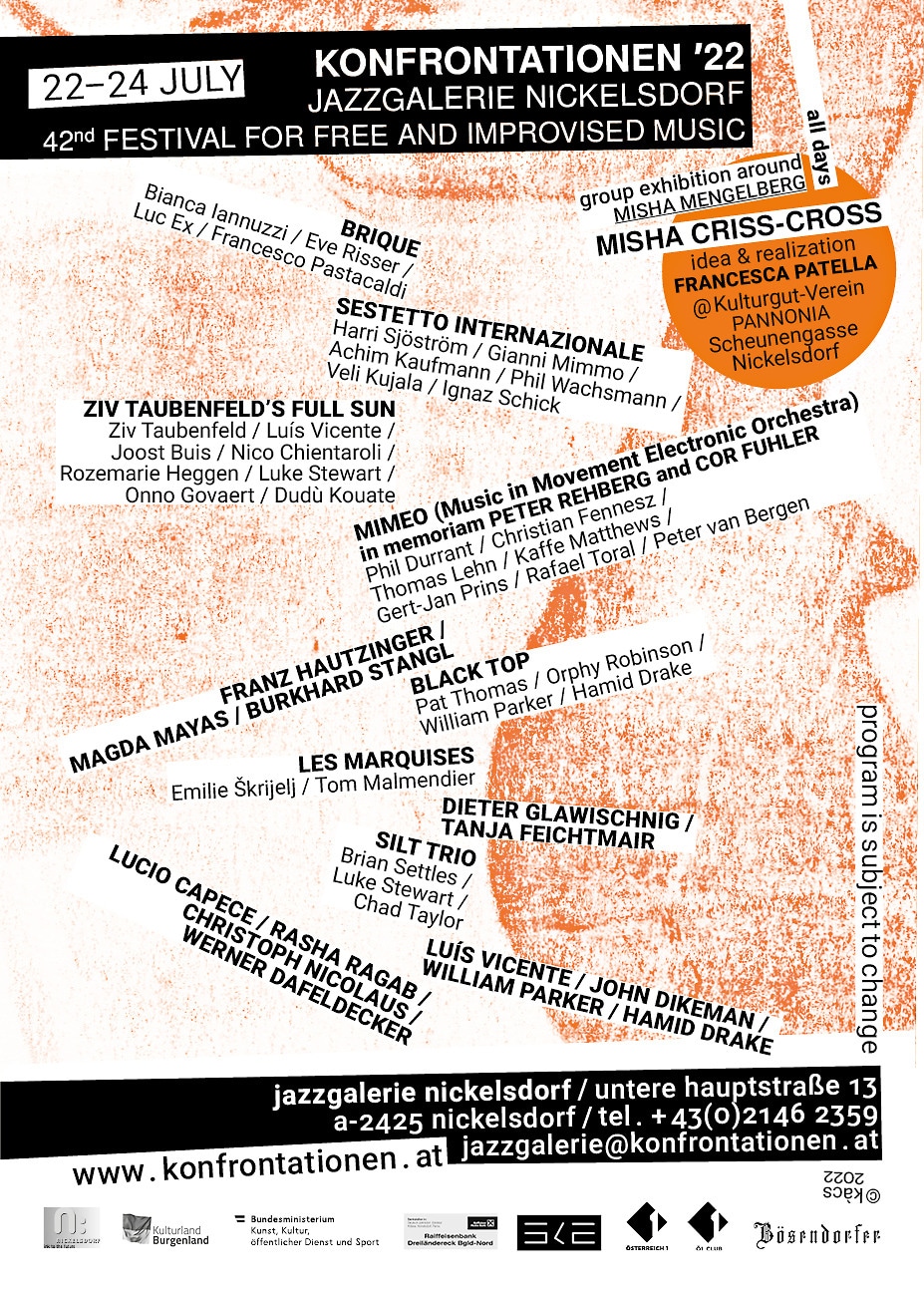 The anticipation for the Donauinselfest 2022 – Europe's largest free open-air festival – is particularly high this year, given that the festival hasn't taken place in its usual form since 2019 (thanks, covid!). That means the full three-day run (June 24 to 26), including numerous national as well as international acts, and everything else that goes with the festival, is back. Among the lineup are Austrian favorites like Tina Naderer, Mathea, Marina & the Kats, Lylit, Bipolar Feminin, Sigrid Horn, Orges & The Ockus-Rockus Band feat. Benny Omerzell, Kid Pex, Verifiziert, Sharktank, Eli Preiss, Mavi Phoenix, BAITS and Felix Kramer. For the full lineup and its awe-inspiring number of stages and performances, go to the official website and take your pick!
Depths & Heights
This year's annual Wellenklänge Festival on the idyllic Seebühne (Lake Stage) floating serenely atop the waters of Lunzer See carries the title "Courage & Justice". Spanning three weekends between the 15th and 30th of July, the program features artists like Yasmo & die Klangkantine, VIVID Consort & Alexander Yannilos, Ralph Mothwurf Orchestra, Angélica Castelló, David Six, Simon Zöchbauer, Clemens Wenger and Ankathie Koi. In addition to music, there will be promising panels and performances by political and artistic figures such as Tonica Hunter, Mireille Ngosso & Faika El-Nagashi.
Perhaps no place better combines the dramatic landscapes of the southern Alps with Italian flair and undeniably good music than the annual Südtirol Jazzfestival Alto Adige. "The soloists and ensembles at the Südtirol Jazzfestival Alto Adige not only venture forth to dizzying musical heights but quite literally ascend the 'real' heights of the mountains, instruments on their backs, and entertain the public against a breathtaking Alpine backdrop. The Südtirol Jazzfestival Alto Adige is something of a ground-breaker itself: sure-footed, yet treading carefully over the 'tricky' patches, the festival blazes new trails through the musical landscape, putting the mainstream jazz and concert halls of the area at risk of extinction. With contrasts and fusions in unusual concert venues and new worlds of sounds, event organisers and artists follow the path less travelled in the quest for tones unheard of and melodies unimaginable." If you haven't been there yet, it's time to consider changing that pattern. And if you do make it that way, be sure to check out Austrian artists: Judith Schwarz, Johannes Bär, Lukas König, the band Edi Nulz, Arthur Fussy, Clemens Rofner, Chris Norz, Die Strottern & JazzWerkstatt Wien incl. Klemens Lendl, David Müller, Clemens Salesny, Martin Eberle, Martin Ptak, Peter Rom and Clemens Wenger and Synesthetic4!
The truth is, we couldn't fit nearly enough into this edition of Highlights as it feels like just about everyone and their mother is currently on tour, or just about to start. Just take a look at our live page to browse the tremendous number of concerts by Austrian artists abroad this summer. And as you solidify your holiday plans, make sure that you've got at least a concert here or there to add to your travel itinerary!
happy birthday
The Rolling Stones turns sixty this year! And in honor of these six special decades together, they are celebrating with live dates across Europe this summer. What does this have to do with Austrian music you ask? Just that a band you might know has been requested to open for them when they hit Vienna – that's what! None other than Bilderbuch will get to share the stage with Mick Jagger and co this summer! Grab your tickets (if you still can) for the big show on July 15th at the Ernst Happel Stadium and catch two legendary bands, spanning decades of music history, in one night!
Arianna Fleur Alfreds