It's a new year, and with it comes plenty of new Austrian music highlights to spotlight! Building off of 2022, a year packed with musical accomplishments and developments (see our 2022 Retrospect), the bar's been properly raised for 2023. But with all of the talent, drive and creativity floating in the veins of the Austrian music scene, we have no doubt that this year will match, if not top, the one proceeding it. Let's take a look at some of the recent and upcoming gems.
---
No wind, no waves
On January 5th, Bipolar Feminin's video to the new single, "Matrose" (translation: "Sailor") – released end of 2022 on Buback Tonträger – entered the universe for official public viewing. Lucky us. The band – made up of frontwoman Leni Ulrich, Jakob Brejcha on guitar, Samuel Reisenbichler on drums and Max Ulrich on bass – is known for its artistic, genre-bending, cutting-edge approach to music and performance, and this new single and accompanying video are no exceptions to that rule. A collage of material and spaces, from sculptural depictions to live-show footage from both Hamburg and Vienna, the band mixes and mashes spheres and ideas, leaving the viewer whirling, left to their own readings and conclusions. So, what's yours?
---
Voodoo Jürgens released his latest album – "Wie die Nocht noch jung wor" (in Viennese dialect: "When the night was still young") on Lotterlabel at the end of 2022. Receiving critical acclaim, once again, Voodoo has been taking his brand new baby on the road, presenting the new album throughout Austria in December and January. And soon, from the 1st of February, he'll be heading outbound, to Switzerland, and all the major cities in Germany. Catch him where you can. The long list of 2023 live dates can be found here.
---
Reflections, Fire & ICE
The cresc… Biennale for current music in Frankfurt Rhein Main will be happening once again this year from Feb 17th-25th, 2023. For this edition, you can catch Austrian, Schallfeld Ensemble and Martin Grubinger on stage at the renowned biannual international event. On Feb 18th, Martin Grubinger will perform in the program entitled "Fire & Ice" including a piece by Daníel Bjarnason (2021) for solo-percussion. On Feb 19th, the Shallfeld Ensemble will perform a program by recent conservatory graduates intensifying their expertise in contemporary music at the International Ensemble Modern Academy. "A concert for explorers! And a chance for the audience to experience newcomers to the scene." – cresc…2023
---
In the charts
The recently released album "Fragility of Sounds" (2022 on Ventil Records) was recently Wire: Top 50 Albums of 2022. The music released on this album was composed and performed over the years 2019–2021 within the framework of the artistic research project "On the fragility of sounds", designed to explore terrains of composition and contemporary music theatre as they are interwoven with feminist practice. The artists featured on the album are: Elaine Mitchener, Electric Indigo, Elisabeth Schimana, Pia Palme and Séverine Ballon.
About Fragility of sounds:
This project listened into intersections of contemporary composition, music theatre, and feminist practice from a unique position: from the position of the artist themselves while being at work.
As the title indicates, possible themes for this compositional exploration were interactions, relationships, and interferences between sounds and space, movement, bodies, cultures, and politics. What are we exploring when we approach sounds as fragile?
The artists Electric Indigo a.k.a. Susanne Kirchmayr, Elaine Mitchener, Elisabeth Schimana and Séverine Ballon were invited to compose and realise music around the fragility of sounds – alongside the initiator and main researcher of this project, composer/performer Pia Palme. All of them were informed about the theme and chose their unique, individual approach. They were free to determine the format and duration of their piece while observing their own process.
In cooperation with the composers, the ensemble Schallfeld, based in Graz, Austria performed, premiered, and recorded the commissioned ensemble works featured on this album. Due to the pandemic crisis, composers had to communicate online at times, and some of the works could not be performed in public.
In this singular research setting, the artistic process of the composer/performers themselves was at the core of this exploration. Anchored to the Center of Gender Studies at the University of Music and Performing Arts Graz, the project was conducted by Palme in collaboration with the musicologist and cultural worker Christina Fischer-Lessiak, with funding by the FWF Austrian Science Fund (PEEK AR537) and additional monies from the Mariann Steegmann Foundation and the Land Steiermark (Province of Styria). Further research associations included the theatre scholar Irene Lehmann. Palme also composed pieces for music theatre, such as WECHSELWIRKUNG (2020), which are not covered in Ventil's album.
One could say, the processes of the artists Palme, Schimana, Mitchener, Kirchmayr, and Ballon, composing and realising their music, served as living case studies for »On the fragility of sounds«. It was central that the composers themselves would reflect on their own practice and observations. Interviews, panel discussions, lectures, and concert talks offered platforms for communication, discourse, and exchange.
The book »Sounding Fragilities. An Anthology« (Lehmann & Palme 2022) published by Wolke offers insights into the field of exploration and the research findings, featuring over twenty contributions by composers, performers, musicologists, and theatre scholars—including, for example, Malik Sharif, Chaya Czernowin, Liza Lim, Gérman Toro Pérez, Suvani Suri, and Veza Fernández. Artist Susanne Kirchmayr wrote her essay »The development of Brittle. On the delicacies of minerals« about her work as composer/performer for this anthology.
Released June 15, 2022
– Ventil Records
---
i shall be released
The Viennese trio Sharktank has been gearing up to release their new album in early spring 2023. And as we sit tightly on the edge of our seats, we can enjoy the stream of singles that have been generously and continuously bestowed upon us. The latest is the song "Shame" (released Jan 13), carrying the signature unique style the the indie-rock-rap band with popping beats and top-notch production is known for. This tune is notably laid-back, perhaps due to the somber subject matter at hand, as the band explains: "Shame is about the moments in our lives when we feel the most vulnerable and not accepted by those around us. These moments can make us doubt ourselves and question who we are. It's important to accept these aspects of our lives and realize what the cause of this shame is and welcome it to our reality. It's part of us and will never leave us. It's about the way we deal with it and try to move forward."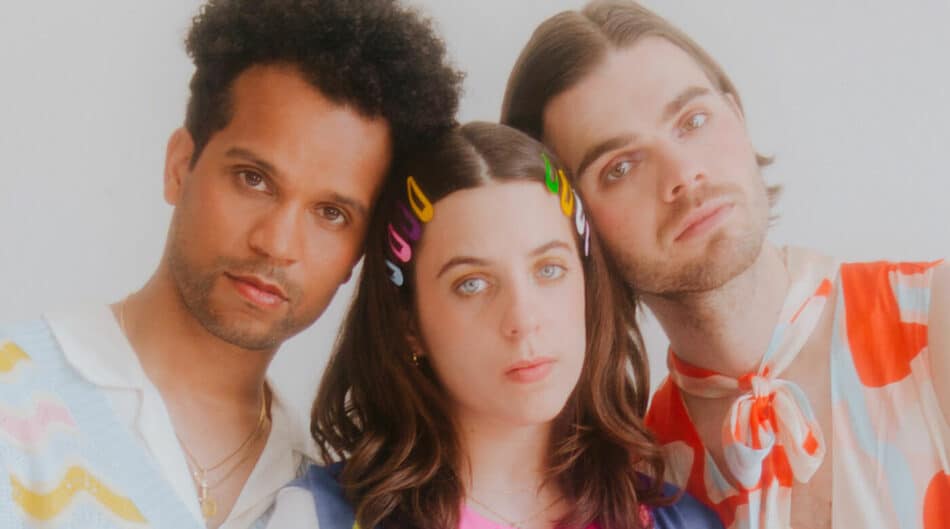 ---
Aze released a new song on Friday, the 13th of January, "More than This" (Ink Music). As they put it: "Our very own yasssified version of Roxy Music's track". Aze's cover of this 1982 hit brings a brand new feeling to the 40-year-old classic. It's both more intimate – with the soft, floaty voice of the singer, Ezgi, and the fine guitar details created by Beyza – while simultaneously more danceable with the drums and beat-heavy arrangement. Aze also affirms that they didn't even try to imitate Bryan Ferry, but made the song their own, by interpreting it the way they would like to hear it themselves.
---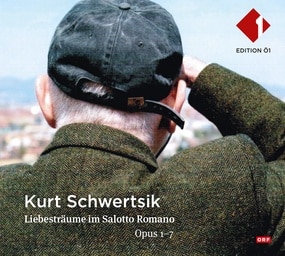 For the first time on one CD, Ö1 presents: "Liebesträume im Salotto Romano": Kurt Schwertsik's complete Opera, parts 1-7.
These early operas by Schwertsik were written between 1952 and 1963. Accompanying the CD release are five Ö1 broadcasts dedicated to the composer.
About Kurt Schwertsik'S work:
"The rather unknown early works of composer Kurt Schwertsik presented on this Ö1 CD were written during his years between Vienna, Darmstadt, Venice, Cologne, Rome and London, during which he met the composers John Cage, Pierre Boulez, Karlheinz Stockhausen, Friedrich Cerha and Heinz Karl Gruber. Also Nam June Paik, David Tudor, Christian Wolff and Cornelius Cardew. These are the years in which he wrote his first seven opus numbered works. They included the fascinatingly dark yet forward-acting ensemble piece "Salotto Romano," the famously enigmatic piano piece "Eden-Bar Seefeld," and the notorious "Liebesträume für sieben Spieler."
And last but not least: the most tender and sensitive opus in Austrian music history, written under the influence of the serial thinking of the 1950s, Opus 2, composed in 1957. The CD features a recording from 1960, played by Friedrich Cerha and Ivan Eröd. Schwertsik wrote some of these early pieces for himself and his friends, for example, for himself as horn player, Friedrich Cerha as violinist and fellow composer Iván Eröd on piano – the Trio Opus 3. The CD features a 1960 recording with just these three musicians from the ORF archives in Klagenfurt. "Salotto Romano" is the name of a piece written in Rome in 1961 for a chamber ensemble of emphatically low instruments. In 1967 Schwertsik conducted his piece in a WDR studio, and this tape is also preserved:
The music sounds almost as if an unusually avant-garde as well as gentle-sounding piece by Morton Feldman had been found. Finally, Schwertsik's Liebesträume:
Inspired by Cornelius Cardew and the cut-up technique of William Burroughs, Schwertsik cuts up a version of Franz Liszt's Liebesträume and collages them back together against the harmonic grain."
– ORF Radio
---
There's quite a lot going on with OSKA lately. Having recently won the Music Moves Europe Award 2023, presented at the Eurosonic Noorderslag (ESNS) Festival in January in Groningen, NL, it is clear that this mesmerizing talent is going places.
In addition to that, however, her creative collaborative potential continues to grow. Her collaborations with Austrian musician, Clemens Bäre aka doppelfinger are well-established and -known. Last year, Tom Odell's discovery of the young talent led to her invitation to open for him on his European Tour. And, just last week (Jan 13), a new single came out by Australian-born, Sweden-based artist, Hazlett, who asked fellow Nettwerk artist, OSKA, to join him on the melancholically dreamy new song: "Hesitate". It's no wonder – the overlap of their indie-folk, emotionally-charged approach to music, made them a natural pair. The more people that discover this rising star, the more likely we will be hearing OSKA's voice and music pop up all over the world.
---
Elias Stemeseder (piano) and Christian Lillinger (drums) have recently released a new album: PENUMBRA (Plaist Records). The duo has been working on this project since the fall of 2020, and after two years, they are thrilled to be able to share PENUMBRA's first stage of development in the form of this debut album, while at the same time looking forward to what the future it holds.
About Penumbra:
PENUMBRA by Christian Lillinger/Elias Stemeseder strives to manifest diverse currents of contemporary practices and utopias in sound production acoustically and electronically, in the studio as well as in concert. They make use of compositional and production methods from a variety of geographical and temporal locations, and through a synthesis of these forge a radically modern sonic idiom that is free of templates yet rich in references.
At the core of the project lies the reappropriation of a baroque sound body: the basso continuo as the ensemble's harmonic-percussive driving force, which Stemeseder and Lillinger realise through electrically amplified harpsichord and percussion. Penumbra expands our understanding of this sonic entity by means of electronic processes. It recontextualizes it and puts it at the service of contemporary music making.
The work cycle PENUMBRA is a long-term catalogue, on the basis of which the producer duo wants to conduct their musical and geographically extensive work. Sustainable collaboration is essential here, both within the duo as well as with guest musicians, who play a key role in upcoming releases.
The first part of the series, which was created with the core duo of Lillinger and Stemeseder, aims to generate a powerful sound from a gently played tonal image, so that the music's enormous plasticity, depth of focus and polyphony becomes audible. Through the interactions of diverse perspectives, complex composition models are reframed and gain a new manifestation. Stemeseder and Lillinger achieve a transient-rich, plastic and powerful tonal image by conducting research into different ways of sound production in the studio. PENUMBRA creates an original and trailblazing aesthetic by applying compositional multi-layering, which demonstrates and connects a plethora of sounds.
Released December 9, 2022

Elias Stemeseder – Composition, Producing, Spinett, Synthesizer, Electronics
Christian Lillinger – Composition, Producing, Drums, Sampler, Synthesizer
PENUMBRA is now available through Bandcamp and the Plaist website, both digitally and physically (limited-edition vinyl and compact disc).
– Plaist records
---
NYC-based Austrian jazz drummer Peter Kronreif recently released a new song "Midnight Sun", but not one you might expect from him. This piece marks a sparkling debut for Kronreif in the singer-songwriter genre, and, accordingly, is released under the artist name, CROWNĒ. One could say it shows a new side to the artist, but that wouldn't be telling the whole truth. Kronreif has always exhibited a sensitive, dreamy, sentimental side in his compositions (i.e. Wayfarers). However, this new work takes him to an entirely different level, embracing new spheres and horizons with voice, piano, guitar and especially the self-written lyrics. The work is not only courageous, but it also nails it. Check out the beautiful new song by the ever-expanding drummer and composer.
And, on top of that: Peter Kronreif is also nominated for a U.S. Grammy Award 2023 for his drumming on Remy Le Boeuf's album, "Architecture of Storms". Keep your eyes peeled and fingers crossed for the award presentation on February 5th, 2023!
---
The young experimental music duo søch will be releasing their new album "While We Wait" at the end of January 2023. With Anna Sophia Defant on piano and Bernhard Hadriga on guitar & electronics, søch is a musical project that places free improvisation at its center. Contemporary avant-garde, built on the juxtaposition of electronic and acoustic music, of the natural and the constructed space. In August 2021, the duo presented their new program at the 41st Saalfelden International Jazz Festival. This resulted in the album "While We Wait". They will play their album release concert at Radiokulturhaus Vienna together with Nikolaj Efendi on Jan. 31st.
---
Arianna Fleur Alfreds