There's a lot to hear this March and April. The releases keep releasing and the good vibes keep flowing – just in time for the festival season about to kick off. Music is to spring like butter is to bread – it's fine alone, but it's that extra hi-caloric layer on top that really makes it kick. As the flowers begin to bud, so do the Austrian Music Highlights all around us.
---
FESTIVE
The internationally renowned Wittener Tage für neue Kammermusik (Witten Days for New Chamber Music) will take place with more than 20 world premieres and first performances from Friday, April 21, to Sunday, April 23, 2023, jointly organized for the 55th time by WDR 3 and the Kulturforum Witten. Among the internationally renowned lineup, the Klangforum Wien, as well as some of its individual members will play, and works by Klaus Lang and Carola Bauckholt will be performed. The cultural radio station WDR 3 will broadcast the entire festival live or time-delayed on the same weekend on the radio.
---
The globally renowned sound, art, and discourse festival – donaufestival – is back for two weekends in spring 2023: April 28 – 30 & May 5 – 7. With the theme: "Beyond human", donaufestival puts a focus on nature and the climate crisis, which, as the festival puts forward: "is fuelling global political conflicts and heralding a looming end to a civilisation increasingly populated by artificial intelligence. What remains after all the radical changes? A number of artistic positions at donaufestival 2023 conjure a worldview that no longer treats humans as a privileged species."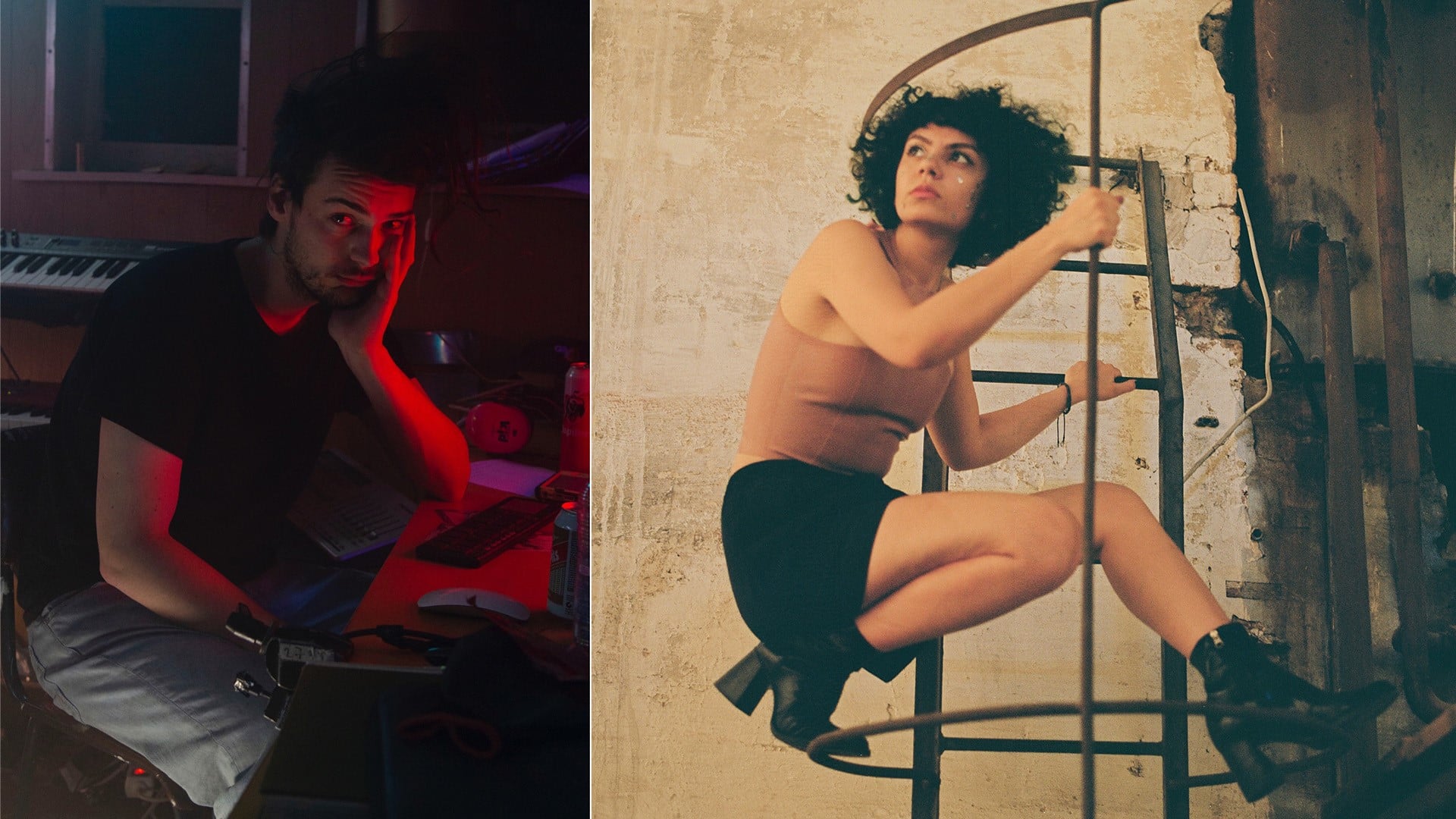 As always, the festival program is packed with larger than life acts and events, waiting to blow your mind in ways you can't yet imagine. Among the international lineup are a few Austrian gems not to be missed, such as electronic artist Rojin Sharafi performing the world premiere of her audio-visual performance with Épong, comissioned by Arts Centre VIERNULVIER and donaufestival on Friday, April 28th. On the following night, Saturday, April 29th, improv drummer Lukas Koenig and modular synthesizer wizard Nik Hummer present their new collaboration 1 ABOVE MINUS UNDERGROUND (see more below) – with a number of guests and features from the album. On April 30th, Radian presents the world premiere of their new album to be released in autumn. And on Saturday, May 6th, Geier aus Stahl perform rattling, gloomy machine clatter at the Minoritenkirche and Shilla Strelka (Struma+Iodine, Unsafe & Sounds) a.k.a. Inou Ki Endo will be playing a late-night DJ set as well.
more about donaufestival 2023
Sound, art, performance, discourse. The music and performance festival featuring about 20 events
per day is staged in several locations throughout Krems: the Klangraum Krems Minoritenkirche, Kinoim Kesselhaus, Forum Frohner, Kunsthalle Krems, and numerous halls on the Messegelände festival grounds.
According to the proposition by theorist Frédéric Neyrat (video lecture with Q&A on May 6), we are
no longer living in the Anthropocene but in the Alienocene. Neyrat's same-named journal celebrates
our unfamiliarity with our surroundings. It is dedicated to relations between the human and inhuman and sympathises with aliens from outer space and outernationalists on our planet. We are living in a world where the organic and synthetic are merging, where military-trained eagles hunt drones and steaks come from the lab.
Must we transform radically in order to have a future? For sure, we need to speak about the climate
crisis under capitalist conditions, but also about those ominous parallels between colonial and
ecological divisions of the world into a high and low. The thereby supposedly legitimised exploitative relationships correspond to the distinction between nature worthy of protection (national parks or domestic pets) and nature without rights (fracking soils or cattle for slaughter). Perhaps what we need is not just a "decolonial ecology" but a hitherto unimagined vision of a world populated by intelligences that dwell not only in human brains and digital machines but also in "thinking forests" or an "Internet of animals."
Beyond human: Some artistic intelligences make suggestions to this effect: guitarist Daniel
Bachman's album Almanac Behind, presented as a film in the festival, fuses folk improvisations with field recordings of winter storms and bushfires, interrupted by reports from a local weather radio station. Kim Noble slips into a father role for a maggot in his comedic outsider performance. Eglé Budvytyté's video installation Songs from The Compost frames mutated body images in forest and dune landscapes. The collective DISNOVATION.ORG devises a hybrid "Bestiary of the Anthropocene" and develops tools for a society that has bid farewell to the fetish of growth. Artist Oliver Ressler translates the sound of melting Arctic glaciers into an AV installation. The pontiffs of Toxic Temple celebrate plastic-digesting bacteria and worship nuclear waste. Infiltrating the festival throughout its duration, their rites also reveal that speculations on transhumanism should not shroud the subject of real human discrimination in the here and now. The music-driven performance Aphasia by Jelena Jureša asks: Why does a popular Serbian DJ step on the head of a Muslim woman during war? In his droning prog rock performance Batty Bwoy, what is Harald Beharie trying to tell us with his excessive physical exertion? And do humans, as exemplified in workpiece by Anna-Marija Adomaityte, have to work in warehouses optimised on the model of robots?
If your answer's no, then it's time to mobilise your body. The name of the techno-spiritual duo
Animistic Beliefs makes a musical statement: music as magic, freed from the compulsion to be
reasonable, rendered by sentient machines. New albums will be presented by the singer and rapper
Debby Friday, the savvy provocateur Zebra Katz, and James Holden, who frames his latest work as
rave music for a parallel universe. Petronn Sphene, the likely most electrifying live hip-hop show on
the planet, ensures mutant disco berserkness; as of late, noise specialist Puce Mary complements
her œuvre with demonic ballads; Hüma Utku fuses oriental influences with contemporary
electronics.
Vocal extravaganzas emerge in the fractured "survival elegies" of Lingua Ignota, the sophisticated
arrangements of workers' songs by Silvia Tarozzi and Deborah Walker, or in the music of Phew,
Marina Herlop, or Félicia Atkinson and the acclaimed Grammy Award winner Arooj Aftab (together
with Vijay Iyer & Shahzad Ismaily). Intense encounters between sound and visuals await us in the
live versions of the post-industrial noise by Klara Lewis & Nik Colk Void + Pedro Maia, in the
commissioned work by Slikback x Weirdcore co-produced by donaufestival, in the advanced
psychedelics of Heith live AV ft. DECLINO, in the sensory excess-riddled digital aesthetics of Amnesia Scanner & Freeka Tet, and in the stage productions by electronic composer Maya Shenfeld and video artist Pedro Maia.
In 2023, a number of bands are also on board in Krems: proven noise rock calibres like Godflesh or
Big I Brave as well as new discoveries like the percussion-driven, furious live band Nihiloxica from
the circles of the Nyege Nyege collective. They are joined by Afrofuturistic voodoo wizardry of
Nwando Ebizie and naturally fierce club sounds from the likes of DJ Lag, Omar Souleyman, or RP
BOO. And last but not least, there will also be several acts with Austrian contributions: Radian
presents the world premiere of their new album to be released in autumn; Lukas König unveils an
international, rap-powered project; Rojin Sharafi & Épong will deliver an audiovisual performance
co-produced by the donaufestival (world premiere); and Geier aus Stahl perform rattling, gloomy
machine clatter.
Note: The last day of the festival (Sunday, May 7) features three highlight concerts in the Minorite
Church (no programme on the main festival premises). During the day, there will be talks, film, and
performance programmes as usual. This year, we want the end of the festival on Sunday to be a
particularly relaxed one for everyone. (donaufestival Press Text)
---
Once again, the unique crossover project between museum, institution, performing arts, literature theater and music is back at the world-renowned Kunsthistorisches Museum (Museum of Fine Arts Vienna) for the eighth time, this time with the title: Ganymed Bridge. Conceived and executed by Jacqueline Kornmüller and Peter Wolf, the two collaborate with international authors, composers and various performers from the fields of music, theater and dance, and together they develop what has become an annual highlight of the Viennese arts and cultural scene. What is unique about the idea of Ganymed is that the concept specifically engages performance with the masterpieces and objects of the respective museum. Art responds to art. A special addition to this year's event is the extension to the Naturhistorisches Museum (Natural History Museum Vienna). Therefore it will not only be art responding to art this year, but to nature, and building bridges and connections, as such. The music highlights of this year's program will include performances and compositions by: Johanna Doderer, Martin Eberle, Lukas Lauermann, Martin Ptak, Peter Rom, Emily Stewart, Andras Dés, Mona Matbou Riahi, Mahan Mirarab, die Strottern and Federspiel. Ganymed Bridge premieres on May 5th, 2023, with further dates running through October. Check here for details.
---
time to let go
Billy Roisz will be releasing her 2nd solo album carrying the title "BAJO" coming out April 21st on Ventil Records. "Billy Roisz has been a driving force in the experimental music scene for many years. She is widely known and has earned critical acclaim for her artistic work, which ranges from cinematic (her films are regularly screened at major film-festivals such as Berlinale-Shorts or the IFF Rotterdam) to pure audio-works, as she presents with this new album. Her last solo-release 'Walking The Monkey' dates back to 2012 (Editions Mego) and now she unveils her successor: 'BAJO'." – Ventil Records
About "BAJO"
A sonic exploration of double bass from a nosey and refreshingly innocent point of view. Roisz investigates the concept of going low – not only in terms of frequency, but also in a metaphysical sense; expecting the album to be a droning low-end scenario is completely wrong. Billy Roisz manages to compose music that indeed feels as if you are under an obscure yet fascinating viscose or earthy substance, that evokes the heavy need inside the listener to dig even deeper, making "BAJO" a journey into the depths of sound par excellence. Roisz seamlessly blends the acoustic signals of the double bass with the modulation of electronic devices, deliberately adding only the sound of one single sonic entity, created by a cymbal that belonged to her longtime stage partner Silvia Fässler of the duo Skylla.
Almost as a signature-move, Roisz uses errors and surprise-encounters as a pathfinder to compose multifaceted pieces full of intriguing sonic territories and unexpected associations. Indeed, "BAJO" takes the listeners deep down the burrow – where one experiences what might be considered as Billy Roisz's very own ritual music. (Ventil Records)
---
"Die Liebe wird siegen" (Translated: "Love will win") is the new album by the trio: Krbavac Salesny Dolp (Jazzwerkstatt Records). The collaboration of these three top musicians results in an eclectic, broad-spanning ride, past very loud avenues to equally delicate pastures; over landscapes of the very maximal to the very minimal. As Clemens Salesny (JazzWerkstatt Wien co-founder and one of Austria's most sought-after saxophonists and clarinetists) and Niki Dolp (known in the scene as an exceptional drummer) join forces with Karl Wilhelm Krbavac (who has been improvising for over 50 years playing blues and 12-tone music and lists 6500 notated compositions), the result is out-of-the-box, boundary-pushing crossovers with the claim that "everyone can do 100% what they want at any time". Released on JazzWerkstatt Wien Records in February 2023, get your copy here.
---
Having come into existence just a mere 3 years ago (and covid not helping anything), Sharktank made a remarkable climb to the top and has since become an indispensable part of the European alternative-pop scene. With the release of their debut album "Get it Done" (released June 2021 on Ink Music), the potently talented, high-energy trio made it clear they mean business. Their single "Washed Up" from that album has received over 11 million streams (and counting) to date. In 2022, they were featured on the U.S. radio platform NPR's most popular music show "World Cafe", broadcasted on 276 stations around the nation. And the band continues to receive invitation after invitation to the biggest European festivals, such as Reeperbahn and Eurosonic Noorderslag.
With "Acting Funny" they are about to release their second album (Ink Music: March 24, 2023) and, with it, will broaden their palette, revealing a more experimental side, while maintaining the sound and vibe their fans love and look to them for. The organic, yet unexpected, interweaving of melodic vocals, rap, synths, dynamically grooving beats encompassed in rock-pop tunes, make up the signature sound of this trio. To accompany their album release, Sharktank sets off on their "Acting Funny" tour in April and May 2023, taking bands, Aze, Blush Always and Tilman with them for the ride. Whether they really will be acting funny or playing seriously… or both… is tbd. Book your tix and find out for yourself. And, pre-order the album "Acting Funny" here.
---
KOENIG – drummer, composer, rapper, multi-instrumentalist – will be releasing his latest solo album on April 28th, 2023, carrying the title "1 ABOVE MINUS UNDERGROUND". 'Solo' is in fact a misnomer, as each track features carefully chosen artists and musicians from around the globe (U.S., UK, Iran and Austria), and was sparked from a longstanding creative collaboration between Lukas König and Nik Hummer. Based on heavy, hip-hop beats, experimental noise and droney synths, König and Hummer set a foundation on which the invited artists could take the work to new heights. And did they ever. Drum recordings are ground up and re-dubbed through modular synthesizers. These 20-minute experiments are also accentuated by Victoria Shen's nail-needle scratch samples, Julien Desprez' guitar noises and trumpet & saxophone sounds of Aquiles Navarro, Martin Eberle and Chris Pitsiokos. The beats drawn from these improvisations serve as the grounds for creative input from hip-hop and noise voice artists: Will Brooks (Dälek), Guilty Simpson, Moor Mother, Sensational, Nappy Nina, Elvin Brandhi and Rojin Sharafi. The featured artists don't waste any time getting into the realm of the real – frontally facing topics of racism, police violence, pharmaceuticals, violence against women, and much, much more." The concert at donaufestival Krems will be the world premiere of this constellation as a live performance. The album will come out on both NY-based label, PTP Records and Viennese label, Ventil Records.
---
ESRAP & GASMAC GILMORE – "REDEN ÜBER WIEN" (SPRINGSTOFF // RELEASED ON MAR. 3, 2023)
The duo EsRAP uses rap as a political and emancipatory means of expression to position themselves against outdated and outmoded discourses that place people with migration experiences on the fringes of society. People with migration experiences should be understood as an everyday part and normal phenomenon of society (Wikipedia). 'Every sixth Viennese comes from Belgrade,' raps EsRap in the current single "Reden über Wien". If you consider that every third Viennese is not eligible to vote, you can already see one aspect of the imbalance.
In a musical mix of hip-hop and Turkish-Oriental arabesque, the rock band Gasmac Gilmore adds metallic heavy beats to the intercultural mix in this collaboration.
Translated by Arianna Alfreds from the German original by Dominik Beyer.
---
VERIFIZIERT – "ONE CALL AWAY" (PROD. HARDY X / TOBIAS KUHN) (VERIFIZIERT / COLUMBIA // RELEASED ON MAR. 2, 2023)
Verifiziert has released her debut album "adhs" (English: ADHD). To accompany the release comes a video for the single "One call away" with a lot of thug life footage straight from the smartphone.
The song is about unrequited love. Between the lines, however, the disappointment of the unfulfilled promise of the Silicon Valley advertising machinery definitely resonates.
The sequenced motif of the chorus line: "Wait for your name on the display – I thought you were my one call away," even in the ringtone – its descending sequence, it brings to mind an association to the unfortunately hard-to-reach. (The fact that I see that he is online, while he does not answer, does not make things better.) Will the newer smartphone be able to remedy this predicament?
The advertising lies of the digital empires make everything interesting – because it's not always available, yet seem within reach at all times. All friends and perhaps even greater love are just a click away. The Metaverse promises a cure.
The album is named after an attention deficit/hyperactivity disorder (ADHD) and is supposed to draw attention to the issue in adult women. In any case, it is striking that so many are suddenly affected by this disorder. Without questioning a medical diagnosis, it is necessary to reconsider whether the intensive use of the smartphone is the promising cure, because "screens are drugs" sings the German rapper Prince Pi on the current album: "adhs".
Translated by Arianna Alfreds from the German original by Dominik Beyer.
---
CHRISTL – "FEMALE GAZE (WOMAN ENOUGH)" (INK MUSIC // RELEASED ON FEB. 24, 2023)
Holy Jesus CHRISTL. To anyone who strives for equality, the unequal distribution of beauty must seem like an affront. To get rid of this problem, followers of the Body Positivity movement broadly claim all bodies are beautiful.
In turn, philosopher Baruch de Spinoza said, "It is not because a thing is good that we desire it. But because we desire it, it appears good to us."
That the ideal of beauty, on the other hand, is subject to change through social norms is equally well known. The best example is the Venus of Willendorf. The Kate Moss of the Neolithic.
Nowadays, beauty is no longer innocent; because the influence of the patriarchal-materialistic norm is no secret.
Beautiful to watch, when CHRISTL, accompanied by a powerfully-voiced soulful performance, contributes to a more diverse view of this world, and impressively illustrates the variable character of our existence.
Body Positivity: 1, Body Neutrality: 0
Translated by Arianna Alfreds from the German original by Dominik Beyer.
---
5K HD – "CONSIDER" (FIVEK RECORDS // RELEASED ON FEB. 24, 2023)
"Consider" is the new single from avant-pop band 5K HD. Singer Mira Lu Kovacs invites us to the excessive waste of love and lust. Waste, of course, is to be interpreted in the best figurative sense. So far, so good.
But when it comes to sharing that with only one partner until the end of life, it becomes too Catholic for many and they retreat frightened into freedom and solitude. After all, freedom is our most precious asset which we have fought so hard for over the past centuries. More and more often, however, egoism comes along in the guise of freedom. Corona dictatorship and so …
Here, however, the marriage contract is not rolled out, but, with a gently soothing voice accompanied by a contemplative groove, only the request is expressed to imagine it, but once. Because, we know: Generation Snowflake is very sensitive.
Translated by Arianna Alfreds from the German original by Dominik Beyer.
---
Arianna Fleur Alfreds