First acts announced for the "Focus on Austria" at the biggest European showcase festival Eurosonic in 2014.
Austria is the focus country of Eurosonic 2014. The music festival with a complementary conference is the most important European "showcase festival", where artists get the chance to present themselves in front of an international expert audience and be recommended for further performances. At a presentation at the Viennese festival "Waves Vienna", the organizors announced the first batch of confirmed Austrian artists:  Ja, Panik, the Viennese Vegetable Orchestra, Koenigleopold, Russkaja, Sex Jams, Ghost Capsules and Tirana were invited to perform at the festival in January 2014 in Groningen.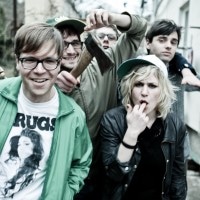 At the beginning of each year (in 2014 from the 15th – 18th of January) about 3000 festival organizers, club operators, labels, agents and managers meet in the Netherlands to discover new talents. For many international artists Eurosonic is an important platform for the leap across national borders. Performing in the past at the festival in Groningen, Austrian artists such as Soap&Skin, Elektro Guzzi, Clara Luzia or Bauchklang were able to gain international attention from  important partners and fans.
2014 will witness the 28th edition of promising performances by European acts. For the first time the festival will "focus on Austria" – with invitations to more than a dozen Austrian artists, the significant upswing in the local music scene is set into the spotlight. Austria will also be prominently represented in panels and presentations at the accompanying conference.
"Eurosonic 2014: Focus on Austria" is organized by the Austrian Music Export, which has been supporting  local artists and their environment in export activities and internationalization measures since 2011.
"In recent years Eurosonic has evolved to an important platform for local artists. Due to the focus on Austria, in 2014 there will be more Austrian artists on display at the festival, and subsequently on various European stages than ever before.", state a pleased Franz Hergovich and Tatiana Domany (Austrian Music Export). Both hope that this will have a permanent and lasting effect on the domestic music industry.
Under the title "Austrian Heartbeats", the accompanying campaign will provide insights into the current music scene for international journalists, partners and those interested in Austrian music.
The Austrian focus proves that the musical developments in Austria are definitely being recognized. The highly diverse, vital, strong and pulsating music scene is not only perceived at events like the Popfest Wien with 60,000 visitors. The attentive interest for Austrian music from other countries is definitely becoming more and more noticeable.
Partners of this important festival and industry meeting are the EBU (European Broadcasting Corporation) and the festival network Yourope. The attached European Talent Exchange Program (ETEP) is an initiative of the Noorderslag Foundation to stimulate the circulation of European repertoire on the radio, at festivals and the media in general.
The Austrian ETEP partners are Austrian Music Export, radio FM4, the FM4 Frequency Festival, Nova Rock Festival and the Waves Vienna Festival. Since the start of ETEP in 2003, a total of 1646 shows were performed by 605 European artists in the context of the now 80 ETEP festivals. (www.eurosonic-noorderslag.nl)
More Information:
» Austrian Heartbeats (Press material)
» Eurosonic 2014: Focus on Austria (Press material)