To receive a reasonably representative overview of the various productions of improvised, experimental or otherwise advanced music of the past decade, it seems useful to the author to refer to the variety of mainly small labels that put a lot of heart and soul into releasing this kind of music.
Firstly, these labels were for the most part also launched in the last decade, and secondly, they are a good reflection of the creative proliferation of the mentioned scene(s), and thirdly, they share a precarious living and work situation with musicians (which they are partially themselves). A precarity, which is not due to bad or negligent management, but rather the ignorance of current society, opinion-makers and their political institutions towards contemporary music.
Raising the significance of improvised and similar music can be considered as an urgent call to decision makers – especially since the history of its emancipation, as well as its economic situation, is characterized by more downs than ups. Without any claim to completeness, the following will examine significant labels in this field and their releases.
Let's start in a symptomatic approach with a very young company – and also because the protagonist can be seen as an allorgy of the open and remarkably undogmatic use of styles and genres. We are speaking about the label God Records, run by the Graz composer, drummer, electronic musician and performer Slobodan Kajkut. He himself is the drummer of the free-rock-band The Striggles and the electronic-rock-combo Automassage and offers in his solo works a wide spectrum ranging from so-called contemporary music to vaious stages of noise music. After the release of his own works ("The Compromise Is Not Possible", "Glue Sniffer", "Krst" and "Krst Remixes", on which he collaborated with big names such as KK Null, Lustmord, Plotkin and Weasel Walter), he released the collaborative work of Bernhard Lang with the British turntablist Philip Jeck and the ensemble Alter Ego ("TablesAreTurned"). This was followed by a solo CD by Robert Lepenik ("poSTepeno"), who is also a member of The Striggles and is a recognized expert on contemporary music.
Currently, there are quite a few releases on the God display: "Regenstücke Vol. 1" by one of the most original composers of our time, Peter Ablinger, and a double album by the electronic musician Boris Hegenbart ("Instrumentarium"), for which he generated works of others to new tracks, in this case pieces from Fred Frith, Martin Siewert, David Grubbs, Oren Ambarchi, and many others. These releases are accompanied by records of the experimental musician and scientist Winfried Ritsch ("Woodscratcher"), the duo Rdeča Raketa by Maja Osojnik & Matija Schellander and of No Business for Dogs, the current trio of pianist Judith Unterpertinger, who now calls herself Juun, with the two percussionists, Bernhard Breuer and Steven Hess. Already circulating names from the waiting list of future releases are Beat Furrer, Georg Friedrich Haas, Gerd Kühr, Heifetz etc. – All in all a splendid hub of exciting new music without any stylistic blinders!
Part of Kajkut's environment, which is an exemplary functioning cohesion of the scene(s) in Graz and where solidarity leads to various types of collaborations, is chmafu nocords by Martin Karner aka marufura fufunjiru. Karner's range of releases can easily be compared to that of Kajkut. The emphasis is placed on the Graz assets of the middle and younger generation. Thus, here the protagonists are the already above-mentioned bassist and sampler/electronic musician Robert Lepenik (e.g. "Grete vor dem Haus"), who is also a contributor to the mixed generative improv-rock band code inconnu, and in turn the guitar player and electronic musician Gottfried Krienzer, who is also a member of Automassage and duo adé and call himself kauders as a solo artist. Two chmafu productions come from the composer and media artist Elizabeth Schimana: on the one hand, her composition for the original synthesizer by Max Brand ("Höllenmaschine"), played by the incomparable performer of new composed and experimental music, Manon-Liu Winter, as well as Gregor Ladenhauf; and on the other hand, Schimana's collaboration with the electronic musician and DJ Gernot Tutner, whose club nights in Graz and Ljubljana "Digitaler Rosengarten" (Schimana) and "Heavy Dope Beats" (Tutner) led to their co-production "Dope Beat Rosengarten".
In addition, Elizabeth Schimana – the founder of the IMA Institute of Media Archaeology in Hainburg – is represented on the second of the two previously released chamfu "Damn! freiStil-samplerin" compilations, documenting music exclusively by female musicians. Besides Schimana, other Austrian female artists active in the international environment are (in alphabetical order): Cordula Bösze, Angélica Castelló, Elizabeth Flunger, Maria Frodl, Susanna Gartmayer, Katharina Klement, Maja Osojnik, Ilse Riedler, Petra Stump, Cherry Sunkist, Judith Unterpertinger and Manon-Liu Winter.
Other examples from the chmafu nocords catalog are the Pivot Quartet consisting of  Josef Klammer (percussion, electronics), Seppo Gründler (MIDI guitar), Martin Zrost (saxophone) & Bettina Wenzel (voice), as well as the meeting of the Low Frequency Orchestra with Wolfgang Mitterer, from which the widely acclaimed CD "Mole" emerged. The organist and electronic musician shines in the interplay with the ensemble of Angélica Castelló, Maja Osojnik, Matija Schellander, Thomas Grill, Herwig Neugebauer and Matthias Koch. A recent release on chmafu is the CD "jalousie" by the composer, improviser, pianist and clavichord player Katharina Klement. Apart from exceptions such as this CD production, Klement has made a virtue out of the necessity that no appreciable label would stump up money for her compositions, and founded her own music label KalK. Here she released, to name just two examples, "t(w)o wanderers" with Lynn Book (voice) and the eponymous album of her trio USE with Hermann Stangassinger (double bass) and Hannes Schweiger (percussion).
Worth at least an honorable mention is the label schnapsidee records, the free-floating company of Robert Brodschneider & Arne Glöckner. The two are very passionate about pursuing their feel for music on the outskirts of experimental rock music, and this with a remarkable mix of underground-awareness and wit. Also operating from Graz is Jochen Summer with his label Rock is Hell. The long-time professional cyclist is one of the most die-hard Melvins fans – with a recently published luxurious 8-LP box – and releases exclusively on vinyl. Among his releases are the guys from Reflector (Andreas Heller, David Reumüller) and Bulbul (Raumschiff Engelmayr, Derhunt, DDkern) and their collaboration with Maja Osojnik and Susanna Gartmayer in Broken.Heart.Collector. Summer generally likes to move in niches, where the debut album of Flugfeld (Helge Hinteregger, Martin Zrost, Paul Skrepek) emerged. But also the catalog of the "Hotel Pupik" initiative of the association O.R.F (Heimo Wallner, Martin Dickinger, Uli Vonbank-Schedler, Martin Zrost) and the occured music in Upper Styria is a part of Summer's making.
On top of this, it is the etiquette of Rock is Hell not to produce albums alone, but rather collaborate with friendly initiatives, such as Noise Appeal in Vienna or Interstellar Records from Linz, where Aina Niemetz and Markus Merzinger work, or from Graz, where the the Interstellar motor Richard Herbst recently moved to.
Interstellar is a mail-order distributor for friendly labels and also releases records, CDs and cassettes. Their protagonists are, amongst a number of bands from South East Europe, the improv-noise duo Tumido by Christian Gratt and Bernhard Breuer, the between noise, free jazz and metal oscillating collective Nitro Mahalia by Ralf Traunsteiner, the aforementioned Broken.Heart.Collector, the improv-duo Philip Quehenberger & DDkern, the futuristic, witty and experimental group NI (again by Christian Gratt) and the electronic duo Regolith by Christian Zollner and label owner Richard Herbst. As if that were not enough, Herbst has brought an additional label to life, namely Dilemma Records. Peculiarity of the Dilemma releases is that they are, firstly, strictly vinyl, and secondly, only playable on one side of the record. Among the current seven one-sided records, the Austrian artists include the Linz electronic and media artist Markus Decker and the psychedelic noise band Metalycée consisting of Nik Hummer (synthesizer), Melita Jurisic (vocals), Armin Steiner (synthesizer), Matija Schellander (bass) and Bernhard Breuer (drums).
Coming from Linz, respectively from Ottensheim, the Gallic village with a variety of artistic guerillas and the annual venue of a fundamentally sympathetic open air festival, is the label zach records. This is run by a collective that makes the majority of music itself, hence a self-empowerment initiative that looks back on a varied history, with their activities constantly being scrutinized and discussed. Important zach-records come from bands like Delilah (Blumenschein/Huemer/Merzinger), Tumido (Gratt/Breuer), the experimental double bassist Manfred Hofer, the improv/jazz community Braaz, and Christian "Gigi" Gratt's performance-intensive Little-Big-Band Gigi's Gogos.
Before we slowly but surely approach the capital city, let's take a short swerve to the West and make a quick stop in Salzburg, where the Jazzit team founded the Jazzit CD-Edition to support local and regional jazz musicians, and refer to col legno, where almost everything is about classical and contemporary music (e.g. great productions of music by Wolfgang Mitterer) and not to forget, Hannes Löschel's project Exit Eden, which generated music to lyrics by William Blake on "Songs of Innocence". From here we turn to Tyrol, more precisely to the old tannery of the Musik Kultur St. Johann. There, the primus inter pares Hans Oberlechner runs the company Idyllic Noise. A handful of records have emerged to date, one of which, "Terrain", comes from the trio VLP with Pia Palme (sub bass flute, electronics), Electric Indigo (synthesizer) and Jorge Sanchez-Chiong (turntables), recorded live at their own festival artacts, as well as the CD debut of the free associating trio Badminton with Wolfgang Mitterer (keyboards), Josef Klammer (drums, electronics) and guitarist Martin Philadelphy, a collaboration of the multi-stylistic saxophonist and composer Max Nagl with friends and The Seinehonsingers on "Blattl-Lieder", and the CD "Greifer" of the experimental zither player and composer Martin Mallaun (with instrument colleagues Reinhilde Gamper and Leopold Hurt), as well as two compilations featuring young rock bands from the area under the title "Asphalt!".
Now to Vienna. The longest active label and distributor, with its own store on the Währinger Gürtel, is Harald Quendler's Extraplatte including "Extraladen". From the seemingly countless releases from the three epicenters of jazz, classical and world music, two albums from the recent past should be mentioned, which include the always unique and original saxophonist Max Nagl, who fabricates Super8 movies next to his jazz music, and is responsible for a children's opera ("Camilo Chamäleon") and even an operetta ("Der Siebte Himmel in Vierteln"). He released the live recording of Max Nagl Ensemble "Live at Porgy & Bess", as well as a document of his collaboration with the revered, style-defining, deceased British saxophonist Lol Coxhill, pragmatically titled "Mag Nagl feat. Lol Coxhill". Also interesting: the solo album "Away for a While" of the harpist Monika Stadler.
The second Viennese record label, also organized as a distributor and represented with its own store, is Trost Records by Konstantin Drobil and its "Substance" in the Westbahnstraße. Here, primarily rock and noise bands of Austrian origin are brought out, e.g., to name just two examples, Bulbul and Porn To Hula. Under the umbrella of Trost Records, Christina Nemec, who goes as a electronic musician under the name of chra, initiated the queer-feministic label comfortzone. In addition to international protagonists such as the Kumbia Queers or Mika Vainio, the label has released striking albums of Cherry Sunkist ("OK Universe" and "Projection Screens"), who creates visual art and movies under her real name Karin Fisslthaler, and Crazy Bitch in a Cave ("Particles"). In both cases electro-pop that makes a statement against gender norms in their content and performance. That's not all – Drobil had the boldness to start an additional business:to date Cien Fuegos has placed  two scent marks on 180-gram vinyl, on the one hand, re-releases of out of print records of free jazz giant Peter Brötzmann, on the other hand, also no longer to be found treasures of Austrian pop music beyond the absurd Austropop brand, starting with the bands Chuzpe ("1000 Takte Tanz") and the Hotel Morphila Orchester ("Schwarze Energie") of the media art activist Peter Weibel.
At this point let us come to significantly quieter breeders than the latter mentioned. Some productions at the lowest perception threshold are attributed to non visual objects, short nv° by Heribert Friedl and Raphael Moser. Their CDs with a distinctive design propagate international manifestations of sound minimalismus, which also counts in Austrian artists such as Tim Blechmann, Bernhard Günther or Heribert Friedl himself. Wading in similar waters is the label Durian, which is operated by the two double bassists Werner Dafeldecker and Uli Fussenegger. This label has a slower release schedule and lately brought attention to itself with two productions that involved the composer Bernhard Lang: "Schrift/Differenz" with the trio Amos as performers and "Abbastanza Basso", on which Uli Fussenegger and soprano Tora Augestad realize compositions by Fussenegger, Lang, Beat Furrer, Kiawasch Saheb-Nassagh and Giacinto Scelsi.
A moderate release pace is also the principle of Michaela Schwentner, known as a film, video and visuals artist under the name of jade, and her mosz records. Her label policy does not tolerate any stylistic norm constrictions and is credited for the releases of international variables, such as Pan American or Denseland, but also for the publication of outstanding Austrian music on the threshold between all the thus far existing: "No Need To Be Lonesome" by the wall-of-sound-designer Martin Siewert, "Old Girl, Old Boy" by the duo Rdeca Raketa with Maja Osojnik and Matija Schellander, "Bestiario", the solo work of sub bass flutist and harsh electronic engineer Angélica Castelló, but also the DVD "Lebensfrische" by the brachial performers Fuckhead, "Another White Album" of the already mentioned psychedelic-noise-combo Metalycée – and last but not least and probably the most commercially successful: "Rettet die Wale" of the solo artist Gustav. Saxophonist Boris Hauf, electro-beserk Peter Rehberg and Kapital Band 1 are further sound artists that have found a congenial platform in mosz records.
Weird entertaining music like Die Strottern can be found on cracked anegg by Sharon Anegg and Oliver Steger, but also the astonishing "A word to be sufficient" album of the EKG ensemble by Oskar Aichinger (piano), Susanna Heilmayr (voice, viola), Achim Tang (double bass) and Burkhard Stangl (guitar). A particularly lasting impression was left by the composer and guitarist Burkhard Stangl on the label Loewenhertz of the pianist, keyboardist, and "Soundgrube" organizer Hannes Löschel. Here Stangl's spectacular 3-CD box "Hommage à moi" was released in 2011. More feats of Löschel are – only to name a few – the internationally recognized "Gomberg" record of the (quarter-tone) trumpeter Franz Hautzinger, who created an own fictional character for the revolutionary way of playing, the solo album "Songs" of the superb, currently Luxembourg-based, metal and scrap percussionist Elizabeth Flunger, the CD + DVD box set "Travel Alert" by Josef Novotny, a retrospective of his most recent sound works for organ, keyboards and electronics, and the series "Film ist. Musik", which is dedicated to various soundtracks for films by Gustav Deutsch (among others by Martin Siewert, Josef Novotny and Burkhard Stangl). Remarkable is also the production rail of the label valeot records by cellist and electronic musician Alexandr Vatagin. Bands from the innovative post-rock environment, such as Tupolev, Port-Royal or Slon, have found a home here, as well as the electronic musician Kutin, the free folk musician Werner Kitzmüller or Vatagin himself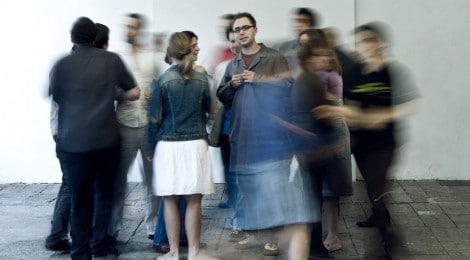 Other labels that have to be mentioned are seayou records by Ilias Dahimène and konkord records by Wolfgang Reitter and his team, since they never cease to bring pop gems (such as A Thousand Fuegos, Japanther, Laokoongruppe, Kmet, Hans Platzgumer, Mopedrock) to the surface. The eponymous self-help group have formed Jazzwerkstatt Records (e.g. Kelomat, Studio Dan) and brand new labels like Listen Closely by saxophonist Werner Zangerle have dedicated themselves to new jazz tendencies. Especially in terms of modern hip-hop, Wire Globe Recordings around Markus Steinkellner have set new standards (e.g.: Jakuzi's Attempt), but yet do not shy away from the noisy degrees of the above stated Slobodan Kajkut. A bold endeavor that they share with Noise Appeal Records, which were already named as a collaboration partner. This year the initiative by Dominik Uhl and Peter Balon can look back on its tenth anniversary and on rewarding work for ensembles such as Reflector, Sex On The Beach, The Striggles "27", but also Hans Platzgumer's U.S. band H.P. Zinker.
Exemplary for Austrian music produced abroad is the Moscow-based Mikroton Recordings by Vladimir Kudryavtsev. This label releases works by Christof Kurzmann and dieb13, who initiated klingt.org – online platform that features many outstanding proponents of the contemporary scene and is represented with a 2-CD box compilation.
Conclusion: Thanks to devoted labels, improvised, experimental and otherwise advanced sound production in this country is flourishing – and not because of, but despite their social standing and the half-hearted public support. Some of them can at least rely on initiatives like the SKE fund of the austro mechana and mica – music austria, and on air presence on the ORF radio station OE1, sporadically also on various independent radio and television stations. It is quite obvious that it is all the more necessary to make a strong and well organized stand against the devastating funding cuts of the federal and national cultural policy.
Andreas Fellinger (translated from German)
Photo Slobodan Kajkut (http://slobodan-kajkut.restorm.com)
Photo Rdeča Raketa: zoe*fotografie
Photo Angélica Castelló: David Murobi
Photo Flugfeld: Stephan Sperlich
Photo Electric Indigo: Isabella Venis
Photo Crazy Bitch In A Cave: Ute Hölzl
Photo Gustav: Thomas Degen
Photo Studio Dan: Ditz Fejer