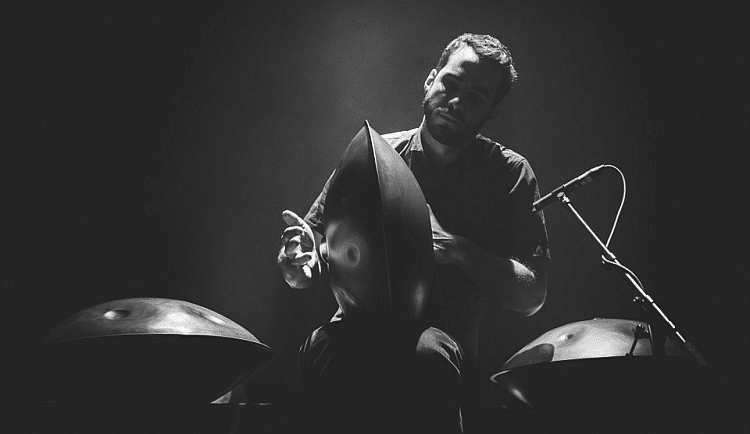 Austrian musicians have long been strong players on the international festival scene. From Jazz, new music and contemporary to electronic, dance and rock, it's not too surprising to find some of Austria's top musicians on the road. Whether a comfortable little get together or world-famous mega-festivals, the chances are good you will find and Austrian act there.
While the hype around Austrian acts in the German speaking countries has been anything but a well kept secret, quite a few have found their way across the continent and even further abroad. Parov Stelar, Bernhard Eder, Russkaja and Hans Theesink have already established a name for themselves on the international festival circuit, and quite a few other bands are just beginning the process.
Like the White Miles. Austria's youngest rock export has already had a busy year of touring behind them, supporting Courtney Love and Eagles of Death Metal on their European shows. Now that the festival season has begun their bus is getting a lot of miles put on it as they head off to festival and club dates across the continent. Their excitement at playing Nova Rock was tangible, but it was only the beginning of their busy summer. A summer which will include several festivals in Europe, including a gig on August 26th at the Reading Festival.
A complete list of all Austrian bands playing at every international festival is beyond the scope of a single webpage. There are just too many in too many different countries. But we do have a small overview of the acts you can see, broken down by country and date.
Belgium

David Helbock

at Brosella Jazzfestival

07/10/16

Bruxelles

White Miles

at Pukkelpop

08/19/16

Kiewit-Hasselt

Bulgaria

Susana Sawoff

at International Jazzfestival

08/06/16

Bansko

Dunkelbunt

at Harvest Festival

09/16-17/16

Ontario

Czech Republic

Susana Sawoff

at Bohemia Jazz Fest

07/19/16

Domazlice

Manu Delago

at Colour Meeting Festival

07/23/16

Policka

Denmark

Satuo

at Tjili Pop

07/18/16

Kopenhagen

Hans Theesink

at Tønder Festival

08/26-27/16

Tønder

Estonia

Satuo

at Kultuuriklubi

07/11/16

Kelm

Faroe Islands

Federspiel

at G-Festival

07/16/16

Syðrugøta

Federspiel

at Valley of Arts Festival Ballaton

07/22/16

Kapolcs

Finnland

Federspiel

at Kaustinen Folk Music Festival

07/13/16

Kaustinen

Satuo

at Kaustinen Folk Music Festival

07/13/16

Kaustinen

Satuo

at Espan Lava Open Air Stage

07/14/16

Helsinki

France

Russkaja

at Tradin Festival

07/08/16

Embrun

Parov Stelar

at Vieilles Charrues Festival

07/15/16

Carhaix-Plouguer

Parov Stelar

at Francofolies Festival

07/16/16

La Rochelle

Parov Stelar

at Nice Jazz Festival

07/17/16

Nice

David Helbock

at Jazz á Juan Festival

07/23/16

Juan Les Pins

David Helbock

at Jazz á Juan Festival

07/24/16

Antibes

Germany

Bilderbuch

at Tollwood Festival

07/08/16

Munich

Marina & The Kats

at Rheingau Festival

07/08/16

Wiesbaden

Attwenger

at Zeltfestival

07/09/16

Passau

Erwin & Edwin

at Stadtfest Lindau

07/09/16

Lindau

Jimmy and the Goofballs

at Sun Swing Poolparty

07/09/16

Harsewinkel

Julian & Der Fux

at Internationales Donaufest

07/09/16

Ulm

Dunkelbunt

at Internationales Donaufest

07/10/16

Ulm

Filippa Gojo

at PhotoArt-Image

07/15/16

Köln

Skolka

at Landshuter Altstadtfest

07/15/16

Landshut

Skolka

at Zwoadoglang Festival

07/16/16

Trostberg

Donauwellenreiter

at Sommerfest

07/17/16

Haunzenberg

Georg Breinschmid

at Festspiele 

07/20/16

Mecklenburg-Vorpommern

ROBB

at Stimmen Festival

07/20/16

Lörrach

Satuo

at Kino im Kasten

07/21/16

Dresden

Wanda

at Tollwood Festival

07/21/16

Munich

Erwin & Edwin

at Seewärts

07/23/16

Chiemsee

Wanda

at Das Fest

07/23/16

Karlsruhe

Holler my Dear

at Weinfest am Stein

07/24/16

Würzburg

Erwin & Edwin

at Hoffest

07/25/16

Würzburg

Erwin & Edwin

at Rock am Segel

07/27/16

Radolfzell

Holler my Dear

at Eschborner Summertime

07/27/16

Eschborn

Bilderbuch

at Stuttgart Festival

07/29/16

Stuttgart

Dunkelbunt

at Theaterfestival Isny

07/29/16

Isny

Erwin & Edwin

at Heimatsound Festival

07/29/16

Oberammergau

Marina & The Kats

at Zeltival

07/29/16

Karlsruhe

Seiler und Speer

at Heimatsound Festival

07/29/16

Oberammergau

Steaming Satellites

at Stuttgart Festival

07/29/16

Stuttgart

Wanda

at Zelt-Musik-Festival

07/29/16

Freiburg

Jimmy and the Goofballs

at Blackforest Reggae Festival

07/30/16

Berhaupten

Mother's Cake

at Der Kater bebt

07/30/16

Hainsfarth

Russkaja

at Bier.Sommer.Festival

07/30/16

Usterbach

White Miles

at Rock im Wald

07/30/16

Michelau in Oberfranken

Erwin & Edwin

at Kommz

08/05/16

Aschaffenburg

Mother's Cake

at Krach am Bach

08/05/16

Beelen

Wanda

at Summernights Festival

08/05/16

Sigmaringen

Georg Breinschmid

at Jazz Can Dance

08/06-07/16

Eholfing

Farewell Dear Ghost

at Zeltival

08/06/16

Karlsruhe

Leyya

at Zeltival

08/06/16

Karlsruhe

Mother's Cake

at Lott Festival

08/06/16

Laufersweiler

Avec

at Landesgartenschau

08/07/16

Bayreuth

Hubert von Goisern

at Würzburger Hafensommer

08/07/16

Würzburg

Mother's Cake

at U&D Festival

08/07/16

Stuttgart

Manu Delago

at Ancient Trance Festival

08/12/16

Leipzig

Mother's Cake

at Finki Festival

08/12/16

Rothernberg

Hubert von Goisern

at Haldern Pop Festival

08/13/16

Haldern

Wanda

at Taubertal Festival

08/14/16

Rothenburg ob der Tauber

Bilderbuch

at Dockville Festival

08/19/16

Hamburg

Wanda

at Highfield Festival

08/19/16

Großpösna

Steaming Satellites

at Chiemsee Summer

08/24/16

Chiemsee

Wanda

at Chiemsee Summer

08/25/16

Übersee/Chiemsee

David Helbock

at Jazzfestival Brandenburg

08/26/16

Brandenburg

Leyya

at Sound of Bronkow

09/02/16

Dresden

Leyya

at Kuahgartn Open Air

09/03/16

Edling

Bernhard Eder

at Melodica Festival

09/04/16

Berlin

Bilderbuch

at Lollapalooza Berlin

09/10/16

Berlin

Avec

at Manic Street Parade

10/08/16

Munich

Hungary

Parov Stelar

at Sziget Festival

08/11/16

Budapest

Iceland

Bernhard Eder

at Melodica Festival

08/26/16

Reykjavik

Bernhard Eder

at Melodica Festival

08/27/16

Reykjavik

Italy

Jimmy and the Goofballs

at Gadersound Festival

07/16/16

Pederoa

David Helbock

at Andorra Jazzfestival

08/24/16

Andorra

Lithuania

Russkaja

at Roko Naktys Festival

08/05/16

Zarasai

Luxembourg

Parov Stelar

at Rock-A-Field Festival

07/09/16

Herchesfeld

Morocco

Susana Sawoff

at TANJAzz Festival

09/25/16

Tangiers

Netherlands

White Miles

at Rock im Wald

07/22/16

Lichtenvoorde
Russkaja

at Zwarte Cross Festival

07/23/16

Lichtenvoorde

Norway

Federspiel

at Hovudarena for Førdefestivalen

07/09/16

Førde

David Helbock

at Letni Festiwal Jazzowy

07/17/16

Krakow

Romania

Parov Stelar

at Untold Festival

08/07/16

Cluj Napoca

Slovakia

Parov Stelar

at Pohoda

07/08/16

Trencin

Leyya

at U.D. Festival

08/13/16

Ljubljana

Susana Sawoff

at Hudobny Festival

08/20/16

Banská Stiavnica

Spain

Hans Theesink

at Son Bauló Cultura & Culina

07/09/16

Mallorca

Marina & The Kats

at Jazzfestival

07/31/16

Sada

Sweden

Satuo

at Far i Hatten

07/17/16

Malmö

Switzerland

Georg Breinschmid

at Gstaad Festival

08/02/16

Gstaad

Steaming Satellites

at Kleinlaut Festival

07/22/16

Riniken

Wanda

at Openair Lumnezia

07/22/16

Lumnezia

Federspiel

at Festival Sommerklänge

07/24/16

Zug

Donauwellenreiter

at Luzern Musikfest

08/23-28/16

Lucern

Dunkelbunt

at Clanx Festival

08/26/16

Appenzell

Ukraine

Holler my Dear

at Winnyzja Jazz Fest

09/25/16

Winnyzja

Holler my Dear

at Odessa Jazzfestival

09/24/16

Odessa

United Kingdom

Parov Stelar

at Wilderness Festival

08/05/16

Cornbury Park, Charlbury, Oxfordshire

Bernhard Eder

at Melodica Festival

08/13/16

Nottingham

Bernhard Eder

at Melodica Festival

08/14/16

Nottingham

White Miles

at Reading Festival

08/26/16

Richfield Avenue, Reading