Things have been a bit quiet around this artist the last couple of years. But now he is back in his usual impressive manner. BERNHARD FLEISCHMANN, better known under the stage name of B. FLEISCHMANN, has once again proven his talent for truly exceptional musicianship with his newest album "Stop Making Fans" (Morr) .
A glance at his previous productions makes one thing clear: Bernhard Fleischmann has always been an artist who has followed his own musical path. The Viennese composer presents himself as a master of musical individuality, an artist who is able to create almost literary works that are impossible to categorise. His new album "Stop Making Fans" is no exception. As on his last album "I'm not ready for the grave yet" (2012), the composer, producer, and musician slips into the role of an innovative, border breaking sound maker with a penchant for pleasant melodies. One who easily unites what appears to be opposites.
THE ARTISTIC IMPLEMENTATION OF OPPOSITES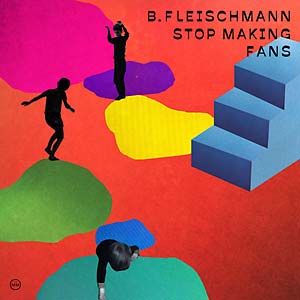 Bernhard Fleischmann's works combine a broad spectrum of apparent opposites. They cross the spectrum from electronic music to indie-inspired pop, from console sounds to acoustic instruments, from an easily understood straightforwardness to abstract and experimental, from the dreamy to the driven. Together with Gloria Amesbauer (vocals), Markus Schneider (guitar) and Valentin Duit (drums), the Viennese freethinker creates an incredibly complex world of sound, one which expresses a variety of moods and creates a captivating atmosphere.

Bernhard Fleischmann has definitely made a great comeback with his new album. "Stop Making Fans", is an interesting contrast to the standard musical offering. His music is individual, deep and very moving.
Michael Ternai (translated from German by David Dempsey)
Links:
B.Fleischmann
MorrMusic