As part of our BUILDING BRIDGES pilot project, we are launching our first mission to Switzerland from March 22-24 (leading up to the m4music festival in Zurich)! With a focus on training and international exchange, the program is aimed at people from the music business and, thus, primarily those "behind" the artists – i.e. mainly labels, publishing houses, management, etc. In addition, five Austrian acts will be playing in Zurich on March 23rd and 24th, in the framework of the m4music festival. For more info, read below.
how the bridge gets built
More than 16 local labels, management companies, agencies and artists will make their way to Zurich together by train on March 22, 2023. Already along the way, they will network and exchange information about the Swiss market. On the following day, a workshop series will be held with Swiss companies, where a basis for a deep and sustainable cooperation between Austria and Switzerland will be developed. Afterwards there will be a showcase at the renowned Zurich club Exil with local acts Anna Mabo, BERGLIND and Lou Asril before the Swiss showcase festival m4music starts the next day, where My Ugly Clementine and the Leftovers will perform among many other international artists. (More info below.)
The program is intended to broaden economic and artistic horizons and to enable direct exchange with colleagues from the music industry, with the aim of identifying potential collaborations via direct exchange with colleagues in comparably large and similarly structured markets, learning to apply and utilize the acquired connections and knowledge for oneself.
The 'bridge-building' in the name does not mean exclusively a direct, one-dimensional export to the target countries, but rather learning opportunities, inspiration for new playing fields and first-hand examples for future development steps and collaborations.
The first destination of such a trip is Switzerland, which will also be the partner country of Waves Vienna in the fall, and therefore lends itself to a particularly intensive and sustainable exchange. In the run-up to the Swiss counterpart, m4music, an Austrian delegation will therefore travel to Zurich.
---
On Thursday, March 23rd at the club, Exil, Austrian acts Anna Mabo, BERGLIND and Lou Asril will play a showcase starting at 8pm. (Free entrance & welcome drinks for all m4music Professionals.)
Anna Mabo writes songs on the guitar and additionally accompanies her pieces with a harmonica during performances. She regularly plays together in a duo formation with cellist Clemens Sainitzer. Her music is like a "collection of Viennese songs without the Viennese – an evening at the Heurigen (winery) as a vibe that defies Instagram scrutiny," as Christoph Benkeser writes for mica – Music Austria.
BERGLIND is Giovanna Fartacek's solo project. You might know her from her band MYNTH, which won an Amadeus Austrian Music Award in 2019. Inspired by her dreams, her experiences and everyday struggles, BERGLIND combines melancholy and poetry in her catchy, gloomy German pop songs. Fully aware that nothing lasts forever, she invites you into intimate worlds, sings about old scars and beautiful moments in her life. Her debut album comes out in Autumn 2023.
Music in his blood – exceptional artist x vocal virtuoso: The basis for Lou Asril's musicality is a classical piano education and early stage performances, culminating in the winning of the prestigious Joe Zawinul Award at the age of 17. His first single – DIVINE GOLDMINE – was released in 2019, catapulted straight to #1 in the charts. Numerous styles have found their way into his work so far: In addition to initially predominant soul & RnB, pop, hip-hop and electronic music are strong influences which still allow him to explore his own style and to develop in various directions.
Recently Lou Asril has outgrown what he calls the "younger, more restrained" image of the soul artist, leaning more into his electronic music inclinations and incorporating elements from hip-hop to rap. His tone becomes sharper, the melodies edgier, the sound bolder and the topics addressed marked by a greater sensitivity.
---
AUSTRIAN Artists live at m4music
My Ugly Clementine and the Leftovers will be performing on Friday, March 24th as part of the m4music festival!
With their irresistible pop hooks, a dash of 60s soul and sing-along refrains, My Ugly Clementine have stirred up the post-punk scene. Their music is fun, while their lyrics provide statements of empowerment, equality, self-love and feminism. In 2020, the band received the Amadeus Austrian Music Award, and in 2021 their debut album, "Vitamin C", was named the European Independent Album of the Year. The supergroup from Vienna is made up three well-known members of the scene: Sophie Lindinger (Leyya), Mira Lu Kovacs (5K HD and Schmieds Puls) and Nastasja Ronck (Lucid Kid). Kem Kolleritsch, aka Kerosin 95, was also a member until summer 2022.
Showtime & Place at m4music: Fr 3/24/2023 – 9:30 PM – EXIL
Leftovers crafts music for the future with the means of the past and an unerring sense of the impertinence of the present. Their first EP, 'If I Had A Mood Ring It Would Be Black Fuck You Mum It's Not A Phase' was released in 2019 and was obviously inspired by Nirvana. The quartet celebrates the most exciting underground guitar rock music of the hour between teenage fear, chronic overwhelm, hysteria and hedonism. From their debut album, "Krach", you can fall in love with the singles "Kinderzimmer", "Tokyo" (#3 of the Radio FM4 Charts) and "Keine Zeit" (#7 of the Radio FM4 Charts). The album will be released in autumn 2022.
Showtime & Place at m4music: TBD (check back for updates).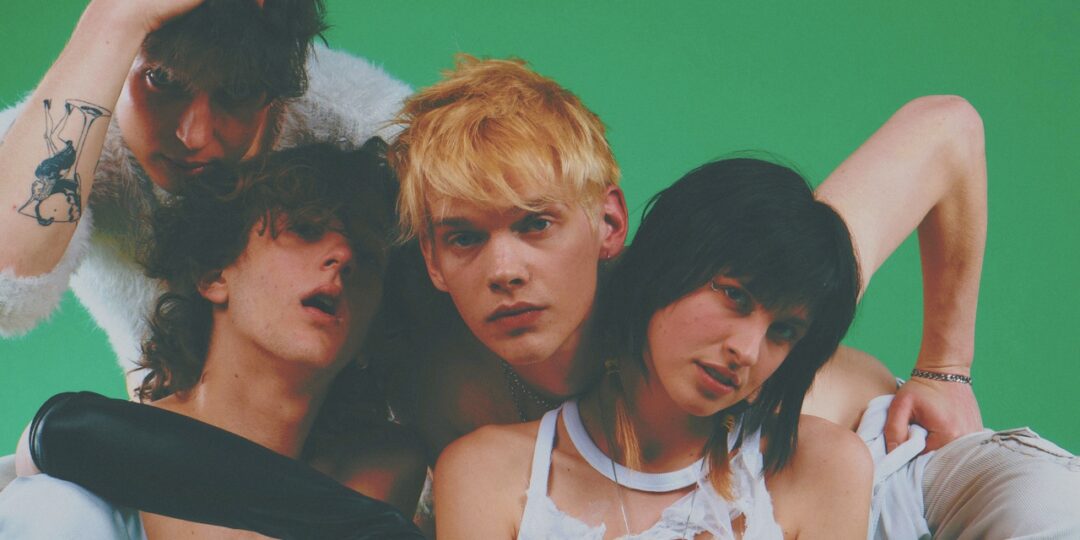 Hope to see you soon in Zurich! – Your Austrian Music Export team