From August 16-20 the c/o pop Festival will bring international stars, celebrated newcomers and up-and-coming insiders to the musical stages of Cologne. Alongside AnnenMayKantereit & Freunde and the Berlin super group Moderat, who are the headliners this year, the festival is also looking forward to James Vincent McMorrow, Motor City Drum Ensemble, Omar Souleyman, Roman Flügel, Radical Face, Faber, L'aupaire, Mall Grab, Fil Bo Riva, Tash Sultana and many more acts.
This years festival will be hosting special events as part of We are Europe, a newly created association of 8 major European events (c/o pop, Elevate, Insomnia, Nuits Sonores, Resonate, Reworks, Sónar and TodaysArt) joining forces in order to promote, create and produce innovative cultural practices, defined by creative diversity and exchanges. The project aims to develop a prospective vision of electronic culture, technology and entrepreneurship, contributing to new social and political developments with an interdisciplinary approach.
We Are Europe will also be represented at the c/o pop conference. Two panels will be taking place together with the partner festivals Elevate Festival (Graz/Austria) and Resonate (Belgrad/Serbia) on Friday, August 18.
Another Austrian festival will be represented at this years c/o pop as well. Waves Vienna Festival will be hosting a special reception before the shows of Leyya and Voodoo Jürgens on Thursday, October, 17.
---
AUSTRIAN ARTISTS AT C/O POP 2017
This years festival features a broad selection of talent made in Austria. From the quintessentially Viennese sound of Voodoo Jürgens to the other-worldly creativity of Dorit Chrysler, the Amadeus Award winners Leyya as well as the internationally active producer Cid Rim.
LEYYA
Thursday 17.08 20:00-20:40
Leyya is a duo from Upper Austria that burst onto the music scene with an outstanding experimental conglomeration of melancholy and electronic beats. It's a sound that won them the the Amadeus Austrian Music Award (Category: FM4 Award) in 2017. Having won the hearts of their homeland, they are now well on their way to winning over the rest of the world.
---
VOODOO JÜRGENS
Thursday 17.08 21:00-22:00
Voodoo Jürgens isn't just a rising star of Austropop. He is the very embodiment of the Viennese lifestyle -a fact recognised by Die Zeit with the title "The King of Wienerisch". Despite an aesthetic that could be from anywhere between the 70's and 80's his sound is almost ageless, and fans of 2Tones records should feel eerily at home with his acoustic soundscape, if not the Viennese dialect.
---
CID RIM
Friday, 18.08 20:15-20:50
There is no shortage of electronic musicians and producers in Austria. The electronic music scene is not only well established but has had a massive impact well beyond they countries borders. But the Viennese scene is a particular hotbed of sophisticated electronic music. And in the case of Clemens Bacher it's a sophistication that defies classification. The jazz drummer, tutor and multi-instrumentalist has taken his jazz background and applied it to electronic music to create what can only be called the Cid Rim sound.
---
CLARA MOTO
Friday, 18.08 23:00-02:00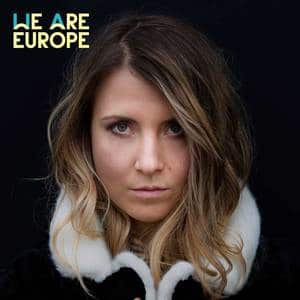 Born in Graz, but now based in Berlin, Clara Moto has been making an international name for herself since the release of her debut album "Polyamour" in 2010.
She is an internationally active DJ and producer who has created a music frequently described with adjectives like poetic, fresh, intelligent, and fragile. Adjectives that describe a music that is still club friendly and dance floor compatible.
---
DORIT CHRYSLER
Saturday 19.08. 21:00-21:40
Best known for her theremin style, composer/musician Dorit Chrysler also has a prolific recording and performing career as a vocalist, guitarist, keyboardist, producer, and engineer. With the combination of the theremin's haunting sounds and Dorit Chrysler's extraordinary and powerful voice, Dorit Chrysler creates music somewhere between seductive pop and experimental music that at first sets you in awe and then makes you shiver with excitement.
---
GRANADA
Saturday 19.08.
It's been a busy year for the quintet around Thomas Petritsch. The release of their debut EP in September 2016 was followed by a nomination for the FM4 Award as part of the Amadeus Austrian Music Awards, a music video together with the legendary Austrian vocalist Jazz Gitti, a performance at the awards ceremony for the Austrian Radiopreis, and many, many, live concerts. Their colourful mix of pop, punk and polka is a surprisingly potent summer cocktail. Not unlike a Pina Colada.
---
NIHILS
Saturday 19.08 18:00-18:50
Originally from the mountainous region of the Tyrolean Alps, the music of NIHILS could easily be accredited to a band springing from England or the USA. In the summer of 2011 their single "Set my Sail" (SONY Music) captured nationwide attention and climbed to #14 on the national charts. It might have taken them a while to finally release their debut LP, but thats just because they had a lot of concerts to play. Not to surprising since their live performances are always highly energetic, interactive and draw repeat audiences.
---
MAVI PHOENIX
Sunday, 20.08 21:00-21:40
Mavi Pheonix is the woman current music pessimists are pinning their hopes on. Originally from Linz, she is now moving on the international stage. Her sound moves fluidly between rap, r'n'b and contemporary pop. At the end of May she released her second EP "Young Prophet". She is 21, described by "The Fader" as a "Lo-fi pop heroine" and ready for the big time.