The sound of Gypsy Jazz in its most diverse and compelling form: Viennese guitarist DIKNU SCHNEEBERGER and his trio once again show their extraordinary skills on their new album "Feuerlicht" (City Park/O-Tone).
The former child prodigy has grown into an internationally sought-after man. Diknu Schneeberger has managed to gain an excellent reputation everywhere and is a welcome guest worldwide, playing with his trio from Brazil to Mexico, and in Europe. His concerts are almost always sold-out and he has been awarded several prestigious music prizes. A truly remarkable achievement considering that the Vienna-born musician is only 28 years old.
On the other hand, with his talent, dexterity, and his remarkable musical understanding, it comes as no surprise that he has taken such a rapid path to success. Diknu Schneeberger has gypsy jazz in his blood; he has absorbed it, breathes, and lives it. His music is an expression of pure passion, it is full of finesse, powerful, and yet immensely dignified. It´s diversity is inspiring and also highly stimulating to the imagination.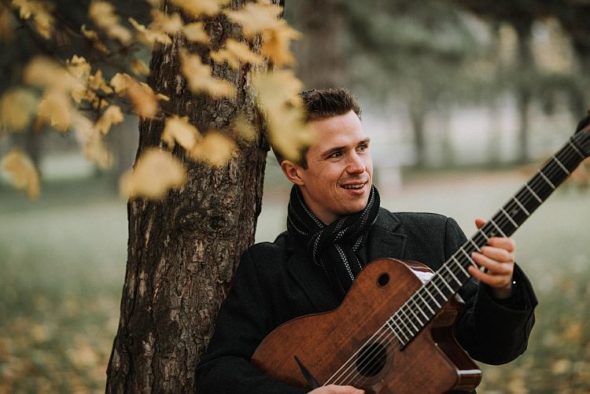 MUSIC OF PURE JOIE DE VIVRE
On his new album "Feuerlicht" the guitarist seamlessly expands on his previous releases. Once again supported by his former mentor and teacher, guitarist Martin Spitzer, and his father Joschi on bass, Diknu Schneeberger once again performs virtuoso musical tricks in the most beautiful tradition of Django Reinhardt. He conjures up colourful melodies and captivating solos that send you on a musical journey around the globe.
The Diknu Schneeberger Trio combines swing with jazz, Latin American rhythms, a pinch of Viennese Schrammelmusik, and a little bit of soul. The result is a pulsating whole, rousingly and harmoniously balanced between swinging, playfulness and sensitivity. In addition to their own compositions, the album is rounded out with successful interpretations of Gypsy Jazz Standards, a crowning touch to a well rounded work of art.
https://youtu.be/alTtnGaS8NM
Diknu Schneeberger presents himself on his new album as a musician who has matured but hasn´t lost his youthful spirit. "Firelight" reveals itself as a brightly shining gypsy jazz jewel, a musical embodiment of joie de vivre.
Links:
Diknu Schneeberger
Diknu Schneeberger Trio (Facebook)
O-Tone Music