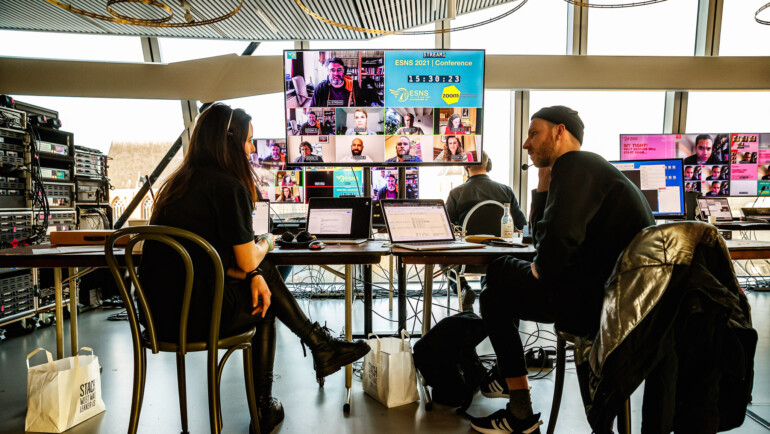 Music moves, challenges and breaks boundaries – not only country and city limits but also boundaries between people. Non-profit organisation EUROSONIC NOORDERSLAG (ESNS) was founded in order to stimulate and push the circulation of European music across the European continent as well as beyond. With this objective, ESNS organises a festival and conference in Groningen, NL, over four days, each year. Although the program will be entirely online this year (Jan 19-22), and mostly remote, that will not change the quality of the content; including that of the conference, which boasts a packed program with top-notch topics and speakers from the international music and cultural sector. AUSTRIAN MUSIC EXPORT is proud to be part of two panels this year – on music export and the Mexican market and MEWEM Europa, respectively.
Austrian Music Export at The ESNS Conference 2022
As always, the ESNS program is jam-packed, and that includes a stellar conference program. Austrian Music Export is proud to be represented at two of the panels this year: "Are You Export Ready for Mexico?" and "MEWEM Europa – A Mentoring Programme for Women Entrepreneurs in the Music Industry".
"Are You Export Ready for Mexico?"
With speakers MELODIE BLANCHARD, PHILIPP GREFER (WISE), MALFI DORANTES (MalfiCo) and moderated by FRANZ HERGOVICH (Austrian Music Export), the panel presented by EMX looks at one of the fastest growing digital music market: Mexico. The country holds a worldwide top 10 position in synchronization and offers a rich festival landscape and cost-effective touring opportunities. All that made Mexico one of the favorite territories for European acts and professionals planning future overseas activities. Professionals that have been working with or are based in Mexico exchange about their experiences and tell you what it takes for a successful market entry. At the end of the panel a call for applications for European music professionals to participate in a trade mission to Mexico within the EMX project will be announced.
The talk will be held in English.
Tune in here: THU 20 Jan | Conference Channel 5 | 16:00 – 17:00
---
"MEWEM Europa – A Mentoring Programme for Women Entrepreneurs in the Music Industry"
The panel including speakers CARINA SAVA (Watermelon Agency), EVELYN SIEBER (Reeperbahn Festival), RAINER PRASCHAK (mica – music austria), JULIEN FOURNIER (Wallonie-Bruxelles Musiques) and moderated by ARIANNA FLEUR ALFREDS (Austrian Music Export) discusses the Creative Europe-funded project, MEWEM Europa, which implements and manages mentoring programmes for women in the music industry on a European scale. The project's goal is that in the future, more women will also shape the music industry in leadership positions and as founders. Therefore, the project promotes access to management positions and entrepreneurship as well as the development of management skills among young women in the music industry. For this purpose, a mentoring-based training programme, adapted to the music sector and with a European dimension, is being created in cooperation with seven partner organisations in six countries. Building on the experience of the various partners, a model mentoring programme for women in the music industry will be developed from which other European organisations can also benefit. Project partners, coordinators and mentors report on their experiences in the current programme and reflect on future developments.
The talk will be held in English.
Tune in here: FRI 21 Jan | Conference Channel 4 | 12:00 – 13:00
ESNS is a non-profit, European artist only, 100% showcase festival and music conference. Selling out each year ESNS attracts over 4,000 professional delegates, including 400 international festivals, and showcases around 350 European artists for over 40,000 visitors total.
By day an international music conference takes with pitches, networking events, presentations and meetings on the latest developments in the European and international music, media, production and interactive industry. By night, during the two showcase festivals (Eurosonic and Noorderslag), musical talent has the chance to present itself to an international audience of music lovers and professionals. Eurosonic is the stepping stone for European acts.
This year, the entire festival will go online, with the exception of the Music Moves Europe Award night, where the nominated acts (among them, Friedberg from Austria) will play live in Groningen for a small audience, while the general public and international music professionals can watch from wherever they are via stream.