One should certainly not go too far out on a limb, but it seems as if the musicians of the local pop scene are currently receiving a lot more international recognition than in the past few years. This explains why local protagonists  are increasingly listed in the programs of major upcoming European music festivals. For example, Francis International Airport, who have a gig in Barcelona, on the 28th of May at the Primavera Sound Festival 2011.
And there is more – the extremely talented and musically savvy indie-pop band from Lower Austria is also invited to perform in August at the Sziget Festival (11.8.) in Budapest. This is not really a surprise, since Francis International Airport is probably one of the hottest acts at the moment, playing themselves into the hearts of music fans with their two immensely powerful and highly acclaimed albums "We are jealous, we are class" (Siluh Records) and  the recently released "In the Woods".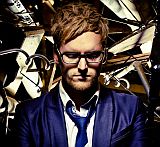 Austria is also prominently represented at the Eurovox Festival, taking place from the 25th to the 28th of May in Clermont-Ferrand, France. This time with the British electro-songwriter Trouble Over Tokyo, who lives and works in Vienna. The extremely complex songwriter has succeeded with his latest release in 2010, "The Hurricane", which is considered as one of the most interesting and perhaps most exciting releases of the past year in pop music. What was hinted on his first two albums, "1000" and "Pyramides", was completed on the singer's now third album. The manner in which the Viennese-by-choice interprets the concept of pop can definitely compete on an international level. Pure and simple.
At the SPOT festival in Aarhus, Denmark (May, 27th-28th), the four guys from Ginga will slip into the role of ambassadors for Austrian pop music. The indie rock/folk band, that are currently one of Austria's most popular bands, has recently proven its extraordinary live qualities at the Vienna Popfest. Pop experts of this country all agree that this formation around the charismatic singer and guitarist Alex Konrad has what it takes to make the leap to the international stage.
Not to forget – the C/O Pop Festival in Cologne (May 22nd – 26th) will also be flavoured with the Austrian essence. Even twice this time. First, the three-member "techno-dance band" Elektro Guzzi will prove the unlimited possibilities of visionary and creative work in ​​techno style. The equally exciting second representative, Matthias Frey aka Sweet Sweet Moon, will also perform in Cologne and demonstrate his promising and outstanding talents as a singer/songwriter on stage.
http://www.primaverasound.com
http://www.spotfestival.dk
http://www.europavox.com/
http://www.c-o-pop.de
http://www.troubleovertokyo.com/
http://www.elektroguzzi.net
http://www.myspace.com/sweetsweetmoon