EUROSONIC NOORDERSLAG (ESNS) will, once again, be the first big event of the music industry in the upcoming year. Taking place from January 19-22, 2022 in Groningen*, the Dutch festival features Europe's most promising up-and-coming artists and gathers the most important stakeholders of the music industry. Every year, Austria has been well represented with a strong selection of emerging artists. So, who's on board this time? Let's have a look at the confirmed artists for ESNS 2022!
*NOTE: This year, due to the pandemic, the festival has been moved online, with all concerts being played and streamed across the globe; with the exception of FRIEDBERG, who will play live on location in Groningen, along with all of the Music Moves Europe Awards nominees.
---
Austrian Acts at ESNS 2022
A total of six Austrian artists will present themselves at the virtual festival edition in January 2022: Florence Arman, Sharktank, Sofie, Takeshi's Cashew, Aramboa and MME Awards nominees Friedberg. Listen to all artists in our Spotify playlist!
Florence Arman is an established singer/songwriter who is now launching her career as a solo artist. She is no stranger to the international pop scene, having collaborated with artists such as Rhys Lewis, The Kooks, Barns Courtney, G-Flip, Crystal Fighters, filous, Harry Hudson, Cro and Lena Meyer-Landrut (to name a few). Now she dedicates herself to her own intimate, yet witty and light-hearted artist project. Based in Austria, the young Brit developed her creative voice with the help of her brother (Sebastian Arman) and internationally successful producer filous. In crafting her 7-track debut EP, Florence's heart guides not only her romantic, but also her creative choices. She writes all of her songs on her own and works with a close team of producers to finish them. The more of this extensive collection about her experiences is revealed, the more it feels like Florence is a long-lost friend rather than an aspiring pop star.
BROADCAST DETAILS:
Act: Florence ArmanChannel: ESNS 02Date: Friday, Jan 21Time: 21:10 – 21:20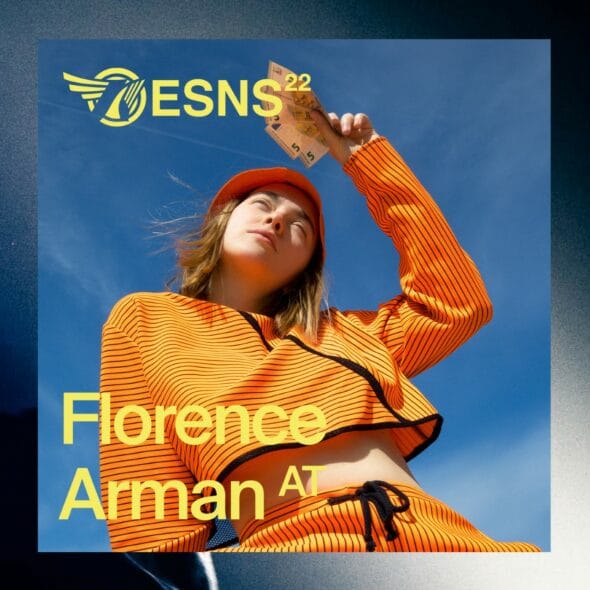 ---
Sofie is a musician and artist based in Vienna, an original member of Boiler Room and an NTS Radio resident DJ. She worked at Stones Throw for four years and curated Sofie's SOS Tape for the label. Her debut as a songwriter, performer and producer was Cult Survivor, released on Stones Throw in 2020.
Act: SofieChannel: ESNS 02Date: Wednesday, Jan 19Time: 20:25 – 20:35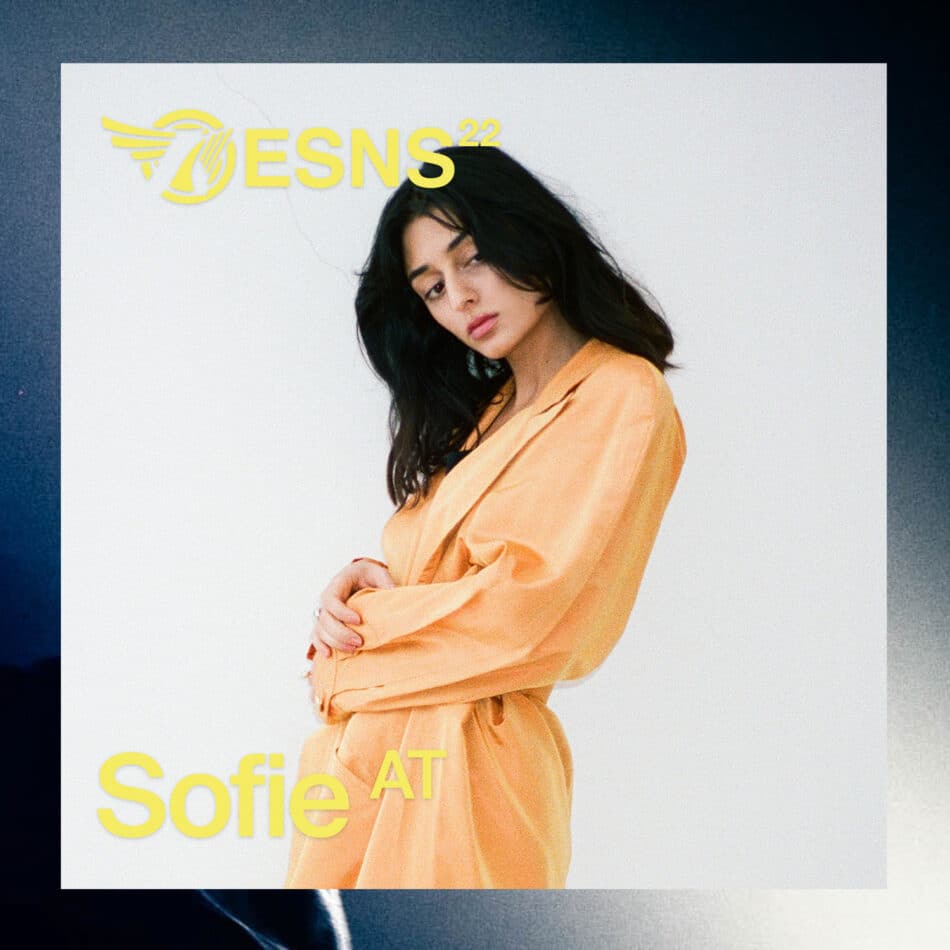 ---
Takeshi's Cashew are a newly formed psych-funk group that explore the boundaries of club culture, world music & 70's psychedelia. All coming from different musical directions, they create a colorful fusion of their respective genres embedded in a club-like beat framework and elevate their often complex arrangements to a beautiful & danceable potpourri.
During summer 2020 Takeshi's Cashew recorded their debut album "Humans In A Pool" in their tiny diy-studio in Vienna. This self-produced record will take you on a journey into cosmic krautrock, cumbia, afrobeat & disco, which can only be surpassed by one of their live performances.
---
Friedberg is an all-female-four-piece based in London, centred around singer, guitarist and master of cowbells Anna Friedberg. Their music has often been described as a blend of post-punk and alt-rock doused in alluring pop sensibilities – something that is immediately familiar, but also like nothing you've ever heard before.
They first stormed onto the scene in 2019 with their debut single 'BOOM', a dissonant siren's call with its ominous riff and seductive, benign vocals. Follow up track 'Go Wild' quickly yielded placements with FIFA 20, the BBC's Normal People adaptation, Netflix's Biohackers, and other shows around the world. Their debut EP 'YEAH YEAH YEAH YEAH YEAH YEAH YEAH YEAH' (released 19th March), features critically acclaimed singles 'Pass Me On', 'Lizzy' and 'Midi 8'. Recorded in equal parts across Berlin and London with collaborators Daniel Brandt (Brandt Brauer Frick), Matthias Biermann (Roosevelt) and Matt Allchin (Florence & The Machine, Soak, George Ezra), 'YEAH YEAH YEAH YEAH YEAH YEAH YEAH YEAH' is a punchy fuzzed-out foray into the inner workings of Anna Friedberg's mind.
With impressive radio and press support across Europe, and festival slots at Reeperbahn, Eurosonic and BBC Introducing under their belt, Friedberg have already earned a reputation as one of the most exciting new bands around right now.
Friedberg has the special honor this year of being nominated for the coveted Music Moves Europe Award, and will therefore travel to Groningen for a special live streamed concert on location, alongside all of the other award nominees. Don't miss this special show!
Act: FriedbergChannel: ESNS 02Date: Thursday, Jan 20Time: 22:10 – 22:25
---
ARAMBOA aka Moritz René Scharf is an Austrian, Vienna-based musician, composer and producer. With a jazz background he is known for his electronica / funk experimental tracks and collaborations with Anna Buchegger (Starmania), Elena Shirin and his work with internationally known Moonchild Sanelly (Beyoncé, Damon Albarn Gorillaz, DIPLO, Die Antwoord), contributing to her worldwide acclaimed releases on Transgressive Records since 2019.
More music is to be released this winter under his composer name, ARAMBOA, including a feature by Nenda, Evita Koné (Montreux Jazz Festival Swiss rising talent) and remixes for world tropical bass maestro Daniel Haaksman (D), South African electronica prince Spoek Mathambo's project BATUK (ZA), Spain rising modern gitana Queralt Lahoz (SP), Swiss rising afro pop star LAKNA (CH) and Yemenite Israeli talent Magi Hikri (YE-IL).
Act: AramboaChannel: ESNS 03Date: Thursday, Jan 20Time: 21:20 – 21:30
---
Hip-hop und pop have always been friendly neighbours. Vienna-based Sharktank finally have them married happily ever after. What started off as a solo project of rapper Mile quickly became a band when young singer Katrin Paucz joined the studio session Mile held at renowned producer Marco Kleebauer's studio (he famously produced several award-winning and chart-topping albums from bands like Bilderbuch, Oehl and his own band, Leyya).
Katrin's magic vibe and lyrics on the sensitive difficulties of life and relationships are encountered by Marco's positively-quirky production and conscious rap lines of Mile. The combination of these characters are what makes the band so special. Not to mention simply great tunes to sing along, dance to and get lost in. Their joint debut "Washed Up" hit the airwaves right after release and immediately gained major traction on Spotify and radio stations. In 2021 they released their first full album in 2021, "Get It Done".
Act: SharktankChannel: ESNS 03Date: Wednesday, Jan 19Time: 22:00 – 22:10
---
About ESNS 2022
ESNS takes place – entirely online – from January 19 – 22, 2022. Tickets for the digital conference are available via www.esns.nl/tickets. The festival will be available – free of charge – with sessions recorded by Dutch broadcaster NTR in collaboration with NPO 3FM, to be broadcast by NPO 3FM, NPO 3 and the digital festival platform, hosted by VPRO 3VOOR12.
Music moves, challenges and breaks boundaries – not only country and city limits but also boundaries between people. Music has the ability to connect us. The non-profit organisation ESNS has been founded in order to stimulate and push the circulation of European music across the European continent as well as beyond. In order to obtain this goal, ESNS organises a festival and conference in Groningen, the Netherlands, over four days. After the 2021 edition being online-only, ESNS and everyone involved are excited to get back to the live and in person feeling of the world-renowned festival.
Eurosonic Noorderslag (ESNS) is a non-profit, European artist only, 100% showcase festival and music conference. Selling out each year ESNS attracts over 4.000 professional delegates, including 400 international festivals, and showcases around 350 European artists for over 40.000 visitors total.

By day an international music conference takes place in the conference centre, De Oosterpoort, with 150 panels, keynotes, interviews, workshops, dinners, pitches, parties, presentations and meetings on the latest developments in the European and international music, media, production and interactive industry.
By night, during the two showcase festivals (Eurosonic and Noorderslag), musical talent has the chance to present itself to an international audience of music lovers and professionals. Eurosonic is the stepping stone for European acts, taking place in 40 different locations throughout the city centre of Groningen from Wednesday till Friday. Noorderslag presents the best Dutch music and takes place in concert venue De Oosterpoort in Groningen on the Saturday.
ESNS has a proven track record for helping break new acts on the international live music scene. The showcase event has been responsible for kickstarting the international careers of artists such as Shame, Her, Alma, Roosevelt, Aurora, Dua Lipa and many more. This is not only done by offering these acts a stage during ESNS but also by supporting them after the event by way of the European Talent Exchange Programme (ETEP).
---
Links: