Zajedno Zusammen, Belgrade/Serbia
Various Locations
June 19 – July 15, 2014
On the 19th of June, the Serbian capital of Belgrade will commence the first festival highlighting current music from Austria under the title "Zajedno Zusammen". The festival will present exciting projects from the genres of world, jazz, pop, electronic and experimental music with a special focus on the collaborations between Austrian and international musicians working and living in Austria. The message: 100 years ago we fought a war against each other and now Austria has become sort of a Mecca for musicians from all over the world. For historical reasons, many of the artists originally come from the countries of the former Yugoslavia.
The Line Up
"Zajedno Zusammen" will kick off on the 19th of June with a Serbia tour of the female trio Sormeh (stations: Ethno Fusion Fest Belgrade, Kragujevac, Zrenjanin and Grocka), on the 25th of June Donauwellenreiter will perform at the legendary Studio 6 of Radio Belgrade 3 and will be broadcasted live on the Serbian Radio and the internet channel of the state television RTS.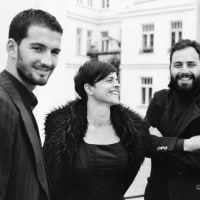 The main festival weekend will be celebrated on the 28th – 29th June (simultaneously with the commemoration of the assassination in Sarajevo 100 years ago) with a big party in the recently reopened Club Barutana and will present popular acts from the current Austrian electronic/club and DJ scene with Patrick Pulsinger, Elektro Guzzi, DelaDap! and Koenigleopold.
On the 1st of July The Gitarren der Liebe from Styria will perform at the Cultural Center Rex and Irina Karamarkovic will give a lecture on her dissertation topic of Balkan musicians in Austria. The festival will then be concluded on the 15th of July with a performance by the experimental duo Franz Hautzinger/Isabelle Duthoit.
The Back Story
In 2014 numerous commemorative celebrations and event series are being held to mark the centenary of the start of World War I. Even though this year all of Austria looks to Sarajevo, the First World War and the declaration of war against Serbia influences the historical picture of the Serbian population to this day. Under the motto "Remembering History – Creating Future", the Austrian Cultural Forum in Belgrade has decided to oppose to this rather dated view with a postive emphasis in the form of an exhibition and music.
In the past 20 years many artists from all over the world have come to Austria to study and perform, which has led to numerous collaborations with local musicians. "Zajedno Zusammen" therefore focuses on current music from Austria, created by artists that were not born here, but have chosen this country as their residence.
"Zajedno Zusammen" is a co-production of the Belgrade promotion agency Ring Ring Promotions, the Austrian Cultural Forum Belgrade, the Austrian Music Information Center mica – music austria and the Austrian Music Export.
Links:
Ring Ring Promotions | ringring.rs
Austrian Cultural Forum Belgrade | austria-kultur.at/forum/belgrad
mica – music austria | www.musicaustria.at