FM4 Soundpark is a web-platform, community, and radio show for Austrian musicians. Every month, one act is selected to be highlighted both online and on air. ARAI is the FM4 Soundpark Act in February. He put the drama in "Drama Pop": with his playful, lusty, musical pop songs, Viennese multi-instrumentalist ARAI is currently making a big splash.
---
Pop music, Garden of Eden for birds of paradise. Whoever wants to can become a monster mother or an alien messenger, can make transhuman fantasies come true, suddenly play an instrument, definitely leave binary gender relations behind. Three song minutes can turn into ten, a house beat turns into hip-hop, a guitar melody meets choirs and orchestras, and you perform ruffles, bows and sweeping hand movements. Which brings us to Artur Aigner, who has transformed the first letters of his civil name into his artistic alter ego.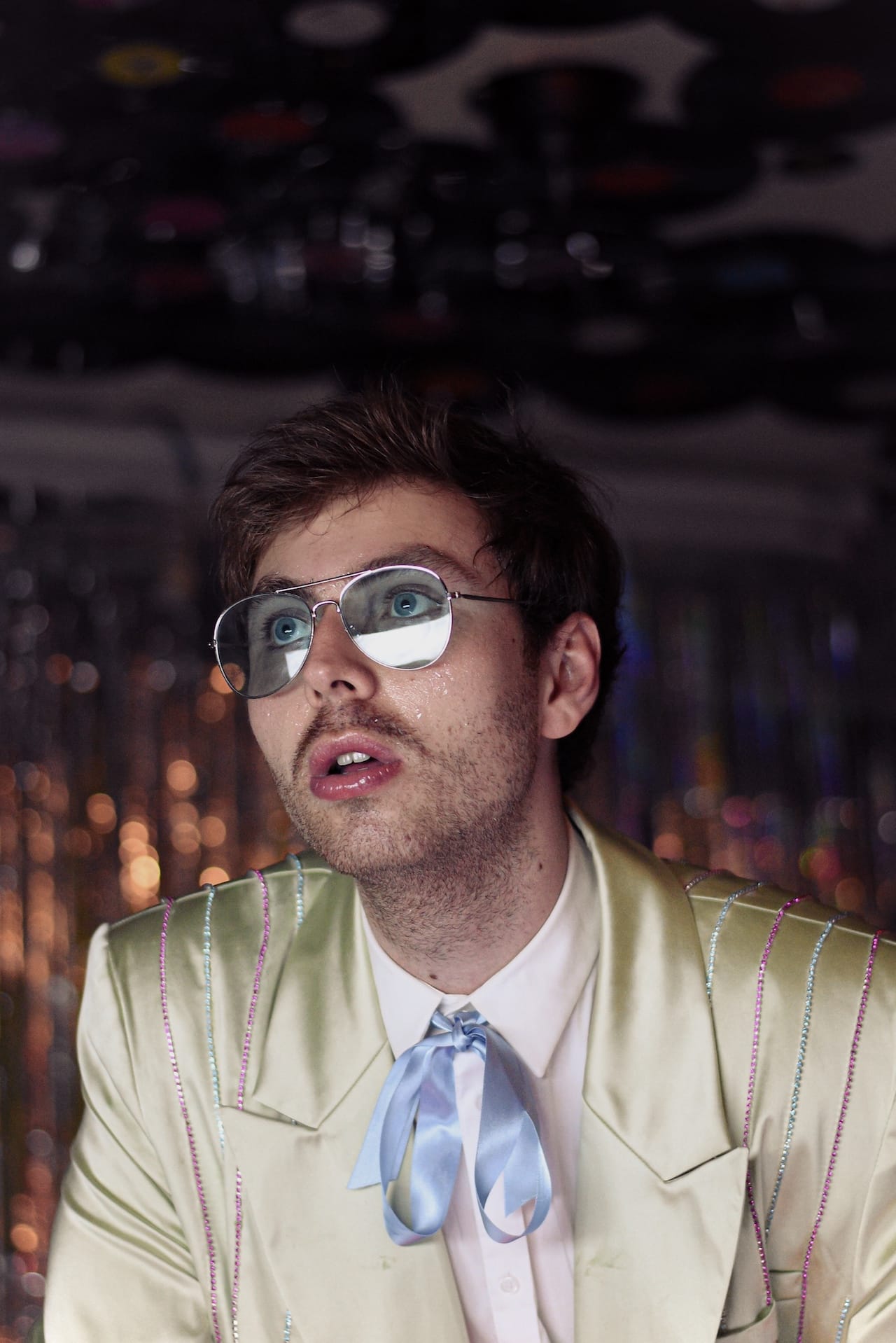 ARAI's musical history began at the age of seven with a violin, and later he learned to play guitar, drums, and piano on his own. A laptop at 15 then opened up the world to him: techno and singer-songwriter, house and trap, solo voice and hundreds of them as a choir, violin and whole string arrangements. The anything goes of pop music was liberation for him, the step from music fan to the other side of the loudspeaker a completely natural one. Earlier, with tracks like the small playlist hit "Skip", it was still a tad more future-bass and "classic" electro-pop, but in the run-up to ARAI's debut album, the baroque excess has found its way into his songs.
For ARAI, the world of pop music today is a colorful wonderland, a candy store of ideas that he sometimes twists and turns, inflates or discolors like building blocks for years until they eventually come together to form a song. "I have no idea when something is really finished, at some point I just give up and think it doesn't get any better now," the musician says about it with a grin in the interview. The drama in his self-chosen genre "Drama Pop" comes not only from the aesthetic opulence in sound and image, but also in terms of content from the staging of the large and small confusions of life under thirty, the first heartbreaks and other highly annoying problems of young people:
I was crying
Mama hit my bum, I was six, I was lying
I just showed a song to my friends, they're not vibin'
There's so many reason to cry

"We Cry"
The fact that the musician does not take himself too seriously and sees his music as a playground makes his songs light-footed and cheerful without putting them into bulky concepts. In this respect, it seems completely logical that in "Little Stupid Boy" a musical-like chorus suddenly enters on minimalist verses and choruses, that the chorus of "We Cry" consists of the syllables "ra-ba-ba-ba-ba-baa" and that the soulful third single of the current ARAI phase, "We Shouldn't but…", which will be released in mid-February, has been given a cheesy guitar solo and delicate vocoder parts.
Drama Pop, the genre, exists from the moment you think it up. "Drama Pop", the album, will be released in all likelihood in May 2023.
Katharina Seidler
Translated from the German original by Itta Francesca Ivellio-Vellin.