The FM4 Soundpark is a web-platform, community, and radio show for Austrian musicians. Every month, one act is selected to be highlighted both online and on air. The FM4 Soundpark act of the month.
---
The Graz-based band Crush releases their debut album "Sugarcoat". It's not just sweet. Crush is FM4 Soundpark Act in April.
Constant and all-encompassing self-deception, although you know better and actually want to do it better. The new job is great anyway, yeah, really. The new boyfriend is the best, yeah, really. Crush from Graz call their debut album "Sugarcoat", after the verb "to sugarcoat", translated into German as "beschönigen". The sugary coating does indeed sound very sweet. It is casual DIY dreampop in its least dark form, borrowing the long guitar sounds and reverberative sound excursions of Shoegaze and New Wave for head rocking and dreamily drifting into a world of slightly confused thoughts, soft upholstery, and candy floss. So what does all this have to do with sugarcoating?
From the very beginning
Crush were formed in 2015. The band consists of five members, all from Graz: Christina Lessiak, Christian "Cis" Lach, Florian Kolar and the sisters Katrin and Verena Borecky. As is customary in Graz, they know each other, played together in bands before. And then they got the itch. Something new was needed.
Christina, short Tina, who now takes care of lyrics, vocals and melody structures of Crush, was the last one to be brought on board. Before that she was – and still is – on the road with her "sentimental riot girl"-colleagues, Maneki Nekoč is the name of the band, sounds like melodramatic pop, Sad Core. "Sometimes I like to get lost in drama, it can quickly go too far. The band Crush often, and succesfully, holds me back. Even if "Sugarcoat" is mainly about love, being in love, breaking hearts, it is not – or at least not only – an over-sentimental matter."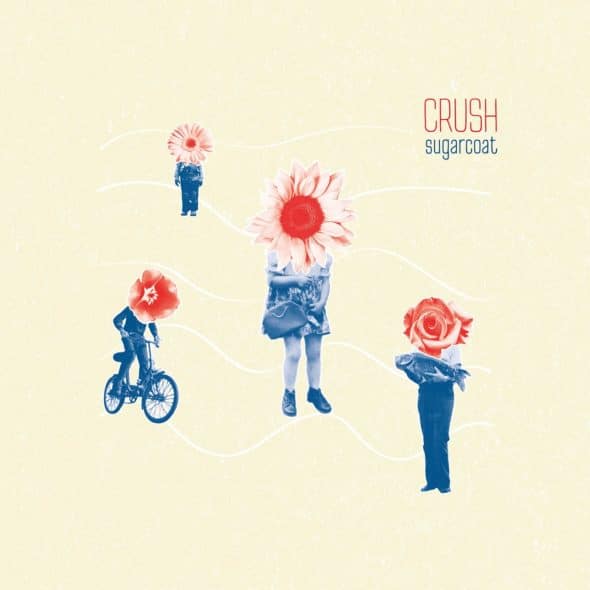 "Sugarcoat" the debut album from Crush, was released on Numavi Records, produced by Wolfgang Möstl.
Scratch the surface
The Sugarcoat mentioned is the meta-level under which much more is piled up: "Our music often sounds very sugary, very sweet. But if you listen carefully, if you can imagine something, you realize that there is more to it." In the song "Body And Mind" you hear the following line: "I'm so unsure if I lie to myself or to you", which summarizes the essence of the album: Who was I in the situation a month ago, a year ago, making that decision? Why would I change my mind right now? Quite simply because the present is different, one has evolved, the world is different, and man himself is not a rational being. Sounds logical, and it is. Crush apply this theory of a continuous development process to their music. "An album is never finished" – the beautiful sentence that also characterizes the Metallica documentary "Some Kind Of Monster".
An endless play
A song can always be reworked, a line can always be thought further. In this sense, music history would have to be constantly rewritten. Crush take this opportunity into their microcosm band: the song "Damaged Goods" has already titled their debut EP, a song about the torn out heart, the longing for harmony, bringing back the beautiful, the perfect moments. But also a song about not letting go, wanting to go back. When Tina Lessiak reads the text again after a few months, her reaction to the situation experienced is different, she is different, and she thinks differently. So she also rewrites the lines for a new version of "Damaged Goods" on the debut album.
Instead of:
Tonight if you would kiss me
if only you would kiss me
I know I wouldn't let you go
I would forget the treason
I would forget the reasons
why I should let you go
It is now:
tonight I could kiss you
if only I would miss you
I know why I let you go
I won't forget the treason
I won't forget the reasons
why I should let you go
Here nobody wants to go back, what they experienced is not forgotten, especially not forgiven. The sugar coating is only on the hooks, on the beautiful melody, but no longer on the content. In the song "Jellyfish, Clams, Whales" for example – which will soon be released as the next single – the focus is on a tragic character who knows that she will never realize her dreams in the place where she is. She knows it, but she doesn't change it. A sad cheer for the ability to lie to yourself in order to maintain the correct image of it externally.
I might be safe here
but the sea is still far away
I stayed at the beach to realize
jellyfish, clams, whales come here to die
they just come here to die
Of self- and stage-awareness
Crush recently shot a video for the single "Blue Colored" together with Gabriel Hyden at the Wiener Lobau.
When they first saw the shots, they did not immediately recognize themselves as the characters they depict; it is what performance, the slipping into roles, brings with it. The question of their own identity is a common theme running through the work of the Graz band, and yet, live on stage, they know exactly who they are: "We don't invent characters we turn into when the lights go on. We just want to play our music, we are up there just like in normal life," says bassist Verena Borecky.
This makes Crush not only likeable people, but also a distinctive band. This too is the present, the present a snapshot; how and whether Crush will and must separate their stage character from their private life in the future will be determined by time, influence and reach of their music. Karl Ove Knausgard writes in his just published new book "Frühling": "But perhaps these were only justifications, something I persuaded myself to console myself. Because that's the way it is, we disguise our mistakes and shortcomings and invent stories that change them to something advantageous for us. Self-deception is perhaps the most human thing there is."
Crush have turned the most human thing into music; the lie, and it sounds good.
CRUSH LIVE:
31.3. Wiener Neustadt / Triebwerk
1.4. Wolfsberg / Container 25
7.4. Zagreb / Klub Močvara
27.4. Graz / Forum Stadtpark
28.4. Wien / Café Stadtbahn
19.5. Oberwart / OHO
22.6. Linz / KAPU
By Lisa Schneider (translated from the German article (FM4) by David Dempsey).