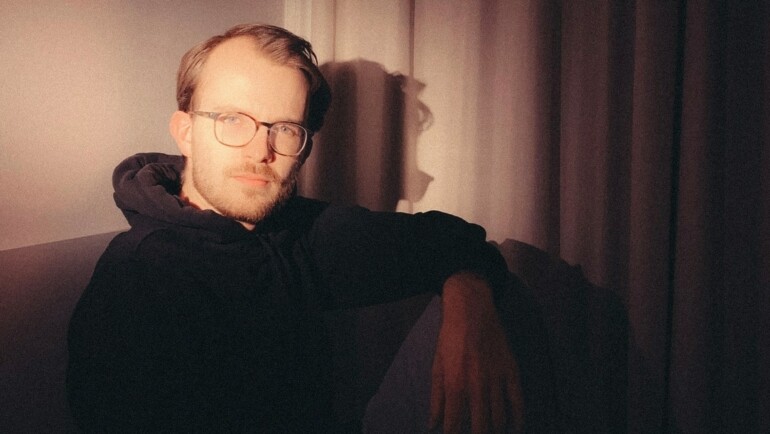 The FM4 Soundpark is a web-platform, community, and radio show for Austrian musicians. Every month, one act is selected to be highlighted both online and on air. Since 2018, Clemens Gumpoldsberger aka VELAR PRANA makes glittering-warm electro-pop that immediately grabs the ear. The Soundpark Act in the month of July.
---
It's the beginning of 2020. Shortly before a virus will throw a huge wrench in our plans, Clemens Gumpoldsberger is lying in his bed in a Viennese dormitory and has a song in mind. At that time he has already released an EP, many song sketches are lying around again. A lot of them in fact – around 60 in total. But this one song somehow did it to him. He produces it, plays it to an enthusiastic friend and releases it. The track, "Turn the Lights Down," will land at No. 5 on FM4's annual chart by the end of the year. "I've really had a bit of a problem with not being able to really celebrate it, because for me it was just like, oh wow, what's the next step?"
… Things that Velar Prana should not have had to worry about. A good two years later, he has released his first album "Happenings", is back at the top of the FM4 charts with his single "Tried my Luck" and also fills the shoes of our latest Soundpark Act of the Month. "Worry", that is generally rather a foreign word for Velar Prana, at least in his music. If any do arise, he drowns them out with a good dose of good humor and optimism. "All my music is actually about new beginnings and hope," he says in the FM4 Soundpark interview and smiles.
Enjoy the moment
Velar Prana started out as a DJ in small bars in Wels. Musically, we are still far away from what he does now: He is 16, in his sets, plays names like Tiesto, Hardwell or Martin Garrix. He doesn't want to be a chart DJ. House and electro is what fascinates him.
Then two things happen: on the one hand, DJing becomes too boring for him ("always the same BPMs!"), on the other hand, he has health problems and is no longer allowed to do sports for over two years. "Something big broke away from me, which I had always done before, I was riding racing bikes without end, and so on. I was no longer allowed to do any of that." He therefore begins to make music himself – music that builds him up:
"To this day, I think that's still the story. For me, making music has always meant: Enjoy life a bit more, enjoy the moment".
We hear this approach on his tracks immediately out, also on his debut album, "Happenings". Created between the room he grew up in, in Thalheim, which he transformed into a home studio, and his dorm room in Vienna, chopped beats, warm guitars and shimmering synthesizers flicker towards us between the chirping of birds and the wailing of sirens. Interpersonal feelings are packed into catchy melodies; danceable lines of confidence fly around our ears. It sounds warm, like summer and a good time – like "good vibes only".
For the first time we hear Clemens singing, himself, on the tracks. Previously, he had pulled vocal samples from the Internet for the vocal parts, until he once blabbed and promised: If it's going to be an album, then it's going to be with his own vocals. But that's only half the story: "Often the vocal in a song, it seems to me, is the most tangible thing for people," he tells in the interview. "And if you then just say: this is a sample from the Internet, then it has often occurred to me that this is almost a bit disappointing for some."
From Tiesto to Jungle
So no more samples (ok, almost none), but stacked vocals à la Jungle to conceal their own voice after all – at least a little bit. The British Jungle, along with Tame Impala and Mura Masa, are among the Upper Austrian's biggest inspirations anyway, and Flume has also accompanied him on his musical journey since friends of a neighbor turned up the car radio pretty loud during "Holding On" so that he could hear it all the way into his backyard. "That's the cool thing, because I actually come from a DJ background, where I used to listen to a lot of house and techno and didn't have that much contact with indie and electronic. Through that I often think to myself: Woah cool, discovered something new again, which others probably have already known about for 15 years. But for me, Tiesto and Hardwell were special back then."
Clemens is currently nestled between his bachelor's and master's degrees, but his to-do list for next year already includes playing live with a real band. And, who knows, maybe the long-awaited festival appearances from which he draws so much inspiration for his own music will come soon. Until then, however, it's a matter of continuing – and not losing the joy of making music: "It's easy to overlook that when things get more serious, when you just have to sit down again and say: So, now I'm just going to make music in a relaxed way and see what comes out of it. Then the things that actually work best, usually come out."
Velar Prana's debut album "Happenings" was released on May 27.
links
Translated from the German original by Arianna Alfreds.