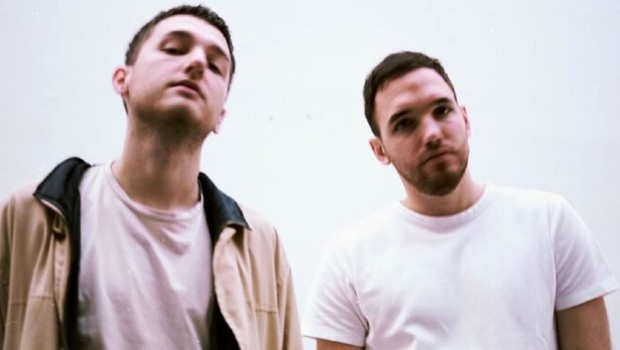 The FM4 Soundpark is a web-platform, community, and radio show for Austrian musicians. Every month, one act is selected to be highlighted both online and on air. The FM4 Soundpark act of the month.
---
YUKNO – WITH A SILENT K
It's a dark, deep pounding in the right temple. The night was long, the morning is too short. And yet, the heart is kind of lighter. After an almost minute long intro "My spirit was freed from corporeality" are the first lines that Georg Nöhrer, singer of Yukno, shares with the microphone in the song "Sonne". You can see him sitting there, behind the mountain of experiences, there are not only good ones.
ROLE REVERSAL
Yukno used to be Neodisco, a school-based fun band, the music oscillating between club and village fair. A music that tastes best with a strong mix of cola red.
And even if that isn't the national drink, it has been effective. Sony Austria asked for autographs on a contract. The initially four, then three members of Neodisco were a hit. From the Styrian province to stages across the nation. They later tell us that they just wanted to get out and play.
Despite colourful spotlights, wine taverns and guaranteed escalation, Neodisco was always a project with an expiration date. In 2015, Yukno arose out of the ashes of the school band project, with only the brothers Georg and Nikolaus remaining as members.
And this is what the new sound is supposed to be: Honest, direct, and unobtrusive music. Ready-made for the dancefloor, but also for silent and lonely thoughts. On stage they also swap songs. The lyrics are written together. But now Nikolaus gives his attention on stage more and more to the synthesizers instead of the vocals.
SOUNDS LIKE YUKNO
"Where life conforms to fate, you've finally arrived" is a line in the song "Land". Yukno have discreetly moved their language away from Austrian. Naturally since the foreign festival stages are waiting to be conquered. A plan that will work out well. Direct, clear, and poetic vocals carry more than just the melody of the songs in a calm monotony through the album. Accompanied by a bass that never comes to rest. The initially unplanned minimalist approach to conceptualizing the songs around that bass has proven to be a stroke of luck, and not only because the electric bass is such a wonderful live instrument. It is reminiscent of a creaking wooden floor on which you stumble with heavy boots. It shapes Yukno's music and creates an earthy signature sound they can be proud of. One that many bands are missing right at the beginning.
THIS IS INDIE-POP
What Yukno do now is indie pop. Not only according to the genre, but really "indie". Independent. Georg and Nikolaus Nöhrer gave up the major deal with a last, friendly handshake. Now they decide on their choice of songs, release dates, and stage outfits. A reacquired sovereignty which goes hand in hand with the process they describe as "growing out of puberty".
A lot comes together in Yukno.The band experience, but also growing up. Great heroes of Austrian lyrics such as Ludwig Hirsch, who was even a good friend of Papa Nöhrer's, reappear in front of us out of childhood memories. And Yukno can write: clearly formulated snippets of emotion, grand drama made personal, for each and everyone. Precise, direct, thoroughly planned, pleasantly unobtrusive.
"This is more than a dance, I'm talking to my gods ", an older example. Yukno already released an EP in 2015 and 2016, which is similar to the debut album "I don't know a weekend", which was released at the beginning of February. Now Yukno is exactly like the two musicians imagined.
WEEKENDS, SEVEN DAYS A WEEK
The title  "Ich kenne kein Weekend" (I don't know any weekend) sounds like a new hipster bar. It is rumored to be reference to a Joseph Beuys' installation with the same title. Yukno do not see themselves as great connoisseurs of art, but they know their art. This is how they turn Beuys' thoughts into their systemic criticism. On the one hand, it is a farewell song to life in the 40 hour rat-race, which limits happiness to two days a week. But it is also an expression of how Yukno works with their mother tongue. They place the clunky denglish consciously and boldly in the foreground.
The lyrics of the first single released under the new band name Yukno,"Feuer", are still fairly divided between English and German. On "Ich kenne kein Weekend" the coveted weekend is the only English. Yukno use the language as it works in everyday life, and who hasn't used an "Alright" or "Whatever" before?
Even the band name itself reads like an acclimatized foreign word. It's a good idea that the song "Yukno", more read than sung by a woman's voice not named in more detail, blurs the name into a "You know". One will only find out later, or not at all, that it is actually a poem spoken in Korean.
The voice on the album is only swapped once, but the narrative perspective is all the better. "Blut", for example. A romantic scenario as red and hot and beautiful as the love that is at stake. It creeps up like a thriller, shot outside, maybe in Donaustadt, in thick fog. The murder weapon: emotional abyss. "Aim for my heart and then fill me with lead." It's the beloved victim who is talking, and they are right in the line of fire.
"Ich kenne kein Weekend" is not just a contemporary title. The band hits an active nerve. Yukno have overcome a personal and musically exciting threshold on their debut album. In the appropriate jargon: Auf nach Tomorrowland.
By Lisa Schneider (translated from the German article by David Dempsey)
Links:
Yukno
FM4 Soundpark