For the third time now, Austrian artists have been selected to receive international support from the "Focus Acts" program. This year ELEKTRO GUZZI, MANU DELAGO, MOTHER´S CAKE, FAREWELL DEAR GHOST, GASMAC GILMORE, MARIO ROM´S INTERZONE, NIHILS and CHRISTOPH PEPE AUER were chosen to receive travel funding up to 5.000 Euro – endowed and processed through the Austrian Federal Chancellery – for the realisation of this years export projects. 
Franz Hergovich explains the program that was initiated in 2015: "For the past couple of years there have been a variety of young local acts from all contemporary musical genres that have excited audiences at events we have organised at national and international show-case festivals. As a result they have been booked for international festivals and clubs. These performances rarely cover travelling costs, since only already established acts are well-paid. This is the problem Focus Acts seeks to solve. It gives young musicians the financial means to accept more international performances, allowing them to gain experience and find their audience in order to advance into the level of well-paid acts."
ELEKTRO GUZZI  –  FRESHLY PLAYED TECHNO
They perform in a classic band formation: drums, guitar and electric bass. But they play minimalist techno. "We definitely see ourselves as a band, and we have always worked together as a band." says Bernhard Breuer who is a trained jazz-drummer. His bandmates Bernhard Hammer (guitar) and Jakob Schneidewind (bass) also have an academic approach to their instruments.
Although founded in 2004, the professional musicians waited a few years to present their project to the public. In 2010 they released their debut album Parade on the Berlin based label Macro. It was produced by Patrick Pulsinger. 
Performances at renowned festivals like Sónar, Mutek, Roskilde and Melt quickly followed, with a successful club tour in the fall and winter of 2016. Anyone who has seen Elektro Guzzi live is aware of their electrifying stage show. They have also had to process the dizzying discrepancy between their sound and their appearance.
In 2017 the band plans to focus on international festivals in Europe and South America to promote their current releases Clones and Parade.  A number of dates across Europe have already been set and contacts made in South America as including invitations to two festivals in Argentina.
MANU DELAGO  –  THE MAN WHO LIKES TO HANG WITH THE HANG
Manu Delago is a musician through and through. He began learning drums at the ripe old age of two, and went on to study the accordion and piano. After graduating from the Musikgymnasium in Innsbruck he went on to study classical percussion at the Mozarteum University in Salzburg. He then moved to London to pursue his masters at the Guildhall School of Music. He completed his academic career studying composing at the Trinity College of Music.
At the same time he founded his own bands Manu Delago Handmade and Living Room, released multiple albums, and began playing concerts across the globe.
And then he discovered the Swiss sound-wonder, the hang. His YouTube videos received a lot of attention, eventually resulting in collaborations with successful artists like Anoushka Shankar, Andreya Triana, Joss Stone, Shpongle and Björk. He also performed with his own formations in shows across the planet and recently published his Concerto for Hang and String Orchestra together with the London Symphony Orchestra. At the beginning of 2017 he released his third solo album Metromonk on the English Tru Thoughts label. A follow-up to his most recent success, the critically acclaimed  2015 release Silver Kobalt.
FAREWELL DEAR GHOST  –  GRAND GESTURES AND EMOTIONS
Philipp Szalay begann Farewell Dear Ghost as a solo project, producing and recording his debut album We Colour The Night (Schönwetter) alone. It wasn't until the issue of live performances came up that a permamanet band lineup was formed consisting of Philipp Szalay, Philipp Prückl, Alex Hackl and Andreas Födinger. The addition of new musicians also resulted in a whole new dynamic. In the spring of 2015 the band toured China, an experience that was processed on their 2016 EP, "Skin" (ink music).
The mini-album is loaded with grand gestures and emotions, well dosed pathos, as well as hope and doubt. The result was a mix that landed them an invitation to the Eurosonic Noorderslag Festival 2017. A performance that gave them their first opportunity to present themselves in front of an international audience of industry professionals. Prior to the event they were listed as one of the 5 "must see acts" at that festival by the British music blog Drowned In Sound.
In the fall of 2017 they will be releasing their second studio album and performing at multiple showcase festivals. Potential international partners include Schöneberg from Germany and Mainland in Switzerland. Beginning in May, Farewell Dear Ghost will be touring in central Europe with a particular focus on Germany. In August 2018 the band will be returning to China.
MOTHER'S CAKE  –  AUSTRIA GOES AUSTRALIA
Mother's Cake is a band that should be on your radar in 2017. Despite their prog-rock background their new album "No Rhyme No Reason" is more accessible than many pop acts could ever strive for. Yves Krismer (vocals, guitar), Benedikt Trenkwalder (bass) and Jan Haussels (drums) have been doing their thing together since 1998, and already performed as opening acts for giants like the Deftones, Iggy Pop or Wolfmother. Yves Krismer's vocals don't betray his heritage, and he sounds like he could easily have grown up Birmingham or been a regular on Sunset Boulevard. Their debut album was produced together with The Mars Volta keyboarder Ikey Owens and enjoyed top-level international support.
Mother's Cake are clearly serving a musical niche and the only logical step is moving beyond Austria and on to the international stage. They are currently focusing on festivals and club shows in Germany and the Benelux countries. At the end of the year they will be on tour in Australia. They are currently working on expanding into new markets in Holland, France and the U.K.
GASMAC GILMORE  –  ONE ALBUM, TWO LANGUAGES
The Viennese band is back with "Begnadet für das Schöne" (Sound To People). Matthias Wick (vocals, guitar), Max Berner (drums), Elias Berner (guitar) und Victor-Ezio Gabriel (bass) combine the finest metal riffs with danceable polka, balkan brass, klezmer, and even a little bit of punk. Although the album was produced by James Loughrey in London, frontman Matthias Wick has decided to sing almost completely in German this time. The language change has done the sound well though, giving it a much more independent and unmistakeable sound.
Their current focus is on Germany where their cooperation with the German booking agency "Extratours Konzertbüro" has laid the foundation for an extended tour . Their goal? Getting their foot in the door of, and on to, festival stages in 2018. Marketing of the tour as well as the album will be handled by the German agencies Another, Media Luchs and Netinfect. At the same time they plan on developing their presence in the non-German live scene for 2018, with the help of an English language version of the album.
MARIO ROM'S INTERZONE – JAZZ: ENTERTAINING AND EXCITING
Many will already be familiar with the young Austrian trio Mario Rom's INTERZONE. Mario Rom (trumpet), Lukas Kranzelbinder (bass) und Herbert Pirker (drums) are a promising band on the young, wild, European jazz scene. Concert performances have already taken them around the globe to Mexico, China, Argentina, South Africa, Morocco, Tunisia, Qatar, Israel and all of Europe.
The trio plays jazz after the motto "anything goes" with a special emphasis on improvisation, spontaneity, and communication. It's a mix that has garnered rave reviews from the press. DIE ZEIT  for example, has referred to them as "3 young savages, marked by a life they couldn't have lived, capable of anything". In the fall of 2017 they will release their new album Truth Is Simple To Consume. Business structures exist, timelines have been drawn, the promo is out and a video series is being produced. Further highlights include a Canadian tour in June and a tour in India in November.
NIHILS – HERE TO STAY
The electro-pop band Nihils were formed as a quartet in 2011 but have since settled in as a trio – Ramon Riezouw (vocals, piano), Florian Nothegger (guitar) und Thomas Lackner (drums). After a stylistic change in 2014 they now sound much more electronic than their earlier indie-phase. Their most successful single Help Our Souls achieved over 4 million streams. The remix hit over 20 million and was on heavy rotation on radio stations across the country. It also brought them to the SXSW Festival in 2015 and an international support-gig for 30 Seconds to Mars.  
Now the debut album Perspectives is finally out. A mix of timeless pop and modern elements. NIHILS want to build on their national exposure to cross the border. The band is working with Four Artists and have made some waves supporting the German electro-pop band Claire in club shows around Germany. They have also spent the summer performing at festivals in Austria and Germany and were invited to a live-session in the Red Bull Studio. Three dates in Switzerland were set for 2017 and they are also looking toward Spain, where their cooperation with Madness Live resulted in a series of summer shows.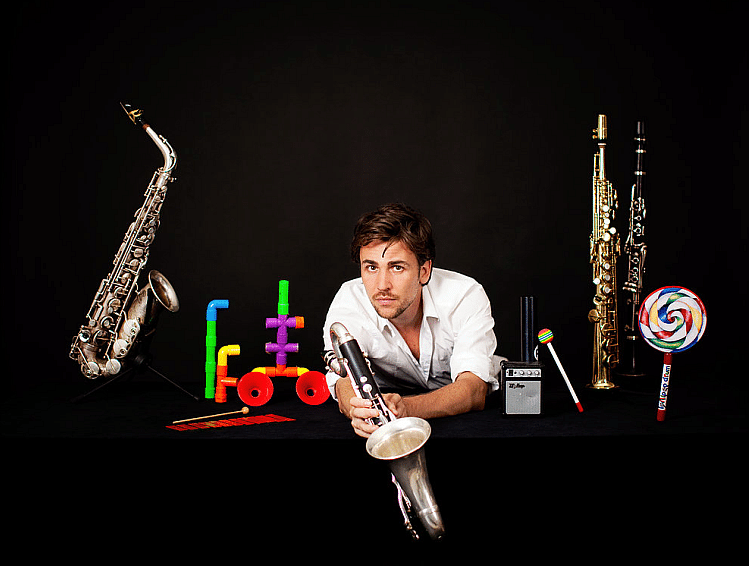 CHRISTOPH PEPE AUER – A MUSICAL HOMAGE TO THE 90'S
He began his musical career as a drummer. But then Christoph Pepe Auer discovered the saxophone, and, as a result, jazz. He isn't just a musician, though. He is also the founder of Session Work Records. Under the name Living Room he has toured with Manu Delago and the Christoph Pepe Auer Quartett. In 2005 he won the Hans Koller Prize "Newcomer of the Year" and in 2007 the "New York Grant".
Auer is a busy man and took his time on his first solo album. On Songs I Like (Session Work Records) he reflects on his past and growing up with top 40 radio. "I have to accept it. I took some of these songs and processed them on the CD under the title "90's Therapy". The result is a unique sound universe somewhere between jazz, pop, electronic and chamber music.  Live performances are realised as a quartet consisting of Christoph Pepe Auer (clarinet & saxophone, electronics), Mike Tiefenbacher (piano), Marie Spaemann (cello, vocals) und Gregor Hilbe (drums, electronics).
A visit to Jazzahead  in Bremen resulted in a cooperation with the O-Tone Music agency, a German release in April 2017, and a tour this coming fall. Further partners include Q-rious Music for promotion and Edel Records for distribution.
FOCUS ACTS 2017 – THE CRITERIA
The Focus Acts Program promotes international development of young local artists. Eligible applicants are Austrian musicians from the genres pop, rock, electronic music, contemporary classical music, jazz & world music that have been selected as part of the activities of Austrian Music Export by international juries and festivals. Criteria for funding include the presence of international structures and business partners (booking, label, distribution, promotion, management) and a coherent export concept. Applicants must at the time of submission have at least ten international concerts arranged for the subsidized tour period. A travel fee of a maximum of EUR 5,000 can be applied for per act/solo artist/ensemble. The next call will be held in the fall of 2017.