Since 2015, selected FOCUS ACTS have been supported with annual tour subsidies. The sizeable endowment is intended to enable local acts to accept more concert invitations from abroad, and thereby strengthen the presence of Austrian musicians on the international stage. The FOCUS ACTS are awarded by the FEDERAL MINISTRY FOR ARTS, CULTURE, CIVIL SERVICE AND SPORT (BMKOES) – together with AUSTRIAN MUSIC EXPORT.
Which bands don't dream of a great international career? Though many acts have the potential to take off abroad, it's often a tremendous financial challenge for them to even accept invitations to international gigs. Especially at the beginning of a career, the fee offered is often just enough to cover the musician's travel expenses. Even appearances at well-known festivals are sometimes difficult to manage. Consequently, numerous acts accept foreign tours into which they ultimately invest more than they can actually earn. To counteract this predicament, funding efforts by the Federal Ministry for Arts, Culture, Civil Service and Sport (BMKOES) are being intensified within the framework of FOCUS ACTS. The declared aim is to further increase the visibility of Austrian musicians abroad and to give even more aspiring musicians a shot at an international career.
Through an invitational process – within criteria which took the extenuating circumstances of a pandemic into account as well as possible – artists at various points on the journeys of their international careers were identified for the FOCUS ACTS CALL 2021. With Bernhard Eder, Bilderbuch, Cari Cari, Manu Delago, Marina & the Kats, Please Madame, Rojin Sharafi and Takeshi's Cashew, a total of 8 Austrian acts were awarded funding amounts of 5,000 EUR each. Particularly pleasing to see is the diversity of the supported musicians, ranging as they do from jazz to pop, rock, electronic, and global to experimental music.
The FOCUS ACTS 2021
Bernhard Eder had his first musical success as the vocalist of the Band "Wa:rum" in the late 90's, kicked off his solo career in Berlin in 2006 and released his eighth album "Subterranean Echoes" in May 2021 – singer/songwriter Bernhard Eder has artistically come a long way. On his solo albums he plays music landing somewhere between low-fi, electronica and indie-pop, with an often melancholic-dark impression. He has played well over 600 concerts all across Europe and made contributions to theatre plays and movies in Austria and Germany.
The story behind Bilderbuch is like a fairy-tale come true. From the humble beginnings as an under-appreciated school band in Upper Austria to international success – it's all there. But Bilderbuch is anything but a classic rock-band, and anyone who takes a second look can see that immediately. Maurice Ernst (vocals, guitar), Michael Krammer (guitar), Peter Horazdovsky (bass) and Philipp Scheibl (drums) are full of style, attitude and pizazz, and bring the necessary musical skills to convert these attributes into amazing songs.
Packing in 15,000 audience members each night at their spectacular weekend-run in the courtyard of Vienna's Schönbrunn Palace in May 2019, Bilderbuch is easily one of Austria's all-time most successful bands, with their equally strong foothold in Germany as well. In November-December 2021, Bilderbuch – together with German act Roosevelt – embarked on its first US & Canada tour. Concerts are scheduled in Washington D.C., NYC, Montreal, Chicago, Austin and Los Angeles, among others. In addition, they are currently working on their 7th album. Let the anticipation begin!
Cari Cari is a DIY duo, consisting of Stephanie (Vocals, Drums & Didgeridoo) and Alexander (Vocals & Guitar).
They are based in Europe, having lived  in London, Hamburg & Vienna. The duo has been baptised "the lovechild of The Kills and The XX" (IndieShuffle) "with a pinch of Morricone" (FM4) and "the raw grit of Cat Power" (BestBefore). Their songs "White Line Fever" and "No War" were used in the Hollywood productions "Shameless" and "The Magicians" while their single "Nothing's Older Than Yesterday" lead to excessive touring and performances at renowned festivals such as "Primaverasound barcelona" (ES), "The Great Escape" (UK), "Eurosonic Noorderslag" (NL) and "MELT!" (DE).
Manu Delago is not only known for being the drummer and Hang player of the Icelandic singer Björk. The "masterful and sensitive musician" (The Telegraph) has also performed and recorded as a soloist with the London Symphony Orchestra and collaborated with various artists such as Anoushka Shankar, Shpongle, Bugge Wesseltoft or The Cinematic Orchestra.
His solo career began in 2007 when he uploaded a video onto Youtube in which he plays the Hang, a UFO-like hand-played sound sculpture. Now that video is the most popular Hang video on the internet and has been viewed more than 4 million times, soon after, the "virtuoso on the Hang" (The Times) formed his own band which has since played concerts on five continents. The live show of Manu Delago Handmade is delicate and sophisticated, moving with ease between heavily rhythmic and free-flowing spherical sections. Each of the four performers takes on several instruments, displaying the great musical diversity of every member of the ensemble. In 2021, Manu Delago embarked on his innovative new project "ReCycling Tour" with an environmental protection focus, and in connection to his new album released in the fall.
Marina & the Kats do not worship the past, but they do use it with merciless intensity to create their own niche in the present. Musically, right on the mark with their unique Neoswing sound, they also strike a political note without ever pointing a moral finger, and they tell stories that move, that occupy, that leave a mark, even when the last note has long since slunk into the hollows.
The band celebrated a brilliant debut with "Small" (2015).
For the two songs "Small" & "Dirty" they received the 2016 Songwriter Award from the Austrian Association of Composers.
The album "Wild" followed in 2016 and band started touring relentlessly, all over the world, playing around 90 shows a year.
In 2021, they released their new indie swing album "Different" (Parramatta/Sony) and consolidated their sound with their trademark "Shared Drums",
a drum set they share among each other during their set.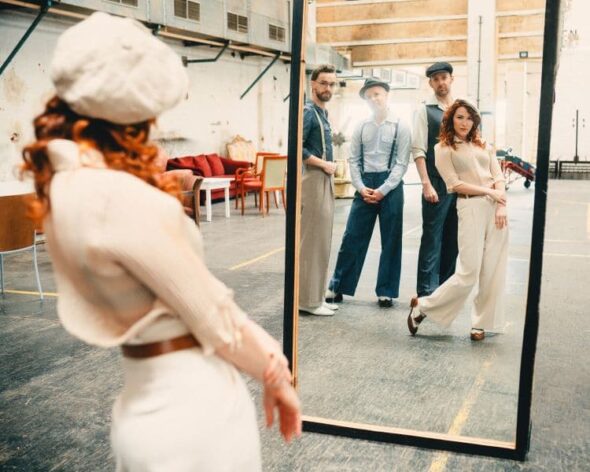 PLEASE MADAME are no strangers in the Austrian indie-rock scene. After their debut LP 'Escape the Nest' and their EP 'Back to the Start' the band from Salzburg released their second album 'Young Understanding' in 2018, and now their latest, "Angry Boys, Angry Girls" in 2021. At home in the world, unattached, fierce and free – with a fresh and bold view at the challenges life has to offer, Please Madame mirror the sense of life of their generation. Their sound is a mix of indie-rock that is excellent for dancing and melancholic synth-pop, which also make their energetic live shows worth experiencing.
ROJIN SHARAFI is a sound artist and composer of acoustic, electro-acoustic, and electronic music. Her music crosses borders of different genres and keenly grabs from many musical buckets such as noise, folk, ambient, metal, and contemporary music.
Her album "Urns Waiting To Be Fed" debuted via Zabte Sote / Opal Tapes labels and reviewed by The Quietus as "the unexpected" and "one of the most ecstatic and fiercely original hours of music". She has performed in festivals such as SET x CTM 2018 in Tehran, and Unsafe+Sounds and Hyperreality in Vienna. In addition, her work has been presented internationally in cities like Basel, Berlin, Gent, New York City, and Washington DC. She was awarded the 2018 Austrian Female Composers Prize at the Wien Modern festival. "KARIZ" marks the third solo album of ROJIN SHARAFI, and was released on November 5th, 2021 on Ventil Records.
Takeshi's Cashew is a newly formed psych-funk group that explore the boundaries of club culture, world music & 70's psychedelia. All coming from different musical directions, they create a colorful fusion of their respective genres embedded in a club-like beat framework and elevate their often complex arrangements to a beautiful & danceable potpourri.
During summer 2020, Takeshi's Cashew recorded their debut album "Humans In A Pool" in their tiny DIY-studio in Vienna. This self-produced record was released in June 2021 and takes listeners on a journey into cosmic krautrock, cumbia, afrobeat & disco in a fierce mix, that can only be surpassed by one of their live performances.