Since 2015, selected FOCUS ACTS have been supported with annual tour subsidies. The sizeable endowment is intended to enable local acts to accept more concert invitations from abroad, and thereby strengthen the presence of Austrian musicians on the international stage. The FOCUS ACTS are awarded by the FEDERAL MINISTRY FOR ARTS, CULTURE, CIVIL SERVICE AND SPORT (BMKOES) – together with AUSTRIAN MUSIC EXPORT.
Which bands don't dream of a great international career? Though many acts have the potential to take off abroad, it's often a tremendous financial challenge for them to even accept invitations to international gigs. Especially at the beginning of a career, the fee offered is often just enough to cover the musician's travel expenses. Even appearances at well-known festivals are sometimes difficult to manage. Consequently, numerous acts accept foreign tours into which they ultimately invest more than they can actually earn. To counteract this predicament, funding efforts by the Federal Ministry for Arts, Culture, Civil Service and Sport (BMKOES) are being intensified within the framework of FOCUS ACTS. The declared aim is to further increase the visibility of Austrian musicians abroad and to give even more aspiring musicians a shot at an international career.
Through an invitational process – within criteria which took the extenuating circumstances of a pandemic into account as well as possible – artists at various points on the journeys of their international careers were identified for the FOCUS ACTS CALL 2022. With AYMZ, FARCE, FLORENCE ARMAN, FRINC, KUTIN, MERETRIO, PURPLE IS THE COLOR, RUSSKAJA, SHARKTANK, SOPHIA BLENDA, TAKESHI'S CASHEW and THIRSTY EYES a total of 12 Austrian acts were awarded funding amounts of 5,000 EUR each. Particularly pleasing to see is the diversity of the supported musicians, ranging as they do from jazz to pop, rock, electronic, and global to experimental music.
THE FOCUS ACTS 2022:
AYMZ is the new music project of the musician previously known as Amy Wald. Before AYMZ came out as non-binary, the previous project made a name for itself in the music scene in Austria and Germany, with German pop songs that offered young LGBTQIA+ members a space for reflection and identification, and earned a very loyal community as a result. This community catapulted the song "Mehr Als Nur Ein Like" to number 1 in the Ö3 Austrocharts and number 2 in the Ö3 listener charts for several weeks.
After a thread of tours (i.e. as Germany support for the living icon Conchita Wurst), festival appearances (CSD Munich, Donauinselfest, Kultursommer Wien, Theatron Musiksommer, Munich 2021), and successful singles, Amy Wald finally became AYMZ and started, not only a new chapter, but a whole new "book". "X" is the debut of the upcoming album (to be released Sept 2022). Also, AYMZ will support YAENNIVER on her "Nackt" tour 2022 through Germany and Austria.
Producer, songwriter and artist Veronika J. Koenig – known by her stage name FARCE – remains unimpressed with genre restrictions and finds her niche in anything that is heavy in bass and intense in emotion. Her oeuvre spans not only her solo works, but also continuous collaborations with likeminded artists like techno pop maven Fauna and, most recently, Wolfgang Moestl of Mile Me Deaf. Reminiscent of acts like Robyn, LCD Soundsystem and Charli XCX, FARCE continues to produce an intoxicating mix of rather violent, experimental ideas finding a home in theatrical and flamboyant Pop music.
Her new EP "Trauma Bounce" arrived in late June of 2020, spearheaded by the fun, sexy, sad "Subway Surfer". The latest single "Meditation 4 2" appeared in 2021.
Florence Arman is an established singer/songwriter who is now launching her career as a solo artist. She is no stranger to the international pop scene, having worked with artists such as The Kooks, Barns Courtney, Rhys Lewis, G-Flip, Crystal Fighters, filous, Harry Hudson, Cro and Lena Meyer-Landrut to name a few. She is now dedicating herself to her own intimate, yet witty and light-hearted artist project. She writes all of her songs alone and works with a close team of producers to finish them. She comes from a family of English musicians, her father is a conductor and composer, her mother a vocal coach, one of her brothers a jazz guitarist and the other is a songwriter / producer. In 2021 she released the EP 'Out of the Blue'.
FRINC is music from paradise. Pop mixed with nuances of Afrobeat, Reggae and World Music with german lyrics. FRINC is a full-blooded musician who has his natural home on stage. Now it's time to let go and let yourself fall. These are good vibrations for every day, because it comes differently anyway. At the latest, with the song "Einfach so," with GReeeN, FRINC has established himself in the German-speaking music landscape. In addition to several Spotify editorial playlists of his songs and, in the meantime, more than 100,000 monthly listeners, there are upcoming tours planned in Europe.
In 2021, the debut EP "Lass los" was released with 5 songs that perfectly introduce the world of FRINC. The first album will be released in 2022.
Peter KUTIN is a Vienna based artist. He works with sound across genres. His live-performances or installations hold a physical and psychological impact and might throw you as much off balance as they will embrace you. His live-performances or installations hold a physical and psychological impact that throws you as much off balance as it will embrace you.
In his most recent works, he implements kinetic sculptures or light systems as main performative elements. In doing so he attempts to dissolve the presence of the human performer to a maximum. He creates a dialogue between the trinity of 'object-sound-light' and the audience. His pieces aim to open up a corridor that leads to aesthetic encounters. They have been exhibited, commissioned, performed or screened at various occasions and venues across the globe.
Kutin's latest release is EPDEMO, together with his trio PLF (Peter Kutin, Lukas König, Freya Edmondes), which appeared on Opal Tapes in early 2022.
Meretrio (Emiliano Sampaio, Luis Oliveiro, Gustavo Boni) is active since 2004 and continues to fascinate by its ongoing search for new musical paths; having already released 9 very distinct albums that explore the musical connection between three Brazilian musicians.
The latest albums received great reviews and were named "Best Albums of the Year 2017" by Downbeat Magazine. Recently in 2021, Meretrio released a new album entirely dedicated to Brazilian music and focused on the genre "Choro", a style that originated in Brazil in the 19th century and can be considered the first urban music in Brazil. This record was also nominated for the deutschen Schallplattenkritik and entered in the list "Best Albums of 2021" from Jazzthing.
Jazz music of a tremendously elegant quality, the kind that does not linger in the classical realm, but rather unfolds many interesting interconnections to other styles. Purple is the Color sets sail to special musical shores, to shores on which the dignified sound of jazz can develop its full radiance free of conventional constraints. The aim of Simon Raab (piano), Stepán Flagar (saxophone), Martin Kocián (bass) and Michal Wierzgon (drums) is to touch the audience with their music, release deep-rooted feelings and trigger emotions. Purple is the Color have been selected as NASOM "New Austrian Sound of Music" act 2020-21.
An elegant and captivating kind of jazz. That is precisely what the Czech-Austrian quartet Purple is the Color served up on their debut album "Unmasked" (Freifeld Tonträger). Their latest album "EPIC" was released on the Viennese label Session Work Records in 2021.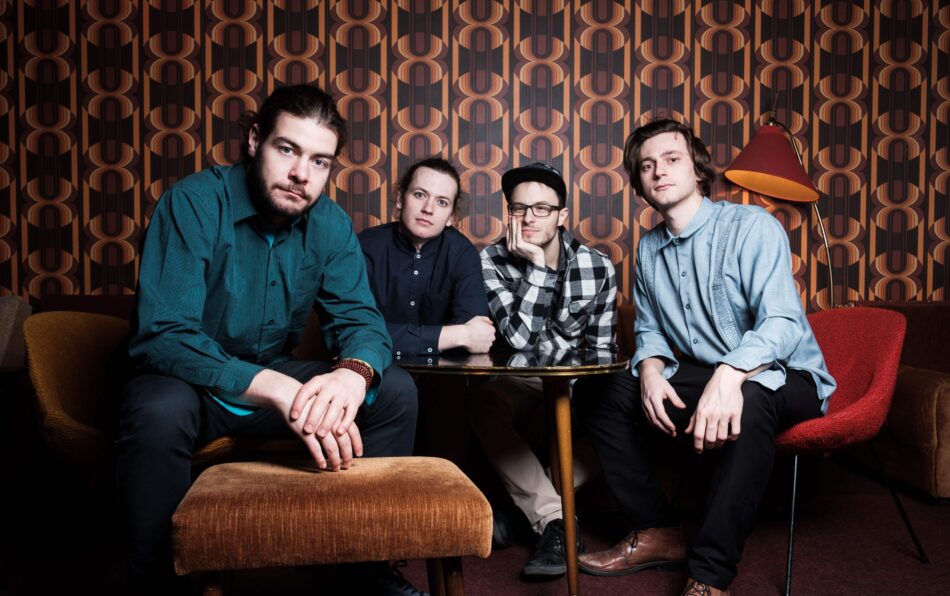 Since 2005, Russkaja has been touring through Europe and guaranteeing turbo party power at festivals and in clubs all over the continent.
The band's energetic frontman Georgij Makazaria and his vibrant metal appearance make people bounce frenetically, dance the pogo and scream their heads off. He is supported by the hard and precise rhythm section consisting of drums, bass and guitar as well as the melody section of violin, sax and the potete, a unique bass-trumpet. Together, the studied musicians follow their passion for live music and race through the melodies of Eastern Europe.
Russkaja plays with Slavic clichés and melancholic minor melodies which then pick up speed again and invite you to dance. The beat of the so-called turbo polka with a Jamaican ska- offbeat makes the people's feet and souls celebrate, dance and happily forget all their woes. Excursions into punk rock, metal and dub-step also make even lovers of the harder genres shake their heads.
Hip-hop und pop have always been friendly neighbours. Vienna-based Sharktank finally have them married happily ever after. What started off as a solo project of rapper Mile quickly became a band when young singer Katrin Paucz joined the studio session Mile held at renowned producer Marco Kleebauer's studio (he famously produced several award-winning and chart-topping albums from bands like Bilderbuch, Oehl and his own band, Leyya).
Their joint debut "Washed Up" hit the airwaves right after release and immediately gained major traction on Spotify and radio stations. Katrin's magic vibe and lyrics on the sensitive difficulties of life and relationships are encountered by Marco's positively-quirky production and conscious rap lines of Mile. The combination of these characters are what makes the band so special. Not to mention simply great tunes to sing along, dance to and get lost in.
After a number of hit singles and EP's, they released their first full album in 2021, "Get It Done".
Sophia Blenda is the alter ego of Sophie Löw, the 26-year-old singer/songwriter whose distinctive voice and remarkable lyrics have so far made her best known as the singer of the Viennese indie rock band Culk.
Now Löw enters the public eye as Sophia Blenda with her outstanding solo debut album "Die Neue Heiterkeit," on which she circles the thematic complexes of fear, self-determination, violence and sisterhood. Sophia Blenda is the representative of a generation whose women feel at once courageous and resigned, cut off and seen. A generation whose fears are becoming louder and louder, but remain unheard.
Go to your record shelf and pick out that quirky (and unforgettable!) folklore vinyl you once found on a flea market somewhere on your travels. And now imagine that sound being complemented by vintage synthesizers, flutes, twangy surf guitars, a hell lot of space echo … & electronic downtempo beats! Takeshi's Cashew (Laut&Luise, Berlin) are a newly formed psych-funk group that explore the boundaries of club culture, world music & 70's psychedelia.
During summer 2020 Takeshi's Cashew recorded their debut album "Humans In A Pool" in their tiny DIY studio in Vienna. A journey into cosmic krautrock, cumbia, afrobeat & disco, which can only be surpassed by one of their live performances – for which they teamed up with pojpoj agency, who already feature artists like Khruangbin, l´Eclair and Yin Yin.
Since their emergence in early 2016, THIRSTY EYES have come to be recognised as major pillars in the falling masonry of Vienna Modern Raunch. Damning contemporary prepossessions for the self-important, humorless and boring, the band stands for rough and unpolished Rawk-N-Roll: Preserved in alcohol and stripped to the skeleton, yet boisterous and charismatic, sometimes close to sheer unconsciousness. Accordingly these kids know their business, being well prepared to play various popular novelty tunes like the Ding–dang–a–dong, the Higgle–dy–piggle–dy as well as the Yukkum–yukkum (my personal favorite). Just believe me, these THIRSTY EYES are on a mission and blessed with the rare ability to convert your average Polka audience into batshit lunatics. – Text by Al Bird Dirt
Keep your eyes and ears out for what's to come from all the FOCUS ACT Artists 2022!