AUSTRIAN MUSIC EXPORT (AME) supports outstanding Austrian musicians for the second time with the promotion of excellence "Focus Acts". SEX JAMS, ROBB, MIA ZABELKA, LEYYA, MANU DELAGO and WHITE MILES will each receive EUR 5,000 for the realization of this year's Export projects.
"With the Focus Acts program, we help artists tour abroad, something which is often not cost-effective for young musicians. The promotion covers travel costs and reduces the economic risk to the artists in order to allow internationalization projects, " explains Tatjana Domany of Austrian Music Export. The new funding framework was initiated in 2015 expanding the portfolio of services the Austrian Music Export offices offer.
LOUD, LOUDER – SEX JAMS
The noise-pop band Sex Jams (This Charming Man Records) has already been in the public eye for seven years. The quintet, consisting of Peter T. (bass), Katarina Trenk (Voc), Wolfgang Möstl (guitar), Rudi Braitenthaller (Drums) and Lukas Bauer (guitar), has since been a steep path to the top. The five made a name for themselves with their avantgarde, raw, crackling sound and their legendary live performances. The musicians rapidly established a reuptation outside Austria and have played 200 concerts in Europe since the bands formation. In 2014 they toured the United States for the first time and in 2016 they want to build on this success. "Through our US tour in 2014, we were able to build a good network there, which we want to expand now." The bands tour in September and October will take Sex Jams to Brooklyn, Manhattan, Providence, Boston, Baltimore, Savannah, Orlando, Gainesville, New Orleans, Chicago, Cleveland and at the very end back to Brooklyn for a second show there.
SENSITIVE VIOLIN SOUNDS – MIA ZABELKA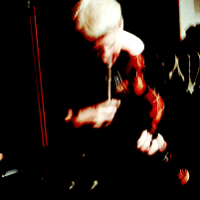 The Viennese violinist Mia Zabelka is considered a pioneer of experimental violin playing. Having enjoyed a very classical violin training, over the years she developed a unique technique to bring her violin to "sing", putting her in the spotlight of every performance. Between August and October, the musician will complete a total of 20 concerts across Europe. The stations are Romania, Great Britain, France, Holland, Belgium, Ireland, Denmark, Germany, Sweden, Russia, Italy and Spain. The tour is associated with three album releases ("M2 "Mia Zabelka solo, "MiAu" Mia Zabelka & Audrey Lauro, "Synecdoche" Mia Zabelka & Saffronkeira). The network partners supporting Mia Zabelka's sustainable positioning in the European music market include the German booking agency Media Loca and record companies like Creative Sources Recordings, Dnovali Records and Stochastic Resonance.
JUNG AND IMPETUOUS – LEYYA
The dynamic duo Leyya is considered one of the most promising domestic newcomers. The combination of the straight electronic beats of producer Marco Kleebauer and the soft, delicate voice of Sophie Lindinger results in a magical mix of melancholy and coolness. Founded in 2013, the band landed an international hit with the single "Superego" from their debut "Spanish Disco" reaching 1 million plays on Spotify. Since 2015 international showcase festivals have become part of the Leyya hype.
"In the last few months a lot of attention has been paid to our artistic work" says Sophie Lindinger. "That makes it just as attractive as useful to follow the international call. Unfortunately, the related expenses are enormous. The Focus program allows us to specifically go where we may expect great and sustainable interest in our work." In the summer of 2016 festivals are the focus of their export strategy. This includes Lunatic Festival, Sound Of The Forrest Festival, Puls Open Air Festival and Artlake (DE), United Island Festival (CZ), Wildeburg Festival (NL), Galapagai Festival (LT), U.D. Festival (SI) and the Hill Chill Open Air (CH).
WILD, WILDER – WHITE MILES
Medina Rekic and Hansjörg Loferer met in 2005 and appeared together as White Miles six years later. They are famous for their rehearsal room parties and especially for their sound, which they themselves describe as "Dirty Poledance Stoner Blues Rock". Medinas skills on the guitar are always amazing and Hansjörg is convincing on drums. In 2016 they will spend June to October on on the road in Germany (Yet not Now Agency, Booking) and the Netherlands (SCO Concerts, Booking).
"As we are often on the road, we experience many cities and audiences, make new and important contacts, but … the financial burden is anything but small! Thats why we want to sincerely thank Austrian Music Export for the support." The duo will be playing major cities as well as festivals like Reading and Leeds to promote their album "The Duel", which was published in early April on Long Branch Records (SPV).
PLAYFUL AND DANCEABLE – ROBB
The singer of the five-piece band ROBB, Robert Summerfield, has an American background but was born and raised in Germany. For the last several years he has lived and worked in Vienna. Along with his four bandmates ROBB produces progressive Soul with strong electric funk and R&B influences. In winter 2016 they will be playing as support for the successful pop musician Maxim on his German tour. This will give ROBB a chance to prove their skills in front of around 10,000 concert-goers. Before they hit the road in Germany, ROBB will publish more singles from their long-awaited debut album which is set for release in the spring of 2017. "Without the support of the Focus Acts Program it would, at this stage, not have been possible to play this tour."
SENSITIVE VIRTUOSO – MANU DELAGO
Since his childhood the Innsbruck percussionist and Hang-player Manu Delago has been interested in drums and other instruments of this kind. With his ensembles Manu Delago Handmade and Livingroom he enjoys a great international reputation and is certainly pleased with the development: "I think it's great that my music is so positively accepted internationally and that most of my concerts now take place abroad. These tours also have increased travel and accommodation costs that are not covered with the concert fees, so I would like to thank Focus Acts, whose support gave me this European festival summer with my entire band and crew". His album "Silver cobalt" is the impetus for a festival tour from June to September in which Manu Delago will travel with his Hang to Germany, France, England, Czech Republic and Switzerland. His existing booking partners include Yuppies Music, FKP Scorpio and Bacana. The international release of "Silver Cobalt" on Tru Thoughts Records also helped agencies from Japan, USA and Australia to become aware of Manu Delago which should allow more concert performances soon.
FOCUS ACTS 2016 – THE CRITERIA
The Focus Acts Program promotes international development of young local artists. Eligible applicants are Austrian musicians from the genres Pop / Rock / Elektronik, new music, jazz & world music that have been selected as part of the activities of Austrian Music Export by international juries and festivals. Criteria for funding include the presence of international structures and business partners (Booking, label, distribution, promotion, management) and a coherent export concept. Applicants must at the time of submission have at least ten international concerts arranged for the subsidized tour period (June-December 2016). A travel fee of a maximum of EUR 5,000 can be applied for per act/solo artist/ensemble. The next call will be held in the fall of 2016.
Austrian Music Export is the cooperative music export initiative from mica – music Austria and the Österreichischen Musikfonds.
Austrian Music Export is supported by