Less than 12 month ago the team around Florian Richling and Christoph Muck released the music data analytic service ForTunes. ForTunes is the first creator-centric music data analytic service and it is mainly used by DIY-artists. We spoke to Florian Richling and Christoph Muck, the two masterminds behind the Vienna based start up, about growing workloads, the beauty of streaming and why releasing music becomes a true team sport. 
ForTunes provides musicians with a comprehensive music data analysis. Data analysis is not necessarily the first thing that comes to one' s mind when thinking of creating music. What prejudices did you both encounter during the initial phase?
Florian Richling: Perhaps the most commonly spread bias in that regard is: artists per se are not interested in data. Good news is, opinions have changed in recent years. And rightfully so. Let's say in 1998, when you left the studio after finishing a recording session, you kinda lost your connection to the recording. Questions like "Which songs do people like the most?", "How often do people listen to my music?" and "Do they share it with others?" were not easy to answer. Today, with dozens of social media and streaming services that help artists to get their music noticed and heard, many answers are just a click away.
So what hat's changed since then and where is Fortunes today?
Florian Richling: Today, a huge part of the responsibility in regards to promoting and releasing music lies on the artists' shoulders. Now let's go back to 98' for a sec – back then it would have been the label's responsibility to get the records pressed and in the stores in order to give fans the chance to buy them. Today, since getting music available is not that big of a deal, the challenge is not to get it out but to cut through the glut of the zillion releases that are released every day. Social media in all its colours and forms became an important part of almost any release strategy. Which means more work, more things to think of and to get involved in for artists. That is the reason why getting the answers and understanding the meaning related to the artists career is important for the whole team. The labels, the artists, their managers, the bookers and band members. Releasing music today is a true team sport. With ForTunes, we aimed to build the most convenient and compelling service for teams to answer all necessary questions. We wanted to give them the power to be successful and have a fun experience while releasing music today.
"After you have pointed us to your channels on social media and streaming platforms, we collect, fetch, and visualise data and provide you with insights that will help you better understand who is playlisting & uploading your music, who writes about your music and how your audience is growing." (FAQ #2)
FAQ #2 on your website seems to explain how ForTunes works quite well. Can you give us some more details, please?
Florian Richling The number of data sources and insights, like blogs, playlists and curators,  is mind-blowing. You can see these sources and services as islands that once arrived at, have a lot to offer. But trying to go to many islands is very time-consuming. So, we try, from an artist POV, to bring these islands very close together. The artists can effortlessly wander around from one island to another. We believe the segmentation of data is a big issue. Closing the gaps, as a service, is a big quality we hope our users appreciate.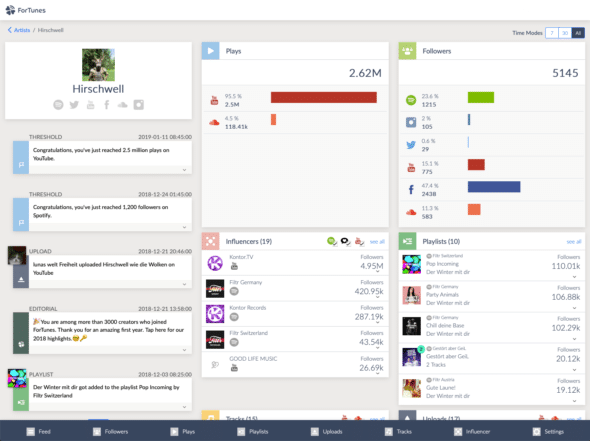 How many of your customers are musicians by themselves? Doesn't rather use their management ForTunes?

Christoph Muck: The bigger part of our users are DIY artists, producers and bands. With all the great possibilities around, the evolution of streaming services and social media brought to the DIY community – it has also put more workload on the artists shoulders, especially promotion. So as the careers develop, the teams grow. And just like artists, their managers or label partners benefit as well from using ForTunes. We are enabling teamwork in the most convenient way: If the whole team uses ForTunes, everybody is on the same page, always.
Which social media channels can ForTunes currently "tap" to use for its data analysis?
Christoph Muck: Half of the ForTunes team are still music professionals themselves. Many of the services that we've integrated are services that we also use in our daily lives as artists or producers. For now, we include data from Spotify, SoundCloud, YouTube, Twitter, Facebook and Instagram. In addition, we have partnered up with two amazing blog services that we personally like and use a lot – Hype Machine and SubmitHub. These cooperations allow us to monitor thousands of blogs and additional playlists worldwide. We are constantly working on adding new services and deepening the views on data that are already included in our service.
It is no secret that the music business is a highly competitive market. Are there any services that are comparable to ForTunes? What distinguishes ForTunes from other providers?
Christoph Muck: Traditionally, the music data analytics market has been shaped by two approaches. First one, companies providing the biggest labels with publicly available data about artists. And the second one, companies helping brands discover music for their campaigns. ForTunes is the first creator-centric music data analytic service. We pride ourselves as the mobile champions in collecting insights across various platforms for artists, bands, producers and their teams.
Online also stands for worldwide. Where have you been able to gain a foothold as a start-up?
Christoph Muck: That's right, ForTunes is available worldwide. Just visit our website fortunes.io for links to the iOS store and our browser version. Right now our strongest markets are European countries as well USA & Canada. We have also partnered with like-minded organisations and companies worldwide like the Association of independent music UK (AIM), Startup Sesame, Europavox, to name a few.
What are your goals for 2019?
Florian Richling: We released the ForTunes app less than 12 months ago. We actually just got started. There is a lot in the pipe and on our bucket list is stacked. A cooperation with the amazing service called WARM is around the corner and there are many other services we would love to work with. There are so many people out there doing a great job. Bandcamp for example, is very much up there. But of course, we also want to foster relations with the services we already have implemented.
If I may ask your opinion: Which Austrian act is globally doing very well at the moment and why?
Christoph Muck: If you look at our socials you'll notice that we feature Filous a lot. He's an extremely talented musician and producer. Watching his career develop is very inspiring. But there are many more artists creating a stir far beyond the borders of Austria's music scene. Acts like Palastic, Klei, Mavi Phoenix, Leyya, Avec, HVOB, 5K HD, Wandl, Cid Rim, Dorian Concept, Elektro Guzzi, Mother's Cake, Jugo Ürdens… just to name a few.
The beauty of streaming and social media is that everyone gets a chance to release music and be close to their listeners. Playlists and streaming services empower artists to effortlessly cross borders and develop international careers. ForTunes is the tool that supports them along the way.
Thank you very much for the interview!
Ruth Ranacher
---
Links:
ForTunes.io