Asia is geographically the largest continent on the earth: it reaches from Siberia to India, from Lebanon to Japan. And as equally as diverse is the asian music scene in Vienna, almost the entire continent is represented in the city – a close-up look.
The images flash across the television screens and in the meantime also on tablets and smart phones: the New Year's Concert from Vienna is seen across the entire world. Naturally also in Asia. Also the regular guest appearances by the Vienna Boys' Choir help to secure the reputation of Vienna as the City of Music in Japan. For a long time however a reciprocal motion has been noticeable: musicians from the asian world have come to study in Vienna. Such as Wei-Ya Lin from Taiwan, who is currently proceeding with her doctoral studies at the University for Music and Performing Arts in Vienna after having studied the viola. "I have been in Vienna since 1998" says Wei-Ya Lin.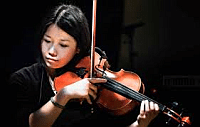 Already during her studies she played with the Vienna Mozart Quartet and in addition to playing in classical formations, she currently plays pop music with the band Neuschnee. But because of her nationality she unfortunately had to experience discrimination in Vienna: for example on bureaucratic paths. Even a student colleague – during her instrumental studies – gave her the instruction, Wei-Ya Lin would never be able to play the music of Strauss because she did not have Viennese blood.
Can one play Strauss without having Viennese blood?
"She didn't mean it in a mean way, but it is actually very racist. An awareness of this view is unfortunately not taught at the University." explains Wei-Ya Lin, who is not only interested in western art music but also how music functions at all. She completed writing her doctorate about indigenous peoples in Taiwan. In spite of all this, she likes Vienna: "I think Vienna is great because there is enough room for all kinds of music. In Taiwan this would not be possible", she says. "Even though I have lived here for sixteen years, sometimes I have the feeling that I am not part of this society" says Wei-Ya Lin who is also Associate Lecturer on Ethnomusicology Subjects at the Institute for Composition and Electroacoustics.
"Even though I have lived here for sixteen years, sometimes I have the feeling that I am not part of this society"
It was completely different situation with Joji Hattori who came to Vienna from Japan when he was eight years old. "When I was eighteen I wanted to work of the United Nations." he says, "but for a management position however, I would have needed a domestic political career first, which at that time for people from a foreign country was more difficult than today." As an alternative, I ultimately chose an artistic path and became violinist and conductor: "Because for an artist it is not important how I look or where I come from." His path to the violin was as if predestined because his mother taught violin at the music university in Tokyo and his father was also a great lover of music. When he was five years old, he began to play the violin and eventually became a student of Yehudi Menuhin. "When I was twenty I won his violin competition, of which I am now president." says Hattori. During a concert tour as violinist, he returned with Menuhin to Japan. When he decided to become a conductor, Hattori's second famous teacher would be Lorin Maazel. "In comparison to Maazel, Menuhin was more of a mentor."
"In comparison to Maazel, Menuhin was more of a mentor."
He expands his wide range of talents even further today by also studying sociology. I this field he is fascinated by the migration from Japan to Europe. Hattori has further added another branch to his artistic work in 2015: a Japanese Art-Restaurant in Vienna's first district. "The background music which is played in the restaurant was naturally put together especially by me" Hattori says  with a grin.
Sparsely grown are the characters that musician Sainkho Namtchyliak from Tuwa, Siberia presents on the global stage of the internet: one finds clues of an appearance at a poetry festival in Medellin, Colombia in 2013. A poem, written during a train ride somewhere in China. Footnotes, so widely dispersed as if you are in the wide open spaces of her Siberian homeland. Namtchylak herself seems to be as removed from the world as her own music suggests. A video shows her sitting behind a sound-mixing board, while a fellow musician plays a Jew's harp into a Loop-Machine and a dancer sets her ethereal sounds into motion. Perhaps precisely why Namtchylak is trying to appear to escape from the world is what makes her one of the most interesting asian musicians in Vienna.
The most successful musician with an asian background in Vienna is currently Nazar. The rapper born in Iran and living in Vienna has recently reached the top of the Austrian charts with his sixth album "Camouflage" although Austrian radios have not played him. But it appears he has now arrived at the heart of Austrian pop music because his current album was produced by Falco friend and colleague Thomas Rabitsch and one finds on youtube this duet with Falco:
Rap is also for Esra Özmen the best form of expression. As part of the group Fight Rap Camp, the Austrian rapper with Turkish roots won this year's FM4-Protest-Song-Contest in the Rabenhof Theater. "I recorded a poem and put it on youtube" explains Esra on how she came to rap. The rapper – whose stage name is EsRap – made her first recordings in a youth center in Vienna's 20th district. While she was just a student, Rap gave her confidence: "Rap gave us the opportunity to say 'We are here too' Rap is a music of visibility." As a musician with a migration background, she sometimes experienced discrimination, explained Esra, and then she felt used: like when she was presented as a good, well-integrated turkish girl who could also rap.
"Presented as a good, well-integrated turkish girl who could also rap."
"Up until I entered grade school I did not know German and the whole neighborhood was made up of immigrants", said Esra about her childhood in Ottakring. Today she sees herself as a Turk with a home in Austria.
The probably most famous Asian musician in Vienna is the Oud player Marwan Abado from Lebanon who came to Vienna when he was eighteen. Establishing himself as a musician in Vienna was not easy. "Even when there were not many Oud players in Vienna at the time, and the majority of art lovers did not even recognize this instrument." Abado's musical path was from then on determined by his own compositional activities. But at the beginning of his career it was not the music but rather his political stance that stood in the foreground: "That sometimes got on my nerves a little" says Abado looking back.
"Sometimes it was not the music but rather the political stance that stood in the foreground"
But today, it is his opinion that many things have changed and improved for the better in relation to the acceptance of the world music scene: "Today there are more ways into the scene and more interest in it." However, Abado sees that the overall conditions for musicians are constantly getting more difficult, also in relation to the presentation of music. "Ten years ago a CD was not only a business card or promotional article" says Abado "but an important musical and artistic statement that by its distribution was also a viable source of income."  Today his music would rarely be found still in music stores.
In his collaborations with other musicians, Abado is always only interested in quality. He works together with Austrian as well as with international musicians, and that shows – as he says himself – in one of his most beautiful productions: the CD " 's geht eh", that Abado recorded in 2004 together with Kristof Dobrek, Alegre Correa, Aliosha Biz and Roland Neuwirth – so to speak the Creme de la Creme of the Austrian World Music scene.
"To move to another country also means to know no-one at first" says the Indian singer
Anuradha Genrich and adds immediately: "I like Vienna. Here I more easily come into contact with other musicians than in Berlin and have met some very wonderful people." Her musical education began when she was six years old. She was raised in the south Indian city of Madras and as a teenager she took lessons in classical south Indian music with Vidwan Sri Bombay Ramachandran, her mother's teacher.
This musical style is called karnatical music and is still today the musical home of Anuradha Genrich. After ten months of study in Italy and around two years in Berlin, the native city of her husband, she arrived in Vienna at the beginning of 2014. In Vienna she played traditional Indian music, occasionally with Austrian musicians who also studied classical Indian music. "Today it is nice for me to be able to stay by my roots" she admits. However, she has continued her international and global outlook: in the meantime Anuradha Genrich has had appearances in Australia together with Aborigines and in India with Buddhist monks.
Internationally manned is also the group Wienanda: the musicians, whose music is based on Indian prayers and mantras, come from Brazil, various European countries and India. "If there is such a thing as an Asian music scene in Vienna, then we are also a part of it" says Wienanda.
"I learned from Ravi Shankar: be very honest in relation to your music and to yourself."
That is also appropriate for the Sitar player Alokesh Chandra, who for ten years has lead the association Alankara which supports the promotion of classical Indian music. With the association Raga there exists since 2014 a further platform for classical Indian music in Vienna. Alokesh Chandra was born in the Ukraine and has since the middle of the 1990s spent most of his time in India. He studied there with the famous Sitar master Ravi Shankar who was the first to make the instrument well known. Shankar once worked together with The Beatles. "I was very lucky and being the student of Ravi Shankar for five years was the greatest experience in my life." says Chandra. This time was also a great challenge because Shankar expected no payment from his students but expected progress in their Sitar playing. It was a lesson in living which went far beyond only music. "I learned from Ravi Shankar: be very honest in relation to your music and to yourself." said Chandra, whose family on his mother's side has roots in Kasachstan. He has lived in Vienna for about twelve years, and like Anuradha Genrich, he plays classical Indian music and in the meantime has also become a teacher.
In conclusion: the Asian music scene presents itself inhomogeneously and thereby very colorfully. The spectrum ranges from live music in Persian restaurants to Turkish Rap and classical Indian music – the local musicians with Asian backgrounds invite you on a musical journey of discovery in Vienna!
Jürgen Plank / Steven Scheschareg
Photo Nazar: APA/Helmut Fohringer
Photo Wei Ya Lin: Markus Zahradnik
Photo Hattori: Jeff Mangione
Photo Sainkho Namtchylak: sfd
Photo Nazar: Nazar/Facebook.com
Photo Esrap: Esrap/Facebook.com
Photo Anuradha Genrich: vereinraga.com
Photo Alokesh Chandra: Alokesh Chandra//Facebook.com