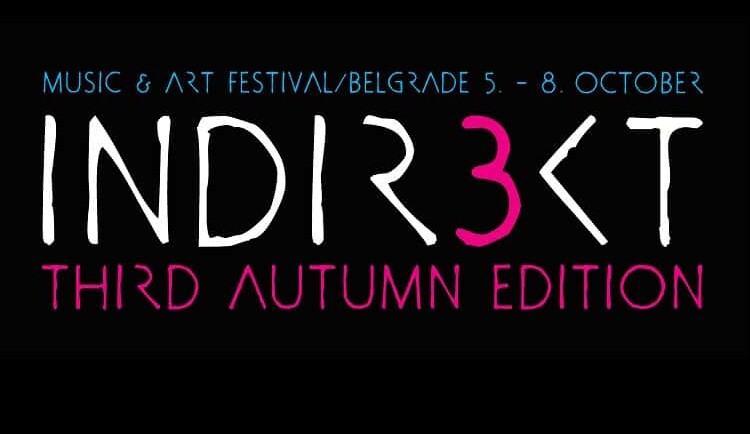 Indirekt Festival is the first showcase festival in Serbia and one of the few in the Balkans. After a successful summer festival in Umag, the Indirekt Festival Autumn Edition takes place in Belgrade, Serbia, from 5th to 8th of October 2017.
Indirekt is an independent music and art festival with two hometowns – Umag/Croatia in June and Belgrade/Serbia in October. This year, Indirekt Autumn Edition happens for the third time in Belgrade. The festival features four venues with 22 performances, numerous lectures and panels as well as participants from Serbia, Croatia, Montenegro, Bosnia and Herzegovina, Slovenia, Sweden, Poland, Italy, Austria and Hungary. The region of former Yugoslavia still lacks showcase festivals – except for Slovenia's MENT, and Serbia has practically no festival of this kind. The local scenes in former Yugoslavia are thriving and they yearn for better mutual communication and better connection with the rest of the European music market. Indirekt Showcase is therefore a new platform for boosting the local and regional music scene and connecting it with an international crowd.
Austrian Heartbeats at Indirekt Festival Belgrade
From Austria, three up-and-coming acts will perform in Belgrade: Cari Cari, At Pavillon and Gospel Dating Service. In addition, a delegation of Austrian music professionals heads to Indirekt Festival Belgrade for a business networking and exchange visit. Presentations and networking sessions as well as an Austrian reception will provide ample opportunity to create new connections and networks for Serbian, Austrian and international participants. The project is developed in cooperation with Indirekt Festival, the Austrian Cultural Forum Belgrade and Waves Vienna Festival.
Friday, October 6, 2017
21:45 CARI CARI, Rex Cultural Center
Saturday, October 7, 2017
14:00 Presentation "How to work best with Austria", Dorćol Platz
An overview of the Austrian music business, including general data of the market with a special view on labels, agencies, promoters, distributers, media, institutions, venues and festivals. Speakers:, Thomas Heher (Waves) and Franz Hergovich (Austrian Music Export/mica – music austria)
16:00 Reception / Networking Session, Leila records & Books
RSVP: Please send an e-mail to office@musicexport.at before Monday, Oct 02, confirming your participation!
21:00 GOSPEL DATING SERVICE, Rex Cultural Center
23:30 AT PAVILLON, Dorćol Platz
---
CARI CARI (ink Music)
Not many bands manage to hit the international stage from the very beginning. But Cari Cari – aptly named the "lovechild of The XX and The Kills" – have done it their way: first taking on the world and then Austria. Their single "White Line Fever" was licensed for the series "Shameless", they have done a no-budget tour of Australia (a documentary is in the works) and their songs have been praised in blogs and online magazines. What more could a band want?
AT PAVILLON (We Are Lions Rec.)
At Pavillon move beyond the typical rock sounds and have found their style somewhere amid the disco lights, taking inspiration from film-classics of the 70's and 80's. Packed with funky arrangements straight from the dance-floor of Saturday Night Fever, these upbeat songs aren't just about going out and having fun. They also carry deeper messages about individual freedom, tolerance and cooperation.
GOSPEL DATING SERVICE (Kleio Records)
The musical fireworks Gospel Dating Service ignited with their debut album, "Champagne", are nothing short of a massive funk-pop-indie extravaganza. It is clear that Gospel Dating Service have everything needed to succeed: Strong and diversified songwriting, a sense for hits while avoiding shallow melodies, instrumental skills that go well beyond the norm, and a sound that impresses with a high degree of individuality. And with Christoph Ertl on the mic they have an immensely multifaceted voice that consistently manages to raise goosebumps.
---
INDIREKT FESTIVAL BELGRADE
Date: 05-08 October, 217
Venues: KC Grad / Dorćol Platz / KC Rex / Majstor za pivo
Performers: Ana Avramov (SRB), At Pavillon (AT), Auf Wiedersehen (SRB), Baden-Baden (CRO), Barbarisms (SWE), Bitipatibi (SRB), Cari Cari (AT), Dogs In Kavala (SRB), Dope Calypso (HU), Gospel Dating Service (AT), Haze & Ash (MN), Jakob Kobal (SLO), Moloa (SRB), Nadja (SRB), Norma (SWE), Presing (SRB), Sir Croissant (BIH), Sleepyheads (CRO), Technoir (ITA), The Immigrants (HU), The Lesser Men (CRO), Triko (SRB)
Links
Indirekt Showcase Festival (Facebook)
www.indirektfest.com