In cooperation with the well established International Jazzfestival Saalfelden, Austrian Music Export will turn the spotlight on the local jazz scene and bring event organizers from all over Europe to the annual gathering in Saalfelden. From August 23rd to 26th 2018 international jazz stars and newcomers will meet again in Saalfelden. With artists such as Little Rosies Kindergarten, Ulrich Drechsler, Schmieds Puls, Orges & The Ockus-Rockus Band, Fainschmitz, Synesthetic 4, Shake Stew feat. Shabaka, Die Strottern and Dobrek Bistro, the shining lights of the Austrian jazz and world music scene will be presented to an international audience of experts and jazz lovers.
JAZZ FROM AUSTRIA
The current Austrian jazz scene is distinguished by its vast musical diversity and is well acclaimed and appreciated beyond the country's borders. Regardless of subgenre, be it based on more traditional routes, larger or smaller instrumentations, experimental or avant-garde niches, unconventional or genre-crossing music: all are characterized by liveliness, innovation, and creativity. In terms of artistry and musical skills, the Austrian jazz scene easily rates among the world's finest. Once again, the program of the International Jazzfestival Saalfelden comes up trumps with a top-notch music line up.
EXPORT PROMOTION OF AUSTRIAN MUSIC
Presenting the most promising Austrian acts to an international expert audience, Austrian Music Export has organized several meet & greets and presentations to give international media representatives and event organizers the opportunity to discover the variety and quality of the Austrian jazz scene and get to know the performing artists. Ten European festival delegates from countries such as Norway, Finnland, Bosnia & Herzegowina, Slovenia, Macedonia, Romania, Germany, Italy and Ireland, who have already expressed interest in booking Austrian projects, were specifically invited to this event.
CONTEMPORARY JAZZ IN SAALFELDEN
Now in its 40th year, the festival has long established itself as a haven for contemporary jazz and is a fixture on the global music calendar. Each year visitors from all over the world flock to the beautiful town of Saalfelden to witness concerts that are almost exclusively European and Austrian premieres. Taking place this year from the 23rd – 26th of August, numerous international and Austrian musicians will be performing on the stages of nine venues. With the new "City Tracks" and the series "Nexus +", the Jazzfest Saalfelden expands the range of concerts with free entrance substantially and turns Saalfelden into a musical hotspot for all music lovers.
---
AUSTRIAN HEARTBEATS at SAALFELDEN 2018
Little Rosies Kindergarten
On its eponymous debut album, Little Rosies Kindergarten is trying to tread new and formerly unexplored paths. The big band's expansive pieces run the gamut from minimalistic to broad, from quiet to loud, from straight to crooked, from soft to energetic, from melodious to experimental. Wearing many hats, the band members create an idiosynchratic mix of free jazz, rock, and chamber music, at once strange and fascinating. Audiences can hardly extract themselves from the pull of these multilayered and tension-laden musical stories which evoke different moods of varying intensity.
Anna Anderluh, Anna Widauer – vocals, Florian Sighartner – violin Matteo Haitzmann – violin Clemens Sainitzer – cello Johannes Bankl – trumpet Lisa Hofmaninger – saxphone, bass clarinet Werner Zangerle – saxophone Robert Schröck – saxophone Lukas Leitner – piano, synthesizer Helmut Mühlbacher – guitar Philipp Kienberger – bass Judith Schwarz – drums
23.8. Jazzfestival Short Cuts | Nexus Saalfelden 21:30h
---
Ulrich Drechsler "Liminal Zone"
In his Saalfelden appearance, German-born musician Ulrich Drechsler is treading completely new grounds, both in terms of musical performance and lineup. With this concert, the Vienna resident will launch a large-scale project stretching into late 2019: three different projects in the fields of electronic, jazz/world, and classical music will be at a core of a time-consuming creative process involving many collaborators. Drechsler is also creating a social sculpture to go along with the music. Entitled Liminal Zone, the Saalfelden concert will blend jazz, electronic beats and world music, and include artists such as soprano Özlem Bulut, singer-songwriter Clara Luzia, and slam poet Yasmin Hafedh.
Clara Luzia – vocals ; Özlem Bulut – coloratura soprao; Yasmin Hafedh – Slam Poetry/Recitativ; Peter Zirbs – elektronics; Simon Raab -Piano; Judith Ferstl – double bass; Judith Schwarz – drums/percussion; Ulrich Drechsler – clarinetts; Enscha & Enscho – visuals
24. 8 Jazzfestival Mainstage | Congress Saalfelden 19:00h
---
Schmieds Puls
Schmieds Puls stands for a virtuoso blend of instrument and voice offset by the extreme directness of its narration. It is synonymous with the courage to face the future with an eccentric kind of pop appeal and self-confidently deliver a message. Schmieds Puls bears proof that less is more – so much more, that we have to hang on to our hats. When others play 1000 notes, the trio centered around singer-songwriter-guitarist Mira Lu Kovac takes a break. Staging a grandiose tour de force, the band flexes every single muscle. Due to be released in fall 2018, their next album – a new chapter in the band's history – is the follow-up to the award-winning "I Care A Little Less About Everything Now".
Mira Lu Kovacs – guitar, vocals; Walter Singer – bass; Christian Grobauer – drums
24 8. Jazzfestival Nexus+ | 20:00h
---
Orges & The Ockus-Rockus Band
Orges Toçe's voice is like a shovelful of gravel pickled in whiskey; his lyrics careen between cryptic sociopolitical pronouncements, back-to-the-land utopianism, hymns to the bicycle and drunken philosophy. Orges & The Ockus-Rockus Band plays fingerpickin' country with a Balkan influence and a drunken, burlesque jazz aesthetic: rough-and-ready roots music and Devil take the hindmost – except when they slide into rolling ska or, even more surprising, contemplatve tenderness.
Orges Toçe – guitar, vocals; Christian Eberle – drums, vocals; Bernd Satzinger – bass, vocals; Benny Omerzell – keys; Martin Eberle – trumpet, flugelhorn
25.8. Townhall Square | Jazzfestival City Stage, 09:30h
---
Fainschmitz
The band Fainschmitz consists of four jazz musicians who have followed different passions since graduation. They apply a wide range of talents to create music as suited for a cuddling session as a wild dance party. Their songs feature multilingual lyrics shouted out through a megaphone. They are also known for their electrifying guitar and ginormous bass sounds. Listeners will be enthralled by both boisterous and soft saxophone, trumpet and clarinet tones. The band's own compositions are inspired by chanson, jazz, pop, and punk. Additionally, the four artists have learned the idiom of gypsy swing in order to enhance their own vernacular.
Matthias Vieider – sax, clarinet, megaphon; Alexander Kranabetter – trumpet; Jannis Klenke – guitar; Martin Burk – double bass
25.8. Jazzfestival Alm Konzert | Huggenberg Saalfelden, 11:00h
---
Synesthetic 4
The Synesthetic 4 quartet values dynamic precision with an inimitable narrative touch. Its repertoire ranges from melodious to manic and includes a wide variety of off-color tonal shades. The driving force behind this formation is renowned clarinetist Vincent Pongracz, who has been blending jazz and hip-hop with the Synesthetic Octet for many years, employing the tropes of New Music and Dadaist zaniness. Largely foregoing musical ornamentation, Synesthetic 4 is far less eclectic in its approach than the octet. Audiences are in for a compelling experience where musical reduction is amped up to the max.
Vincent Pongracz – clarinet; Peter Rom – guitar; Raphael Preuschl – bass; Andreas Lettner – drums
25.8. Nexus Saalfelden, 11:30
---
Shake Stew feat. Shabaka
London resident Shabaka Hutchings, who ranks among the most talented saxophonists in today's music world, recorded his album Wisdom of Elders with jazz musicians from South Africa. Drawing inspiration from ancient Egypt and Caribbean music, Hutchings followed in the footsteps of Afrofuturist philosopher Sun Ra to explore the spiritual roots of jazz. His band Sons of Kemet serves up a sizzling mix of jazz, Afrobeat, grime, dub, and hiphop. For Shake Stew, Hutchings signed on the cream of the crop of the local jazz scene: Lukas
Kranzelbinder, Mario Rom, and Clemens Salesny, among others. These kindred spirits explode on the stage to enthrall audiences with their complex groove.
Shabaka Hutchings – tenor saxophone; Lukas Kranzelbinder – bass, bandleader; Mario Rom – trumpet; Clemens Salesny – alt & tenor saxophone; Johannes Schleiermacher – tenor& baritone saxophone, korg ms20; Oliver Potratz – bass; Niki Dolp – drums, percussion; Mathias Koch – drums, percussion
26.8. Jazzfestival Mainstage | Congress Saalfelden 00:30h
Die Strottern "Waundsd Woadsd"
The band "Die Strottern" has become a trade mark in the young Viennese music scene. In old Viennese dialect, a Strotter is a tinker. Our Strottern are two young men from Vienna who travel the roads looking for old songs and dance tunes that fell by the wayside and writing new ones as they go. Their bedrock is Wienerlieder, literally, "Viennese songs" and also a uniquely Austrian song genre that is famous all over the world. What is forgotten too frequently, is that the Wienerlieder genre is still evolving. The Strottern are the winners of the Austrian World Music Award 2006 and the AMADEUS Austrian Music Award 2009.
Klemens Lendl – voice, violin; David Müller – voice, guitar
26.8. Stöcklalm Leogang | 11:00h
---
Dobrek Bistro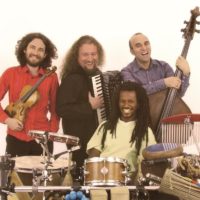 It was love at first tune. When Polish accordionist Krzysztof Dobrek and Russian violinist Aliosha Biz first met during the rehearsals for "Fiddler on the Roof"at the Vienna Theatre, it was clear that their future artistic direction would be a common one. First, Aliosha and Krzysztof refined their emphatic interplay in the Burgtheater ensemble, accompanying Maria Bill and in the "Acoustic Drive Orchestra."The time arrived to find a common musical language which would be uniquely theirs.
Supported by percussionist Luis Ribeiro and Sascha Lackner (bassist) they founded "Dobrek Bistro." The name of the French restaurant comes from the Russian word bystro (fast). With its name, the quartet describes the virtuoso speed of its performances as well as the melancholic elegance Dobrek, the composer of all the pieces, admires so much in the Parisian musette. Manfred Horak (jazzzeit.at) once wrote: "Their enthralling, interacting way of playing allows lots of space for improvisation and even more room to allow the audience to immerse itself fully in the melodies. Music inspired from all imaginable corners of the earth is combined to form a compact sound with high recognition value."
Krzysztof Dobrek – accordion; Aliosha Biz – violin; Sascha Lackner – bass; Luis Ribeiro – percussion
26.8. Jazzfestival Alm Konzert | Vorderkühbühelhof Saalfelden 11:00h
---
JAZZ FROM AUSTRIA
For more detailed information on Jazz in Austria, we recommend our latest brochure on JAZZ FROM AUSTRIA (July 2018). Despite the bands, musicians and ensembles presented in this brochure are only a small selection, the brochure shows the great variety of exciting projects the Austrian musical landscape has to offer. The brochure also includes a list of further links to ensembles, festivals, labels and media in Austria.
JAZZ FROM AUSTRIA
Download PDF
---
Links:
Jazzfestival Saalfelden 
Jazz from Austria (article & brochure)
Little Rosies Kindergarten
Ulrich Drechsler
Schmieds Puls
Orges & The Ockus-Rockus Band
Fainschmitz
Synesthetic 4
Shake Stew
Die Strottern
Dobrek Bistro
All pictures and texts with kind permission of the International Jazzfestival Saalfelden.