The versatile musician and singer FELIX PÖCHHACKER released his debut album in 2018 as FELIX KRAMER and immediately made the leap onto the big stage. On "Wahrnehmungssache" ("Matter of Perception"), released via Phat Penguin, he gathers stylistically confident songs of captivating honesty. His lyrics are taken from life; sincere and unadulterated, poetic and political. 
The Viennese songwriter, who prefers French chansonniers and singer-songwriters like Bob Dylan and Leonhard Cohen to commercial German pop, comes across as vigilant, sensitive and socially critical. His lyrics are also too uncomfortable and too personal for pop. That Pöchhacker actually studied classical guitar and is active as a concert guitarist in contemporary ensembles such as PHACE and the Black Page Orchestra is something only very few people know. In an interview with Shilla Strelka, the musician explains how he manages the balancing act between songwriting and new music, why it is important to prove his backbone right now and that he can sometimes be quite a diva.
Your tour starts in a week. How do you feel about it?
Felix Pöchhacker: I almost had a car accident and hit my head while diving. I hope it's not a bad omen. [laughs] No, I'm optimistic.
Maybe it's only fair if someone writes an album about failure and then becomes so successful with it. Karma is what we call that.
Felix Pöchhacker [laughs]: Yes, exactly! Maybe I have to fall on my nose a few times.
You also need inspiration for the next album. Where do you get it from?
Felix Pöchhacker: Actually I'm interested in the in-between. I have nothing against "happy", but I think it's more exciting if you don't convey it so directly, but include the negative things and say: "I'm happy anyway". If you're just in a good mood, maybe you can convey it with funk music or with instrumental music, but with a text? It is difficult to transport such a momentary impulsiveness without it feeling clinical.
Did you start composing songs early?
Felix Pöchhacker: Yes, definitely! I made music in elementary school with a friend, Joseph Rabitsch. We had two "hits": "Kathi, why now? You hurt me so much" (Kathi, warum jetzt? Du hast mich so verletzt) and "be brave, everything will be fine" (Nur Mut, alles wird gut).
There hasn't been much change in themes.
Felix Pöchhacker [laughs]: If you compress Felix Kramer's oeuvre into two chorus lines, then yes! Love sorrow and the attempt to find happiness despite the complications of life. It's the first time I've noticed that! But yes, I have been a showman from the beginning. I loved Bernhard Fibich, the kids songwriter, very much. I always stood up, did a show during recess and sang these songs. Already in kindergarten! I was also on Fibich's stage once. That was the greatest experience for me! "Yes, that's just how I am, sometimes sad, sometimes happy" (Ja, so bin ich grade so, manchmal traurig, manchmal froh) – isn't that great? Incredibly beautiful.
How did you find your way to the guitar?
Felix Pöchhacker: Kazufumi Matsunaga, the fantastic concert guitarist, was my mother's private teacher. Then I wanted to do the same. I started at the age of five.
Do you come from a musical family?
Felix Pöchhacker: Actually yes, my mother used to travel a lot with the Jeunesse Choir and my father always had the reputation in his home village that he listens to "heavy music" because he untypically loved Beethoven and Pink Floyd. But neither of them became a musician.
"I'M ALSO INCREASINGLY INTERESTED IN ACTING."
You also studied concert guitar.
Felix Pöchhacker: Yes, although I originally wanted to become a basketball player. I was at a Sports High School (Sportgymnasium) and suffered a lot there. Then I broke my hand and changed to a high school for music. Those were two drastic experiences: the alternative socialization through the music high school and then also a great guitar teacher, Jiri Schulz, who also sent me to competitions. Through him I really learned to appreciate music. That's when I saw what else is possible. But yes, I have done many different things. I am also increasingly interested in acting.
If one watches your music videos, then you seem to have quite a talent for it.
Felix Pöchhacker: That's great for me! I was recently invited to my first casting. It needed an external influence, but I'm really doing it now! I also needed external motivation for the songs. It was important that people told me that they like to hear it.
You are also active in the field of contemporary music, you have played with Phace and the Black Page Orchestra, you were already part of a production by Olga Neuwirth. And you are also active in the multimedia noise duo Miley Cyrus with Arik Kofranek. How do you do all that at once?
Felix Pöchhacker: Just working. And it also stimulates each other. What I learned in contemporary music is that you simply have to knock things out. I noticed that especially with Miley Cyrus. That was an important realization that you just have to do things. The music appealed to so few people from our circle of acquaintances that we didn't care at one point. That also encouraged me in my songs to say things that are unpleasant. That is the most positive thing I have taken from contemporary music.
Did it surprise you that you so easily made the leap from orchestra musician to solo musician? When the first live videos were released a year ago, it was immediately clear that you also had a talent for gestures and expressive performance.
Felix Pöchhacker: Maybe I am a spotlight addict [laughs]. But yes, I have different personalities. I really enjoy playing in the orchestra, being part of the whole and standing in the background. There is less pressure and less nervousness, which is fine. That really is a completely different part of my personality.
How did the people around you react when you suddenly took off as Felix Kramer? That happened pretty quickly.
Felix Pöchhacker: I don't want to attack anyone personally, but it was and is a mix of respect and backhanded comments. Most people who mob me actually like my music. They tell me that too. And then an hour later they make a malicious remark. Maybe many people just can't handle the fact that you can do both. I also often don't understand it myself.
"I'M ALL ABOUT UNCOMPROMISING EXPRESSION."
You're already in a special position.
Felix Pöchhacker [laughs]: Yes, but what's actually related to experimental music and my lyrics is that both require the courage to do something different. Within the genre of pop music, my lyrics go consciously against the trend. In the area of the classical traditional canon, contemporary classical music is also something completely different. And it's about extreme conditions. Especially the Black Page Orchestra – that's why I love it so much – plays extreme pieces. And my songs are also about extreme conditions. I like it when it really blows. For me the approaches are emotionally related.
For me it's about uncompromising expression. That is, if I want to express something, if I want to write a story or a lyric or play a noise piece, then I don't care about the medium at all. It's about expression. Mercilessly. In the visual arts, it's completely normal to work across media. But in music it's not yet so normal that one could say: "I want to express myself, no matter how".
How important is support from the outside to you? You had early support from Hannes Eder, who is an important figure in the Austrian world of pop.
Felix Pöchhacker: That was extremely important, in general all the positive feedbacks I got! In reality, I'm a coward. That was also the case in experimental music. Until we played really cool concerts with Miley Cyrus. There was a lot of encouragement. Not from our friends, but okay. That's important. Maybe that's also a contradiction, because I always want extreme things, but secretly I want people to like it.
For me, it seems that you only minimally adapt to the tastes of others.
Felix Pöchhacker: Yes, secretly yes. I do a lot of things that I don't make a big deal about. On 21 January 2019, for example, I appeared in Einbaumöbel (a small venue in Vienna) as Falco imitator [laughs]. But I don't do that as a joke. It's fun, but I'm totally serious! I really want to get into the role. I am also a passionate Elvis imitator [laughs]!
Is that role playing relevant to Felix Kramer? You have changed your surname.
Felix Pöchhacker: Yes, but "Kramer" is my mother's name. I also changed the name because it's easier to remember and it sounds more beautiful. But I am becoming more and more aware that it also makes sense because it makes it easier for me to disconnect certain personality traits from myself and to provide a projection screen. Since the texts and the language are very personal, it creates a very close relationship to the audience. I am in touch with many people I don't know. That's almost a bit too much for me. It's very nice, but there's a capacity limit. I am deeply ashamed when I meet someone and can't remember him or her personally! This need to be kind and foster a friendly interaction with my audience sometimes contradicts my reality and my mood.
Do you work intensively on your texts?
Felix Pöchhacker: Yes! There we are again with the topic of failure It's hard work and a hundreds hours of trial-and-error. I do so many things where you don't see progress at first glance. For example, I listen to an incredible amount of music. You don't immediately see progress, but when I've heard Tom Waits four hours a day for three weeks, I know how to arrange a song. Not that I want to steal anything, but I try to put myself in it. There I am in another world.
"I AM IN ANOTHER WORLD."
Do you listen to everything?
Felix Pöchhacker: Absolutely! I'm having a true phase of country music right now [laughs]. Right now I'm only listening to "Stand by Your Man" by Tammy Wynette because I'm fascinated by how wrong the lyrics are. What a stereotype of women! But the arrangement is fantastic. You can learn so much everywhere. Also about recording technique and mixing.
How was that with your album? Who was responsible for what?
Felix Pöchhacker: I have to admit that I was into every single detail. Every drum fill and every piano lick, every bass line and every mix. I am also an exhausting control freak.
And how did the arrangements come about? You go on tour with other musicians than you can hear on the CD.
Felix Pöchhacker: I think that with the current line-up we have a band that goes on tour with me, and a band with whom we will do recordings. In the beginning we got session musicians to be on the safe side. We knew that they would do a massive job. Now we have played live a lot and this has changed a lot. The new numbers we will present next, we worked out during the live shows. That's where the arrangements were made. At that time there were no concerts together. We recorded directly. So there was no band process, but a composition process. That it's different now and it is very exciting and beautiful.
What does the line-up look like now?
Felix Pöchhacker: There are four of us in the basic band. That's Hanibal Scheutz and also Beate Wiesinger on bass and drums played by my brother, Clemens Pöchhacker, and Lukas Aichinger. Then there is Max Wintersperger, who masters piano and trumpet brilliantly. They are all mad musicians. They all are so good, they give so much.
"I NEED A LOT OF SPACE AND I THINK I HAVE THE CHARACTERISTICS OF A DIVA."
Your lyrics are sometimes very intimate. How do you feel about performing them on stage? Is it necessary to put yourself in a certain state before you perform?
Felix Pöchhacker: I need a lot of space and I think I also have the characteristics of a diva. When it came to recording, for example, we didn't agree on a time. I just called shortly before and said, "I'm coming now." I can't do it any other way. I'm serious about what I'm doing. Also on an emotional level.
It's the same with live performances. That's why I'm increasingly grumpy before concerts, because there are so many people running around who I don't know and things often don't work. I want to have my peace as long as possible beforehand, then it works by itself. Of course there are also days where there is less energy. It also takes a lot of energy to get into this state. It is really expensive, energetically. But it works. But I am sensationally grumpy when I come back from a tour. That's a disaster. Unbelievable.
Because it demands so much from you?
Felix Pöchhacker: You are constantly put to the test. You have to constantly reckon with the fact that no one will come or that it is no good for anybody. That's always possible. I also have high performance expectations of myself and cannot cope with the feeling that I have played badly. There are many things that concern me in this context.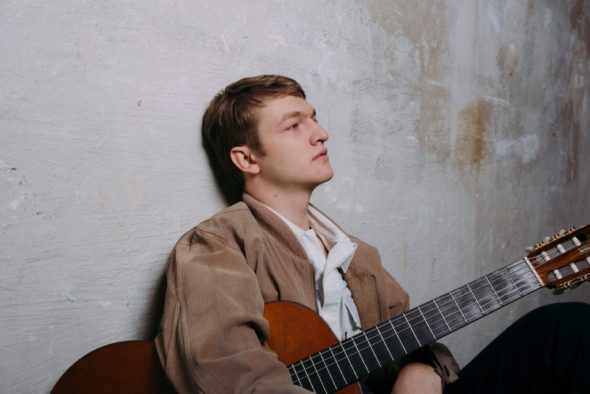 Are you a perfectionist?
Felix Pöchhacker: Absolutely, yes! Almost pathological. Which is beautiful, but also exhausting.
But when you're on stage, hopefully it feels good.
Felix Pöchhacker: Very different. When I'm relaxed, it feels incredibly good, but I often have the problem that I can't enjoy the concert. There is an interview with Conchita Wurst. She was asked what it was like to play at the Sydney Opera House and the answer was: "I don't know". It often is like that. You're so concentrated and you want to do so well and then it's over.
Are you looking forward to your performance at the Wiener Konzerthaus?
Felix Pöchhacker [laughs]: Completely! Touring simply is exhausting. If you manage to be relaxed and take the time to enjoy a concert, then it's really nice. For example, I enjoyed the concert at Popfest Vienna so much, When I was standing on stage, I thought to myself: "That's exactly what I always wanted to do.
You are played on FM4 and Ö1, but not on mainstream radios like Ö3, although you might think that your music appeals to a relatively wide audience.
Felix Pöchhacker: Well, it's cool enough there are a lot of people who like my music. A German pop song has thick choruses, a fat cloud of sound and catchy melodies, there is no speaking. Pleasant lyrics are expected which can fade into the background and that can be easily recognized. My songs on the other hand remind people more of old chansons. That's something else. But okay, I didn't think that I would get airtime on FM4. Meanwhile they support me like crazy.
"THAT WAS EXTREMELY SERIOUS FOR ME. THIS LOSS OF CONVICTION."
At the same time, it is important for you to take a political stand and to show an attitude. Why is that important to you?
Felix Pöchhacker: I believe extremely strongly in psychological factors. Why are there hymns and flags? It is easy to be satisfied with something because you think that changing something is too exhausting. The reason why these alleged centre-right parties have become so strong is because no one has really dared to resist. That was extremely serious for me. This loss of conviction.
I think it makes a big difference when you feel that things can change. You have to be reminded that things suck and are not normal. We must not ignore that. All these ideas that are being propagated and the partly fascist rhetoric that one is confronted with … It has been like that since I can remember, but it's getting worse and worse. The slogan "Vienna must not become Istanbul" doesn't bother anyone today. Where will we be in ten years' time? That's really dangerous.
Thank you very much for the interview!
Shilla Strelka – translated by Dave Dempsey
---
Links:
Felix Kramer (Website)
Felix Kramer (Facebook)