The HERBERT PIXNER PROJECT can certainly be described as a phenomenon. Without a huge marketing machine, without big radio hits or airplay, the team of four around the South Tyrolean musician HERBERT PIXNER has successfully become the most successful new folk music band at the moment. "Lost Elysion" (GECO Tonwaren) the new album of the HERBERT PIXNER PROJECT, will be released at the end of July. The exceptional Styrian harmonica artist spoke with Michael Ternai about the theme of the new album, his urge to experiment, the great importance music has in his life, and the desire for a world tour that he still wants to realize in the future.
"WE'RE AT THE POINT WHERE WE CAN SAY IT CAN'T BE ANY MORE BEAUTIFUL." – An Interview with Herbert Pixner
You are always described as a representative of new folk music. If you listen to the new album of your project, however, you realize that the folk music part of the new songs has become insignificant.
Herbert Pixner: [laughs] We are always good for a surprise and have deliberately left folk music in the background on the new album. Although some of our instruments like the Styrian harmonica and folk harp hint of our background, this time we went in a different direction musically.
"Lost Elysion" is based on a concept.
Herbert Pixner: That's right. I had had the idea to make a concept album, or to combine a complete album with a theme and to process it musically. In the end we approached the matter with this clear objective. As topic it was soon clear that it should be the Elysium, the island of the blessed. The search for the lost paradise and the longing for this peaceful world, so to speak.
How would you describe your music to someone who doesn't know it yet? What genre will your new album come close to?
Herbert Pixner: I don't really care which genre we, or especially the new album, are now assigned to. If anyone says it's New Folk Music, my God, that's okay. I take such categorizations calmly by now, but, if it has to be a defined genre, I would rather assign us to progressive folk music. Or maybe crossover, or world music. Or happy metal. Whatever, it doesn't matter[laughs]. It would be best to come to the concert or listen to the album and get an idea for yourself.
An example of the immense openness and further development is the third track. If you added another drum kit the number would pass as a kind of really laid-back Iron Maiden track.
Herbert Pixner: Oh, thanks for the compliment [laughs]. Well, with the piece "Toccata from another world" not only the Styrian accordion but also the clarinet were played with effects. Manuel Randi is known to be an incredibly versatile guitarist and switched on his Stratocaster on this track. He originally comes from metal and played in different speed metal bands as a teenager. In the course of time he has become deeply immersed in a variety of other styles. He had a phase in which he only played flamenco and travelled a lot in Andalusia, in another he was mainly occupied with Django Reinhardt. His musical versatility naturally benefits me. Being aware of his abilities I can also write and arrange the pieces accordingly.
It is also easy to hear that you have experimented a lot with the sound of the harmonica this time.
Herbert Pixner: Although the Styrian harmonica sounds very interesting by itself, I have also been working with external effects devices with the harmonica for a while. Because of the fact that the Styrian is diatonic and the keys are very limited, I was looking for new timbres. Also with regard to the opportunities that are now opening up to us. We are playing in even larger houses and, unlike in the past, we can no longer do without electronic amplification. The compositions develop more and more into storytelling soundscapes and so I tried to adapt the sound to these conditions. The challenge was to find the effects that didn't sound programmed.
Besides, I didn't want to think about the effects afterwards – when everything is already recorded. So I recorded the pieces and solos in combination with the effects. Mostly with Leslie and octave effects. The basic prerequisite was that the pieces could be played live with four players, just as they were recorded in the studio.
How do you create your pieces? What share do your fellow musicians Manuel Randi, your sister Heidi Pixner and Werner Unterlechner have in these?
Herbert Pixner: Actually I already bring the pieces in quite finished form. The themes, chord sequences and improvisation parts are basically already fixed. The rest happens in cooperation. We decide together what the accompaniments look like, who plays the solos, which timbres we use, which parts which instrument takes over and so on.
"I LIKE IT BETTER WHEN PIECES CAN CONTINUE TO GROW IN FRONT OF AN AUDIENCE AND I CAN IMPROVISE OVER AND OVER AGAIN."
Which would you prefer? Playing new songs in the studio or performing on stage.
Herbert Pixner: I am definitely more of a stage musician [laughs]. I also like to be in the studio, but I am a very impatient studio musician. I like it better when pieces can continue to grow in front of an audience and I can always improvise over and over again. I need the audience for the tension and the energy. That's why this year's tour is also called the "Electrifying Tour". So it's better on stage than in the studio.
Meanwhile you fill the halls everywhere with your programme. In Germany, Austria, Italy and Switzerland. When you started the project, were you able to imagine what dimensions you were going to reach?
Herbert Pixner: [laughs]. The project was launched in 2005. And only out of the need to document my own pieces on CD. I already had enough tracks of my own for an album. So one thing led to another in the course of time. We played more and more concerts, in 2010 we organized our first own concert tour, at that time still in the trio line-up. In 2012 Manuel Randi joined the project and that´s when it really started to take off. Of course we dreamed of playing in the most beautiful concert halls, but we couldn't imagine it. It was kind of unimaginable, with only pure acoustic music and no hits, to really sell any tickets [laughs]. Like I said, it all just sort of happened. We've been lucky a lot, but we've always worked hard. We have never received a single cent of support and have had to muddle through without an agency, without management and without a big label in the background. So everything has grown slowly and steadily. We only have to thank our audience, which has accompanied us from the very beginning and rewards our constant further development and experimentation until today. Otherwise it would never have been possible to perform at the Hamburg Elbphilharmonie, the Salzburg and Bregenz Festspielhaus or the Konzerthaus in Vienna. We have now reached the point where we can say there is actually no better way to go.
"MUSIC IN GENERAL AND THE PROCESS OF MAKING MUSIC ITSELF IS JUST TOO VALUABLE TO ME TO BE ON STAGE WITH THE INTENTION OF BEING AS COMMERCIALLY SUCCESSFUL AS POSSIBLE."
The nice thing about the music of the Herbert Pixner project is that it really stands for itself, it is not oriented to any trend. It seems authentic. Do you think it is this authenticity that is particularly popular with your audience?
Herbert Pixner: Difficult question. I don't know. Well, we are quite good at our craft, that is a basic requirement. But music is more to me – music is something very special and elementary. The energy on stage, this special magic, when you play together and for the moment are only focused on making music – that is sacred to me and maybe the audience feels that too. I've never adapted to any trends. I mostly did what just occurred to me. Music in general and the process of making music itself is just too valuable to me to be on stage with the intention of being as commercially successful as possible. Of course I used to play and try everything to make ends meet. And that was an incredibly good school.
I have been involved in countless music projects, played in countless bands and groups. I have worked with contemporary composers, played classical music, wrote theatre music, performed in beer tents, and, and, and. But I wouldn't want to miss those times. I took a lot out of all this. Among other things also the knowledge what I don't like and don't want to do anymore. For us, what we do musically now is simply a matter of course. And as long as we look forward to going on stage and playing every time, this project will last. Provided, of course, that someone is interested in what we do. Otherwise it's lights out [laughs].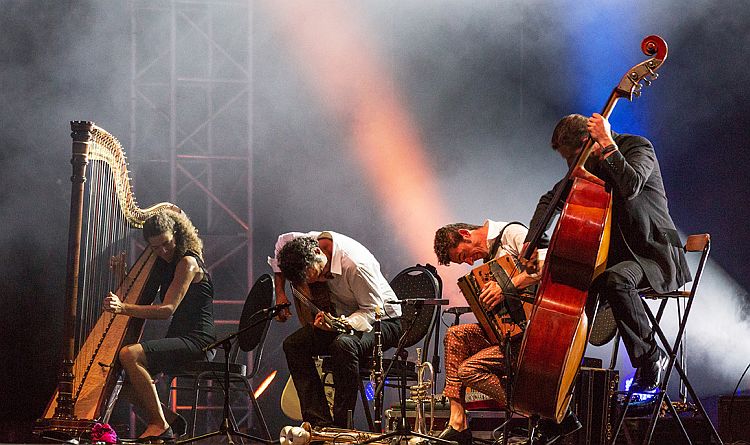 As your tour calendar reveals, you will be on the road a lot again with the new album.
Herbert Pixner: Yes. Although we have reduced the number of concerts by half. We will play a total of 60 concerts in Germany, Switzerland, Italy and of course also in Austria. Virtually in the entire German-speaking area. Basically we have already planned the tour for next year.
You are already very successful with your project. You have many fans and get around a lot. What other wishes do you have for the future?
Herbert Pixner: Oh, there are countless ideas that I would like to implement at some point. Firstly, there is already a new band project called Italo Connection. Musically it is also difficult to classify. A mixture of Jestofunk, Zawinul and Riminidisco. With this formation we played a small mini tour for the first time this May and because it was so well received, there will be another concert tour in February 2019. As far as the Herbert Pixner project is concerned, we will go on tour again as usual starting in April 2019. A concert tour with a classical orchestra is planned for the end of 2019 and a small world tour is planned for 2020. In recent years we have received many international inquiries, which we have unfortunately not been able to act on. So there was the idea of playing an international tour for several months. But not in the classical sense with daily travel from one venue to the next, but to spend time in the countries and cities in which we play, to get to know their culture and to get together with the musicians living there. To be able to get new ideas and influences for our music. Such a tour is just connected with an enormous financial expenditure and so it remains just a wish. Everything else will happen as it happens.
Thank you for the interview!
Michael Ternai (translated by Dave Depsey)
Links:
Herbert Pixner Projekt
Herbert Pixner Projekt (Facebook)
 Herbert Pixner Projekt live
28.07. Wellenklänge Festival, Lunz am See (A) (SOLD OUT)
29.07. Toscanapark-Festival, Gmunden (A)
31.07. Seebühne, Kaltern (SOLD OUT)
03.08. Flecknersee, Jaufenpass (I) (SOLD OUT)
05.08. Musikpavillon, Sand in Taufers (I)
10.08. Brunnenhof, München (D) (SOLD OUT)
11.08. Kasematten, Graz (A) (SOLD OUT)
12.08. Wolkenturm, Grafenegg (A) (Restkarten)
16.08. Waffenplatz, Burghausen (D) (Stehplätze Restkarten)
17.08. Stadtplatz, Öblarn (A)
18.08. Burgarena Finkenstein, Latschach (A) (SOLD OUT)
24.08. Burg Wilhelmstein, Aachen (D) (Restkarten)
25.08. Savoy Theater, Düsseldorf (D) (SOLD OUT)
26.08. Amphitheater, Hanau (D)
31.08. Muttereralmpark, Muters (A)
01.09. Festung, Kufstein (A) (Restkarten)
02.09. Sparkassen Arena, Landshut (D)
06.09. Gloria Theater, Cologne (D)
07.09. Pavillon, Hannover (D)
08.09. Die Glocke, Bremen (D)
09.09. Theaterhaus, Stuttgart (D)
13.09. Elbphilharmonie, Hamburg (D) (SOLD OUT)
14.09. Laeißzhalle, Hamburg (D)
15.09. Universität der Künste, Berlin (D)
16.09. Täubchenthal, Leipzig (D)
21.09. Capitol, Mannheim (D)
22.09. Congress Centrum, Würzburg (D)
23.09. Stadttheater, Ingolstadt (D)
27.09. Tonhalle Maag, Zürich (CH)
28.09. Theater National, Bern (CH)
29.09. Tonhalle, St. Gallen (CH)
30.09. Kulturzentrum, Pontresina (CH)