In cooperation with the internationally established Jazzfestival Saalfelden, Austrian Music Export will turn the spotlight on the local jazz scene and bring event organizers from all over Europe to the annual gathering in Saalfelden. With artists such as Gerald Preinfalk, 5K HD, Wolfgang Puschnig  and Global Groove LAB, the shining lights of the Austrian jazz and world music scene will be presented to an international expert audience.
JAZZ FROM AUSTRIA
The current Austrian jazz scene is distinguished by its vast musical diversity and is well acclaimed and appreciated beyond the country's borders. Regardless of subgenre, be it based on more traditional routes, larger or smaller instrumentations, experimental or avant-garde niches, unconventional or genre-crossing music: all are characterized by liveliness, innovation, and creativity. In terms of artistry and musical skills, the Austrian jazz scene easily rates among the world's finest. Once again, this year's program of the Jazzfestival Saalfelden comes up trumps with a top-notch music line up.
EXPORT PROMOTION OF AUSTRIAN MUSIC
Presenting the most promising Austrian acts to an international expert audience, Austrian Music Export has organized several meet & greets and presentations to give international media representatives and event organizers the opportunity to discover the variety and quality of the Austrian jazz scene and get to know the performing artists. Ten European festival delegates from countries such as Norway, Finnland, Bosnia & Herzegowina, Slovenia, Macedonia, Romania, Germany, Italy and Ireland, who have already expressed interest in booking Austrian projects, were specifically invited to this event.
CONTEMPORARY JAZZ IN SAALFELDEN
Now in its 38th year, the festival has long established itself as a haven for contemporary jazz and is a fixture on the global music calendar. Each year visitors from all over the world flock to the beautiful town of Saalfelden to witness concerts that are almost exclusively European and Austrian premieres. Taking place this year from the 25th – 28th of August, numerous international and Austrian musicians will be performing on the stages of six venues. The four-day program was curated by artistic directors Michaela Mayer and Mario Steidl and will once again offer rare, unexpected and experimental delicacies.
---
PERFORMING AUSTRIAN ARTISTS
Gerald Preinfalk
This year's opening act — the nine-member Prine-Zone ensemble — will release some innovative energy by making opposites clash. Saxophonist Gerald Preinfalk, the musical center of the band, describes the Brazilian rhythm section as the yin of the group. As a counterweight, the cello, flugelhorn, flute, and viola — primarily played by musicians from Klangforum Wien — will constitute the ensemble's yang. A keyboard will drive on and unite all these disparate elements from different worlds of music. The ensemble is finally rounded off by the vocal contribution of Greek singer Savina Yannatou. Audiences are in for an acoustic surprise! (Festival Calendar / Artist Website)
---
5K HD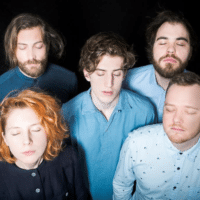 Enchanting sounds encounter an alluring voice. Hard breaks dominate these sounds just as much as the wide range of emotions they convey. 5K HD combines jazz, sound experiments, pop, and cinematic surprises. The ensemble is also expert at creating a subtle kind of funk. 5K HD is fronted by well-known band members from Kompost 3 and Mira Lou Kovacs (Schmieds Puls). Their performance in Saalfelden is a double premiere: not only will 5K HD present their new album "And To In A" — they will also demonstrate on stage how effortlessly all these supposed opposites can blend into a homogenous entity. (Festival Calendar / Artist Website)
---
Wolfgang Puschnig "Songs with Strings"
Wolfgang Puschnig's collaboration with the Koehne Quartet came about spontaneously and by accident. "I just wanted to have a string quartet perform one of my songs," the saxophonist remembers. In the process, Puschnig grew so fascinated with how his songs sounded on strings that he decided to record them. The forthcoming album will bear the simple and moving title "Songs with Strings". This album will be released by the time Puschnig and the Koehne Quartet take to the stage in Saalfelden. Wolfgang Puschnig wanted to do something special for Saalfelden, however. That's why he will also include drums and a bass in this ensemble. "Saalfelden has always been an ideal venue for trying out new things." For him, experimenting with a quartet and a rhythm section is a "very poetic endeavor". (Festival Calendar / Artist Website)
---
Weiße Wände
As the drums rumble, the guitar goes on an unleashed riff—then abruptly stops. Containing shock elements, moments of panic, and raw energy, this stop-motion music is at its most persuasive when Christian Reiner introduces his voice to create a memorable concert experience. Reiner skillfully creates images in a staccato sequence that develop into hilarious stories, and are as much based on improvisation as Karl Ritter's guitar play and Herbert Pirker's drums. Reiner explains that he uses a comic-book style so that his characters and stories can have a cannonball effect on the audience. This statement also neatly describes the musical core of Weiße Wände. (Festival Calendar / Artist Website)
---
David Helbock Quartett "For Her"
What do Madonna, Clara Schumann, and Carla Bley have in common? All of them play a role in "For Her", David Helbock's new musical project. The program is dedicated to all the women who have positively influenced and inspired the pianist. This colorful mix of very personal songs includes compositions dedicated to the artist's mother and partner as well as to musical associates and role models. For his performance in Saalfelden, Helbock invited some of his favorite musicians and old friends to join him on stage. This gig marks the first time that this constellation will be performing together in Austria. The quartet includes Filippa Gojo, who was born in the Austrian city of Bregenz and now lives in Cologne, and her compatriot Johannes Bär, who has played the tuba, sousaphone, and alphorn in David Helbock's band Random/Control. (Festival Calendar / Artist Website)
---
Manu Mayr Solo
In addition to performing in Saalfelden as 5K HD's bassist, the Viennese sound researcher and multi-instrumentalist Manu Mayr will also premiere his collaborative project with Italian composer Zeno Baldi during the Shortcuts series. Mayr will give a solo performance and explore sound worlds with reference points in nature. Entitled "Moraine," one electro-acoustic composition for double bass and effects units evokes the primal force of glacier moraines—and the acoustic powers they release. In this regard, Mayr refers to surface treatments that melt with digital grains as well as wide microtonal planes that oscillate between percussive beat structures during performances. (Festival Calendar / Artist Website)
---
Global Groove Lab
On their debut album "I'm a Stranger", the members of Global Groove Lab skillfully break all stylistic rules. Experimenting with sounds, rhythms, and harmonies in their lab and expressing different authentic cultural experiences, the musicians blend traditional with modern influences and grooves. They draw their inspiration from the Balkans, India, Africa, Latin America, rock, jazz, and even classical music. The album opens listeners' ears to other cultures, without ever reverting to clichés or just following one path. The band's style is open-minded, innovative, and inimitable. It alludes to many genres without becoming too excessive or superficial—and simply cannot be put into any single drawer. Spelling out political demands, the album's lyrics are critical of society, but also tell listeners about the bright sides of life. (Festival Calendar / Artist Website)
---
Vienna World Music Orchestra
Transcending "migrational" backgrounds, Vienna World Music Orchestra emits sound frequencies on stage that let people find their common humanity. Are these frequencies inspired by jazz, classical, pop, or world music, one wonders? No matter—as one listens to the band's music, categorizations fall by the wayside. Audiences start to focus on the performers themselves who regularly take to the stage in Vienna to share their art. Vienna World Music Orchestra has an equally strong focus on both traditional and modern instruments, conjuring Vienna's état de l'âme. VWMO's members enthusiastically embody this state of mind, expanding the legendary Viennese "golden heart" even a bit further. Their music has a curative effect and energizes audiences to work towards a common future — in Vienna and beyond. (Festival Calendar / Artist Website)
---
Sharp 5
Effortlessly weaving together hard bop and African rhythms with the harmonic subtleties of European jazz in its energizing compositions, the Sharp 5 quintet inhabits a sphere that extends from traditional to contemporary jazz. As a result, the five musicians from Salzburg succeed at creating a richly nuanced and intimate concert experience that leaves ample room for improvisations and lively interactions. While demonstrating great respect for jazz history, the five artists imbue their songs with ingenious accents — thus bundling their individual talents into the unique, carefully grown sound and tailor-made compositions of Sharp 5. (Festival Calendar / Artist Website)
---
Martin Spengler & die foischn Wiener
Martin Spengler's songs dance towards listeners, as the Viennese dialect title of his album ummi zu dia indicates. On this third album, they dance more than ever! The artist's excellent poetry holds a unique place in the increasingly wide field of pop music in Austrian dialect. Masterful in their linguistic expression, the songs capture the melancholic mood of the city of Vienna and fascinate listeners from the first sentence to the last sound. It is especially the female members of the foischn Wiener ensemble that use their instruments and voices to bolster Spengler's sound. They include Marie Theres Stickler, the foremost virtuoso of the Viennese button accordion and Manuela Diem, one of the city's most important new jazz and soul voices. Manuel Brunner, meanwhile, creates an exquisitely discreet groove on his bass. (Festival Calendar / Artist Website)
---
[:klak:]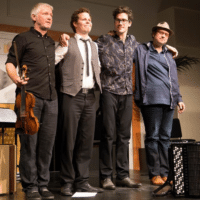 When [:klak:] band members pick up their instruments, goosebumps rise and sophisticated ears prick up. Accordionist Stefan Kollmann and clarinetist/percussionist Markus Fellner have developed a unique concept for every concert, outsmarting the conscious mind by creating melodic bridges to many a closed-off heart. All those who want to feel some passion at the highest artistic level should not miss this ingenious endeavor. You will go home happy! (Festival Calendar / Artist Website)
---
Woody Black 4
Jazz critic Michael Ternai described Woody Black 4 as a quartet that — driven by experimental curiosity — likes to take a refreshingly undogmatic approach to instrumental lineups. As a result, the band has followed a decidedly unique path towards jazz, offering a completely new acoustic experience. Entitled "Curiosity", their most recent album sets off fireworks in the brightest colors. The quartet stands out from the rest because of its musical finesse as well as its incredibly layered and unusually varied sound. For their accomplishments, band members Oscar Antoli, Daniel Moser, Stephan Dickbauer, and Leonhard Skorupa have garnered first prize at both the European Jazz Contest and the Made in New York Jazz Competition. (Festival Calendar / Artist Website)
---
5/8erl In Ehr`n
Founded in 2006, 5/8erl in Ehr'n has developed its own musical style: "Viennese soul." The constellation of double bass, acoustic guitar, Wurlitzer, and accordion makes for a special timbre; the mix of jazz, soul, and blues for a unique flair. Since its debut album Es muss was wunderbares sein from about ten years ago, the group has played to sold-out audiences and garnered three Amadeus Austrian Music Awards. They are now presenting their fifth studio album, Duft der Männer. On their new tour, band members are all set on staging a rousing concert extravaganza. (Festival Calendar / Homepage)
---
Yasmo & Die Klangkantine
Yasmin Hafedh has secured her place among the most interesting and complex female MCs in the German-speaking region. One of the leading voices in poetry slams, she discovered her passion for this art form very early on; her interest in hip hop also led her to express herself through rap. The artist has performed for the past two years with a nine-member jazz band, Yasmo & die Klangkantine. In her raps, Yasmin Hafedh conveys her critical, yet clever take on life and social developments. After a number of singles and much-lauded festival performances, the ensemble has finally released a full-length oeuvre, a perfect symbiosis of hip hop and jazz. (Festival Calendar / Homepage)
---
Cafe Drechsler
Since the turn of this millennium, percussionist Alex Deutsch, bassist Oliver Steger, and saxophonist Ulrich Drechsler have developed their own idiosyncratic style of music. Their new album, "And NOW… Boogie!", is a unique blend of jazz, funk, soul, TripHop, BreakBeat, Drum'n Bass, Minimal & Detroit Techno, and much more. The ensemble garnered the 2005 Amadeus Award, Austria's most important music prize, in the jazz/blues/world music category. AND NOW: get up, put your shoes on, and BOOGIE! (Festival Calendar / Homepage)
---
Link: www.jazzsaalfelden.com
For further questions and details on Austrian acts, please contact:
Helge Hinteregger, +43-1-52104-61, hinteregger@musicaustria.at