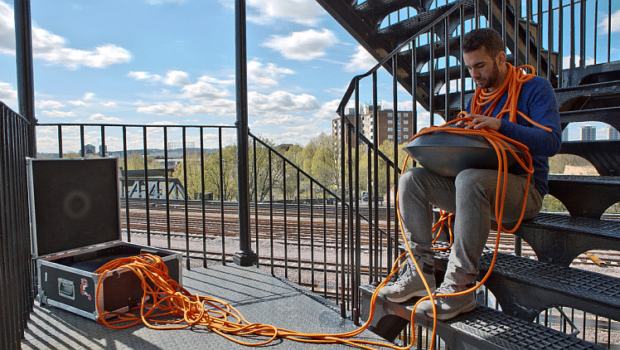 MANU DELAGO's recent release "Metromonk" has once again proven just what exceptional musical qualities he possesses. And he has done it in a very impressive manner. The Tyrol born and London based hang player has worked with international greats like BJÖRK, ANOUSHKA SHANKAR and THE CINEMATIC ORCHESTRA and toured across the entire globe. Before he heads to the US to perform at SXSW 2017, Michael Ternai spoke to him about the concept behind his new album, the things that he has learned the last couple of years and about his musical influences.
After listening to your new album "Metromonk", one gets the impression that this time you wanted to give your instrument, the hang, more room again. Is that the case?
Manu Delago: Yes, that's true. The hang really did move back more into the center. In any case more than on the two previous releases. But the difference is that this time I wanted to use it differently. This time I tried to find a different sound for every piece, a different effect or way of playing. Something I think I managed.
It was important to me to capture the feeling of a live performance and to make the music extra lively.
The amazing thing is that you accomplished that with very little electronics.
Manu Delago: There are electronic effects, but this time a lot of it happened through live processing. What I played went straight into the computer and was manipulated live and given an extra sound. I rarely recorded something and then programmed something in afterwards. In the end the recordings in studio were almost all live takes. It was important to me to capture the feeling of a live performance and to make the music extra lively.
You have been on tour with diverse acts quite a bit in the last few years. When did you find time to write and record an album?
Manu Delago: It's funny, but this album was made a lot faster than the two albums before it. Maybe because it wasn't really planned that way. But I didn't have the feeling that I needed to release an album because of any sort of time issues. I just had a lot of ideas that all sort of fit together. And then, at the beginning of the year, a window of time opened up that I could take advantage of. The rest of the work involved finding the right guest artists, which took a little bit of time.
One could almost say that the new album consists of two parts. At the beginning a calm part, and then a second part that moves more towards club music. What was the idea behind that?
Manu Delago: While I was writing the songs I had the idea of a vinyl album with two sides in my head. There is a calm side, and one that has more beats and stuff. Of course, there are numbers on the album that fall into a kind of grey area, but the structure of the album is based on these two parts.
With Eric Truffaz you were able to get a famous international artist to cooperate with. The two of you created the piece "Between Oil and Water".
Manu Delago: That song was originally conceived as a solo hang piece. But after I recorded the demo I had the feeling that it was missing an extra, cool, element. A nice supporting melody. And then I thought of Eric Truffaz. He was one of my heroes as a teenager. And then I just happened to meet him a few weeks later in London. I just asked him if he could imagine doing something with the piece. And since he liked what I do, he recorded the trumpet line.
Eric Truffaz is just one of the excellent guest musicians that contributed to "Metromonk". There is also the cellist and singer Isa Kurz, who has accompanied you now over a couple of years. And then there is Pete Josef and Douglas Dare, who both provided exceptional vocal performances. How and where did you meet these kind of people?
Manu Delago: I am one of those people who likes to collect ideas and write them down. If I hear a singer, or an instrumentalist, or a producer, that I like, I note down their names. And then, when I make an album, I get out the list of names and look to see who might fit to which song, who even has time and could do anything. I met Pete Josef a couple of months before the recording in Bristol. And it was like it was with Eric Truffaz. He liked my music and then added the vocals to the song "Step". Working together was pretty easy. I recorded the instrumental and sent it to him with some lyrics I had written to it. And then the first idea that he sent back to me was pretty much the end result.

With Douglas Dare it was a little different. I approached him more like a fan, I just really loved one of his last albums. So I then sent him an email and asked him if he could imagine doing a cooperation. Luckily he also liked what I do. And that is how the track "Abrupt" came about.
You are a musician who isn't afraid of experimentation. You aren't really the type concerned with writing something catchy.
Manu Delago: I think that's where my inner composer comes through. I could write something catchy and easy to hear that sells better. But that isn't enough for me. I always want to make something new for myself. I don't want to repeat myself. And in order to avoid that I frequently have to get more experimental. In the end I just let my personal taste decide. I just have to like the song.
I think I have been able to take a lot with me over the last couple of years, on very different levels.
If you look back, what do you think you have learned over the last couple of years from your touring?
Manu Delago: I have been lucky to be playing as a sideman for some very interesting projects. And that gives me the opportunity to learn something, whether it is from the artists, or the light, sound or video technicians who are working at the highest levels. There is a lot I can take from that. I think I have been able to take a lot with me over the last couple of years, on very different levels. When it comes to my own music I think I have developed quite a bit in the electronic area. During my studies I learned the craft of my instrument and composing. In the last few years I have delved more and more into the electronic world and immersed myself in the subject. And that mirrors itself in my music.
Which influences do you incorporate into your music? Are there any?
Manu Delago: I would be lying if I said that nothing influenced me. We are being influenced and manipulated 24 hours a day, from everything that one experiences and that surrounds us. Every song that we hear, every person we meet leaves an impression. In my case I have spent a lot of time the last couple of yours on tour as a sideman. You see and hear a lot of things that make you think "I wouldn't do it like that, but maybe in another form". And for me that is sort of an inspiration. And of course the acts I am on tour with – Björk, Anoushka Shankar and The Cinematic Orchestra – left an impression on me. But it isn't just that: the idea for the lyrics of the song "Step" came to me while hiking through the mountains.
Michael Ternai (adapted from the German by Dave Dempsey)
Manu Delago live
08.03. Camelot Lounge, Syndney (AUS)
09.03. Northcote Social Club, Northcote (AUS)
11.03. Port fairy Folk Festival, Port Fairy (AUS)
14.03. The Garden of Unearthly Delights, Adelaide (AUS)
16.03. St David's Historic Sanctuary, SXSW 2017, Austin (US)
19.03. Blue Whale, Los Angeles (US)
21.03. Le Poisson Rouge, New Rock (US)
29.03. The Hope & Ruin, Brighton (UK)
30.03. Islington Assembly Hall, London (UK)
31.03. St. John the Evangelist Church, Cardiff (UK)
01.04. Colston Hall, Bristol (UK)
03.04. The Stables, Milton Keys (UK)
04.04. Band on the Wall, Manchester (UK)
05.04. The Hug and Pint, Glasgow (UK)
06.04. Turner Sims Concert Hall, University of Southampton, Southampton (UK)
19.04. Palac Akropolis, Prague (CZ)
05.05. 1. Stock, Basel (CH)
06.05. Décal'quai, Montreux (CH)
07.05. Moods, Zürich (CH)
17.05. Kunstfestspiele Herrenhausen, Hannover (GER)