Within a few years MENT Ljubljana became a well-known showcase festival that music professionals like to visit year after year. Austrian Music Export spoke to the artistic director Andraž Kajzer about the crossover of culture and business, artists that stand out and the selection process of the festival and gathered some tips for artists who want to play at MENT Ljubljana.
Who was the very first Austrian artist that played at MENT Ljubljana? In your archive I found Manu Delago Handmade and Dorian Concept, who are both well known internationally today. How did you get in touch? Can you tell us ab bit more about the story behind?
Andraž Kajzer: You're right, the first three Austrian acts at MENT were Manu Delago Handmade, Dorian Concept and Elektro Guzzi. This was in 2015 and we were aware that we need to make the first edition as good as we can. And we were really lucky with the Austrian acts, we knew Elektro Guzzi from before – as they played Slovenia in the past and left the audience speechless but we knew we can try to offer them new experience and new audience as well. Dorian Concept was invited in collaboration with the rx:tx label from Slovenia who proposed the guest and we just could not say no. Manu Delago was more of a discovery through his manager Tom Tanzer who contacted us at the right time.
Are there any other specific Austrian acts that come to your mind when thinking about the festival?
Andraž Kajzer: Sure, I think Austrian popular music is really on the level and there are a lot of acts that are making both – great music and great concerts. Which is really important for the festival. I'm actually amazed by the quality and professionalism of Austrian acts. Leyya did a great job back in 2016, 5K HD were one of the highlights of MENT 2018. We had good experiences with Austrian guitars: White Miles, Mother's Cake and with clubbing as well: Austrian Apparel, Mieux etc. but my favourite story is with Sweet, Sweet Moon. After seeing his movie, I was chasing him for months. I tried his agent, label, They Shoot Music team, Waves Vienna… no answer. And after a few months he replied to me on Facebook: "Andraž, I would love to come." We had the whole movie play and afterwards he performed three songs. And he made quite a few people cry. No joke.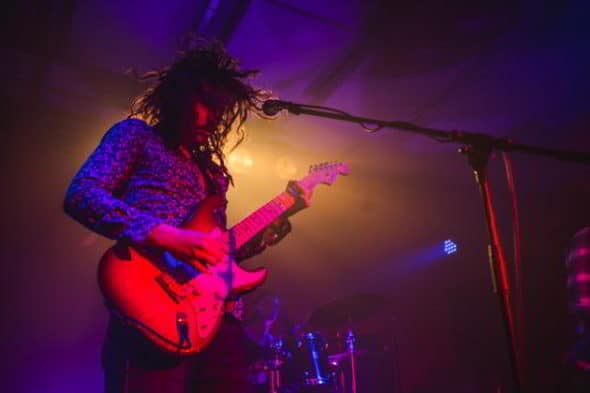 Why did Ljubljana need a music conference?
Andraž Kajzer: Our goal from the very beginning was to educate and inform the domestic scene and to connect with other scenes in Europe. A conference with a festival seemed like a great platform to start. It connects people, it creates loads of opportunities and it's fun as well.
MENT became quite successful within a few years. Did you have a specific festival in mind from which you could learn?
Andraž Kajzer: Sure, we learned a lot from all the festivals. It was also learning about what one should not do as well. As we were visiting showcase festivals before MENT and sometimes with bands, we wanted to change some of the things most of these events do – forgetting about the artist and the audience experience. We still learn from other festivals but not with one specific in mind. But from the very beginning we wanted to follow the model of paying fees like Waves Vienna does.
What were your concerns in the very first year?
Andraž Kajzer: Will it work? Will people come and see unknown bands? Will they understand this crossover of culture and business? No one in the team did a festival or a conference before, so it was a huge learning experience.
"Some say that MENT Ljubljana put Slovenia on the map of current music in Europe"
MENT was chosen as the "Best Indoor Festival" & "Best Small Festival" in 2017 by the European Festival Awards. What relevance does the festival have for the city of Ljubljana and the region?
Andraž Kajzer: Quite a few reviews state it's one of the most important showcase festivals in the CEE region. It seems we were lucky to combine the right elements. It attracts tourists in a month (February) that is usually not that popular as well. And of course a lot of delegates stay for an extra night or two. The city and the country were very supportive right from the start. Some say we put Slovenia on the map of current music in Europe.
MENT Ljubljana takes place on several stages spread throughout the city. What are the positive effects of that large scale? Are there also negative effects? It´s usually deep deep winter in the beginning of February…
Andraž Kajzer: This year we had 17 stages but we don't use all of them at once and we try to programme in a way that most venues are full at the right time. This means it's all doable for a visitor. Of course it's not the easiest month and we usually experience at least some snow but with some preparation, it works.
Let´s talk about the conference. Who are your most important partners? When do you start to plan the topics?
Andraž Kajzer: The conference is co-produced by SIGIC (Slovene Music Information Centre) and we try to offer the right topics and insights having in mind our audience consists of local and regional professionals on all levels as well as professionals from all over Europe and beyond. We started the brainstorm work on the conference already. Current findings include more focus on the region, more possibilities to network and more lectures or interviews opposite to big panels where the focus usually gets lost.
Is there anybody you would love to invite as a conference speaker for future festivals?
Andraž Kajzer: Sure, we were trying to get Kim Gordon, Brian Eno, David Byrne, Anthony Fantano (The Needle Drop), Brian Message (manager of Radiohead) etc. On the other side, we're trying to dig deep in to the east and get the best info on stories and people in the business over there.
As far as I know each year around 1500 bands from CEE apply to play at MENT. How does a band qualify to perform or showcase at MENT? What are you looking for?
Andraž Kajzer: Actually it's 1500 bands from all over Europe. And of course we work with agencies as well and see a lot of gigs during the year. We're looking for artists that stand out. That have the guts to go to the edge and back. That try to explore unique sounds and create their own. Artists that make great music and great concerts. Artists that are ready for export, artists that you will remember.
How is the selection process organized? Any tips or Dos & Don´ts for bands who want to apply?
Andraž Kajzer: Chaotically! I'm going through all the bands. I do it pretty much every day. Even when the applications are not open, I'm exploring media, blogs, forums, the internet etc. Gigmit has a star system we like to use. If the band has something I give them more than one star. Our assistant Eva Kristina joins in later and gives her amount of stars to all the bands. If we both give only one star, this means we have to say goodbye to the act. And all the other artists go into the second round of listening, exploring, watching etc. We then try to find the right balance of genres and countries. Venues and number of slots play an important role as well.
As for "Dos": make everything the best you can, leave as much info as possible and keep in mind we love live footage the most. This really is an important part of info. As for "Don´ts": don't apply and then send an e-mail. Don't be offended if you're not invited and check on us if we really listened to your band. We really give our best to check everything properly. If we wouldn't do so, why have an open application?
Are there any specific plans for future? What can one expect for 2020?
Andraž Kajzer: I think we're really satisfied with the size of the festival. It seems it works for the artists, professionals and the audience. We try new things every year like new locations, partnerships etc. And of course expect the best new bands from all over Europe.
Thank you very much!
Ruth Ranacher
---
MENT Ljubljana welcomes European artists with previous concert experience and publicly available audio and video material for its sixth edition (5–7 Feb 2020). Applications for artists are available for free through Gigmit until 8th August 2019. Applications for music professionals are open as well until 4th October 2019.
Links:
Ment Ljubljana, Feb 5-7, 2020
Apply to play!