The MÜNSTERLAND FESTIVAL presents music and art at great venues in the Münsterland region every two years, bringing us up to fall 2021. This year has a special guest: AUSTRIA. Lively, versatile, exciting: this is what the program of the Münsterland Festival, Part 11, under the motto "Alpine Sounds without Altitude," promises to be. From October 8th to November 6th, the festival invites audience members to music, art and dialogues throughout the Münsterland region, this time with Austria as guest country, and, as such, featuring some of the best musicians from the country.
MÜNSTERLAND FESTIVAL PART 11: ALPINE SOUNDS WITHOUT ALTITUDE
The music and culture of Austria is the focus of the Münsterland Festival Part 11. From October 8 to November 6, 2021, the festival team of Münsterland invites us to more than 40 events at beautiful and exciting locations in Münsterland, this time with the Alpine country as guest.
For more than four weeks, artists from the fields of music, visual arts and, for the first time, dance and magic will be guests in more than 30 locations throughout Münsterland, inviting you to listen, marvel and enjoy.
MUSIC: JAZZ, POP, CLASSICAL AND TRADITIONAL
The Austrian music scene has experienced a real upswing in recent years. This is also reflected in the increased international interest in music from Austria – across all genres. Following in the footsteps of such legends as Falco or Joe Zawinul, a self-confident young generation of musicians has emerged, giving free rein to their creativity with their own ideas and thus conquering concert stages throughout Europe.
With its guest country Austria, the Münsterland Festival Part 11 offers an excellent opportunity to get an idea of the diversity and quality of music from Austria.
---
Austrian Acts at Münsterland Part 11
Casual, elegant, classic, powerful: Donauwellenreiter fascinates their audience on October 8, 2021 at the Kulturgut Haus Nottbeck with a sound full of poetic radiance.
The Carinthian duo [:klak:] presents an acoustic adventure at the Münsterland Festival on October 9, 2021 at the Stadtmuseum Bocholt.
The highly musical multi-talent Lukas Lauermann will be a guest at the Münsterland Festival at Haus Visbeck in Dülmen on October 9, 2021.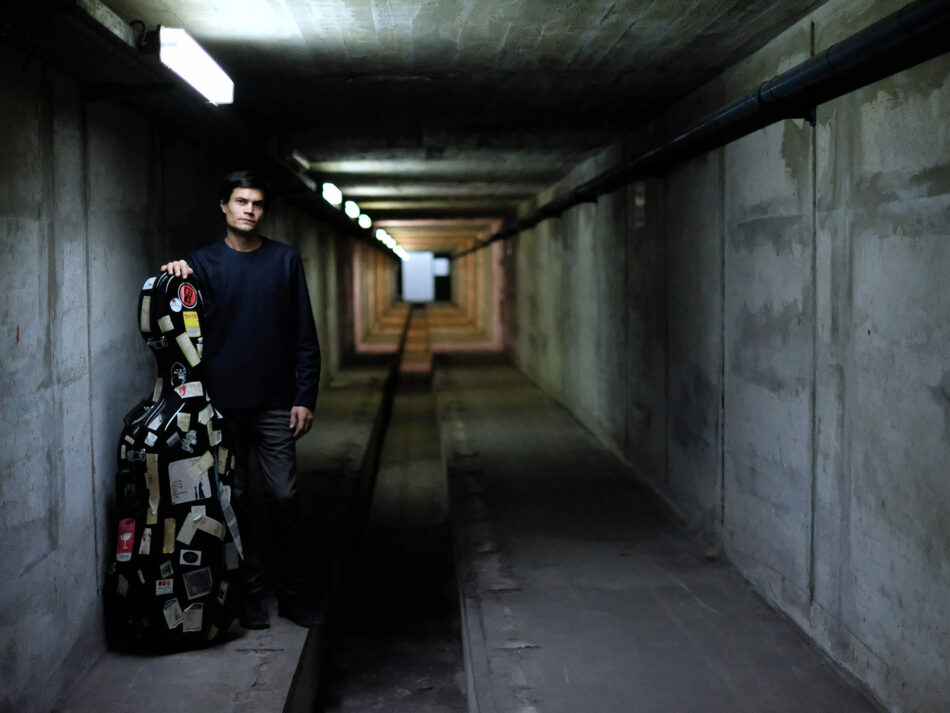 This sensitive singer-songwriter pop from OSKA completely captivates you, even at a discreet volume. On October 10, 2021, the musician will be a guest at Schloss Senden.
Schirmer & Berger
Cheeky, ironic and multifaceted, Wolfram Berger and Markus Schirmer will present themselves on October 10, 2021 at the Münsterland Festival in the Bagno Concert Gallery in Steinfurt.
The band 5K HD will perform at the LWL Museum of Art and Culture in Münster on October 13, 2021, presenting futuristic sounds – all unplugged.
Hang player & percussionist Manu Delago presents his first solo audiovisual program, "Environ Me," at Burg Vischering on October 14, 2021.
SpaemanN & Bakanic
Marie Spaemann and Christian Bakanic will perform on October 16 at FARB in Borken, offering a performance ranging from atmospheric timbres to groovy basslines.
The Viennese singer-songwriter Sigrid Horn will be a guest with her trio at Burg Hülshoff on October 17, 2021, and her socially critical songs will provoke reflection.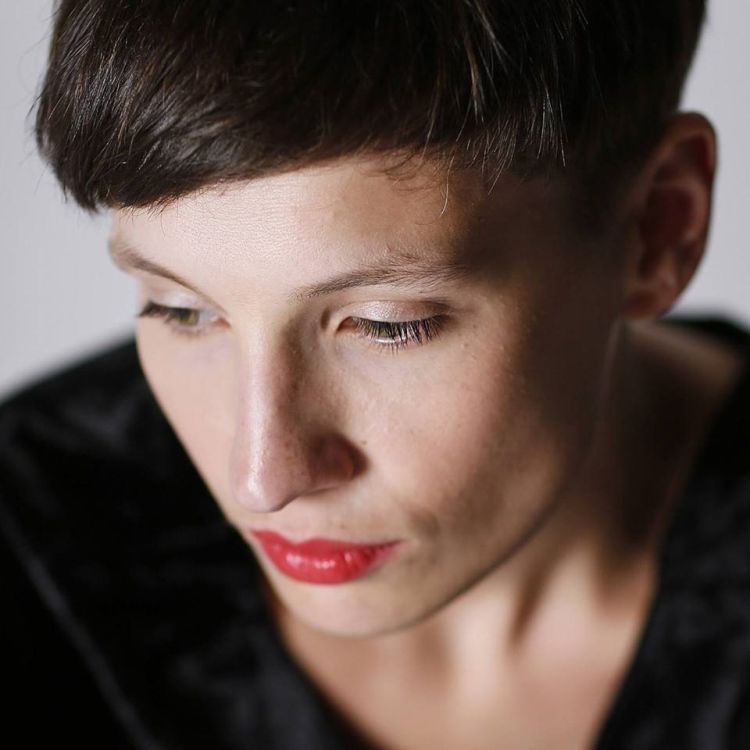 Neue Wiener Concert Schrammeln
The Neue Wiener Concert Schrammeln present the sound of Vienna, repackaged. On October 17, 2021 they will be guests at Nordkirchen Castle.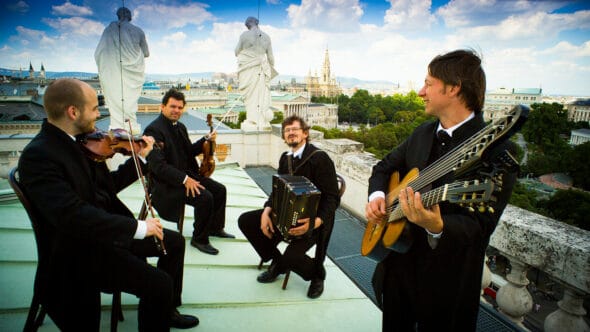 radio.string.quartet
The radio.string.quartet has its roots in classical music, but its music reaches much further. The quartet will be a guest at Stroetmanns Fabrik in Emsdetten on October 19, 2021.
The Viennese world music trio Cobario will perform at Schloss Sythen on October 20. Be there when the Austrians present their sixth studio album.
AVEC offers a unique performance of catchy melodies at the Münsterland Festival at Theater Münster on October 22, 2021.
LYLIT will be at the Münsterland Festival at the rock'n'popmuseum in Gronau on October 23, 2021, enchanting the audience with music full of emotion.
Paier-Valcic-Preinfalk
Das Trio Paier-Valcic-Preinfalk tritt am 24. Oktober 2021 im Haus Siekmann in Sendenhorst auf und präsentiert Jazz, Weltmusik und Klassik auf höchstem Niveau.
The duo Die Strottern will surely win over the audience on October 24, 2021 in Stift Asbeck with the Viennese song as an unmistakable expression of the attitude to life of the city of Vienna.
With this trio around the musician David Helbock it's impressive, versatile and never boring. You can experience this instrumental masterpiece on October 28, 2021 in Schulze Frenkings Hof in Nottuln.
FYRM
With FYRM, the pubilcum will enjoy modern jazz, romanticism and free improvisation on October 29, 2021 at the Herrenhaus Harkotten in Sassenberg.
MoZuluArt
Traditional Zulu sounds merge with classical Mozart compositions: The result is MoZuluArt. Their performance is on October 29, 2021 in the Peace Chapel.
The Duo
Sinfonia de Carnaval
will be guests at the Relígio in Telgte on October 30, 2021 and will take you to unique worlds of sound.
Kalnein López Schwarz
The trio Kalnein López Schwarz shows on October 31 at the Museum Abbey Liesborn in Wadersloh how jazz lives from the immediacy of a moment.
The band
Purple is the Color
will perform at DA, Kunsthaus Kloster Gravenhorst on October 31, 2021. A musical spectacle with elegant jazz.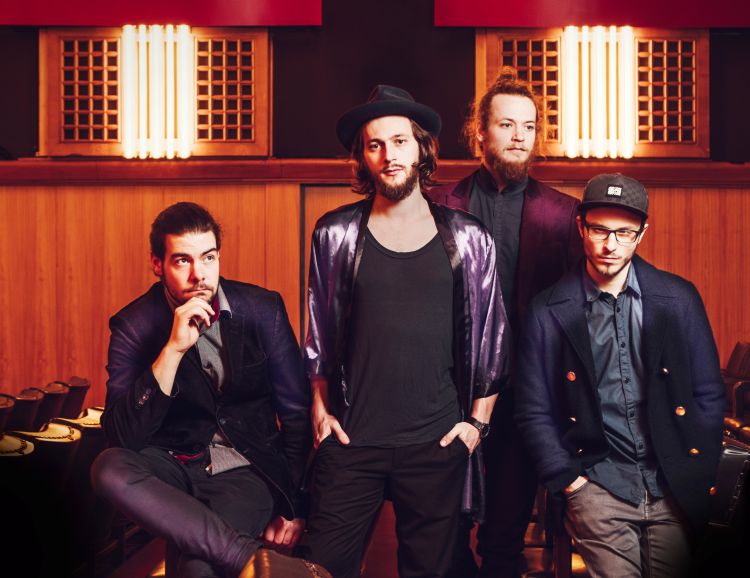 Muthspiel & Gansch
Wolfgang Muthspiel and Thomas Gansch promise a virtuoso summit meeting with humor at the concert on November 2, 2021 at the GBS Cultural Center in Greven.
With Marina & The Kats, the audience will enjoy an energetic show on November 3, 2021 at the Grothues in Everswinkel that will make you want to swing along.
In the sound spheres between pop, R&B and future soul, ELIS NOA will present songs full of intimacy and depth on November 5, 2021.
Shake Stew will play at the end of the eleventh festival edition on November 6, 2021 at Burg Vischering. There they present a mix of Afrobeats and ecstatic sound eruptions.
---
The extensive program of events, which started in 2005, is deliberately not only in the large event halls and museums of the region, but always chooses special locations; for example, historic moated castles former industrial wastelands, exhibition halls, art locations, and special concert halls or theaters. The musical focus is on jazz, pop, traditional and classical music, and is supplemented by exhibitions, talks and excursions.
For the full program and ticketing info, go to the festival website.
Austrian Music Export is a proud partner of the Münsterland Festival 2021.