Check out some of the latest albums popping their musical buds out of the ever-fertile AUSTRIAN JAZZ soil. Whether the acts are new to you, or already on your list of faves, take a listen to some recent top-notch releases from the jazz world!
---
JUNE IN OCTOBER – "My Feet On Solid Ground"
An artfully designed and extremely atmospheric sound – somewhere between pop and chamber music – that invites you to immerse yourself in it and let yourself dream. This is exactly what JUDITH FERSTL and her quartet JUNE IN OCTOBER have created on their album "My Feet On Solid Ground" (Session Work Records).
The four musicians are masters of the soft and gentle approach, as well as the energetic one, and know how to create exciting and constantly intensifying arcs, which finally find their expression in captivating songs. A highly interesting and touching listening experience from the first to the last second.
---
EDITH LETTNER & BEATE REIERMANN – "Travel Diaries"
Saxophonist EDITH LETTNER and guitarist BEATE REIERMANN embark on an exciting musical journey around the world on their album "Travel Diaries" (Preiser Records). Two musicians meet, who have traveled widely in the world, and were co-founders or part of numerous international music projects. In their pieces, elements from African, Latin American and Spanish music, as well as sounds and rhythms from the Middle East, Anatolia and the Caucasus, resound again and again, developing their very own life in the context of jazz. It is a pleasure to listen through the tracks, as they know how to keep listeners' interest with the accents and surprises they incorporate throughout.
---
SYNESTHETIC IVO – "LIVE AT KALLMANBOOM"
A wonderfully weird and highly individual touch spanning various stylistic stances: VINCENT PONGRACZ aka SYNESTHETIC IVO, lets music explode out of the ordinary in a fresh and unique way on "Live at Kallmanboom". On his solo debut, things occur a little differently: the playful sound, the tricky rhythms, the Dadaist-inspired artistic language invented by the artist, the song structures, somehow everything falls a little out of the conventional framework, and yet, an unmistakable musical character emerges, which prompts a more intensive examination.
On "Live at Kallmanboom" the clarinettist and composer, who originally comes from jazz, realizes a sound that interweaves elements of the most diverse stylistic directions. Hip-hop meets improvisational jazz and experimental club sounds, plus a pinch of new music and the aforementioned unusual use of language. The result is an album that cannot be precisely assigned to any category. But it is exactly this indefinability and musical peculiarity that gives Synesthetic IVO its tension.
---
MICHAEL WEDENIG – "Sequence | Consequence"
A sound that dances out of line, in terms of sound, rhythm and style – on his new album "Sequence | Consequence", MICHAEL WEDENIG embarks on a gripping journey that takes him into other musical dimensions. The album is the result of one big experiment, of lots of attempts to get something special out of sounds and tones. And yet, in the end, there is something very musical, inherent in the tracks – an accessible, spherical and dreamy sound that creates an immense amount of feeling, and invites you to sit back and let what is presented take effect.
---
REINHARDT WINKLER – "Let's Face The Music"
Classics of jazz reinterpreted in a decidedly atmospheric and elegantly floating tone – Austrian drummer and composer REINHARDT WINKLER, together with his band, excellently demonstrates how to make already known songs shine in a new light on his new album "Let's Face The Music" (Challenge Records). Among these are "Don't be that way", "Mr. Bojangles" and "Beatrice". What makes his new album really special is the way Reinhardt Winkler and his top-class band approach the compositions, and with what playfulness and emotionality.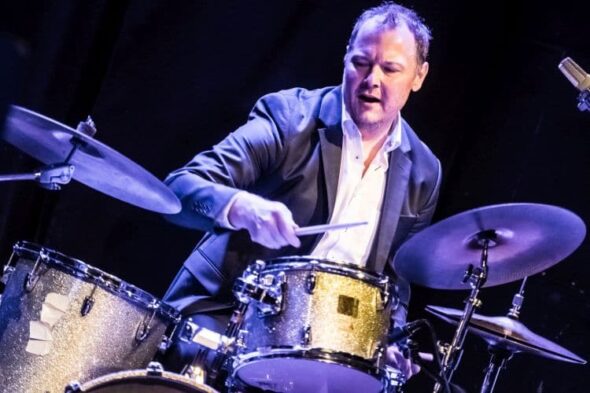 Michael Ternai
---
Links: 
Translated from the original articles in German by Arianna Fleur:
SYNESTHETIC IVO – "Live at Kallmanboom"
JUNE IN OCTOBER – "My Feet On Solid Ground"
MICHAEL WEDENIG – "Sequence | Consequence"
EDITH LETTNER & BEATE REIERMANN – "Travel Diaries"