Producer, DJ and media artist Zora Jones has travelled continents, moving from city to city. Jones grew up in Austria and moved to Barcelona at the age of 19, where she started DJing. Currently she is based in Montréal, where she's operating the creative hub "Fractal Fantasy" together with fellow musician Sinjin Hawke. "Fractal Fantasy" was launched in 2013 as label and platform for interactive music clips and VR projects. In 2015 her debut-EP "100 Ladies" was released, followed by various collaborative projects. With her debut-LP, "10 Billion Angels" released in October this year, the musician is continuing her style, featuring elements from across the Footwork, Juke, Trap and the UK bass spectrum, including autotuned vocals and a glossy, polished sound design. Shilla Strelka talks to the producer about community, her gig at the virtual edition of Unsound Festival and her interactive videoclips.
Your debut-EP was titled "100 Ladies", referring to the 100 tracks that you created before actually releasing something. I guess you worked so hard that it added up to the 10 billion in the title of your debut-LP now?
Zora Jones: Yes, the more music you make, the more you learn and the more you improve, naturally. I worked on my album over the course of four years, so my sound and style definitely developed a lot over that time.
Your visuals and sounds are hyperreal, yet still they bear a personal component. We can sense a certain tenderness even through your strongly processed voice.
Zora Jones: Thank you so much!
What's interesting is that you manage to create a sort of alien subjectivity, one that is still able to transport feelings. In tracks like 'Paranoid' or 'Melancholy Princess' it's like some cyborg entity is reflecting on its fears and desires. How would you describe the relation between human emotions and this kind of post-human entity that you create through those artificial sounds?
Zora Jones: I actually didn't try to create a post-human entity by manipulating my voice, I was rather using technological tools available to me to play with my vocals. I'm primarily a producer, so I don't need to use the "preset patch" of my voice – to me it's just like any other instrument that I can play with and explore.
I think the human voice still evokes emotion even in processed form. Our brains have an incredible ability to recognize vocals, which is why human voices can create strong emotional connection when they're used in songs.
"I think community is more important than we realise"
You have been working together with Sinjin Hawke for many years – you created your own creative hub with Fractal Fantasy and released the album "Vicious Circles" together in 2018. Apart from collaborating with him, you met and worked with a good bunch of influential artists like DJ Rashad, DJ Taye or Jlin. How important is this community of artists to you? Does it feel like a community?
Zora Jones: I think community is more important than we realise. When my friends send me snippet of a song they're working on or release an amazing album, I get inspired and motivated. Sharing music is also so important – DJ Rashad gave us a folder of unreleased tracks in 2010 that I still listen or refer to at least every two months. I think with the underground music industry becoming more "mainstream" and more of a business everything changed quite a bit, but I still have a great group of friends that forms my community.
Futuristic ideas, sci-fi and cyberspace is very basic to your project "Fractal Fantasy". We are invited to experience VR-worlds and interactive music clips. You manage to create an alternative universe, where sounds and visuals relate to each other. What sparked your interest in this transmedia approach? Why was it a logic step for you to think outside the box and connect different artistic languages?
Zora Jones: I'd say "Fractal Fantasy" is more "anti-retro" than futuristic – trying to create with relevant media, not dwelling in the past. Sinjin and I are both very visual people and interested in new technologies, so we're always trying to create things we haven't seen or heard in this form before, which is probably why we were enticed to explore music and visuals together.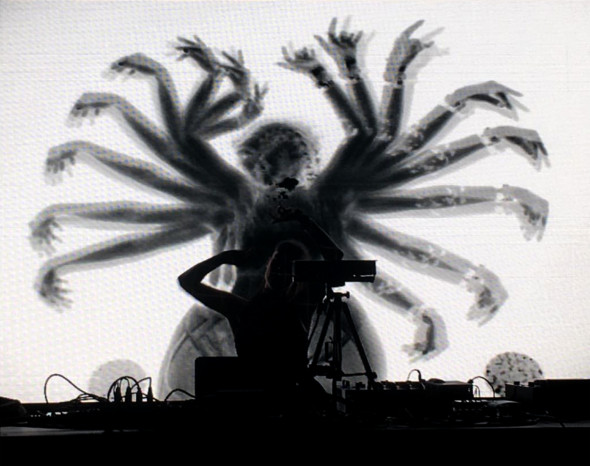 Your new record can be called post-genre, as it fluidly collects sound and rhythm signatures of various styles, developing your own vocabulary. It's a vibrant mixture and a certain pop appeal. You think moving a lot (Barcelona, London, Montreal), living nomadically to some extent, had an impact on your style, or are you only living and are influenced by the internet and our digital surroundings?
Zora Jones: My music is an amalgamation of internalized life experiences that I draw from. For example, I never think "this track was inspired by a walk in London" but there might be something that subconsciously influences me from London that might make its way into a song… but the process is mostly just me zoning into my computer getting into a flow state, what comes out is not really pre-meditated.
As you mentioned in your press text, the visual identity of "10 Billion Angels" refers to 3D-tentacle porn. Each track comes with an interactive video, all shiny, hyper-polished, with a virtual anime character multiplied, floating in space like Andy Warhol's "Silver Clouds". How did you develop the concept behind it and who is responsible for realising it?
Zora Jones: Yes, the visual is inspired by 3D tentacle erotica. Sinjin and I are working on a Fractal Fantasy video game, and a few years ago we started researching video game characters. During the research I stumbled across some eroge video games and loved the whole customizable aspect of it, and through that I discovered the modder community around it. I was fascinated by the dedication and creativity of the modders, especially in the tentacle porn subgenre. CGI allows you to defy physical rules and tentacle erotica really lets you explore that, so I was enticed to make my own version of it. During lockdown I learned how to use Blender and collaborated on the visual with Louis TB – Sinjin and I work on every visual on "Fractal Fantasy", it would be impossible to execute our vision without getting our hands dirty.
Your shows and videos are interactive, also your role as a musician is expanded as your movements are tracked, turning you into a dancer at points. What's the story behind that? Why is hiding behind a laptop, playing samples not an option for you? You've DJed a lot, and thus have often strongly interacted with the crowd. Is this 'connective' approach part of your understanding of a live show?
Zora Jones: The creation of the AV Live involved a lot of experimentation and like you said, a big component of the show is its interactive visual: it made sense to explore my body and movements in it and to incorporate that into the show. The less screens or objects you have between yourself and the audience, the better the connection will be. I'd love to eventually get rid of the table and minimize the set up to its most important components.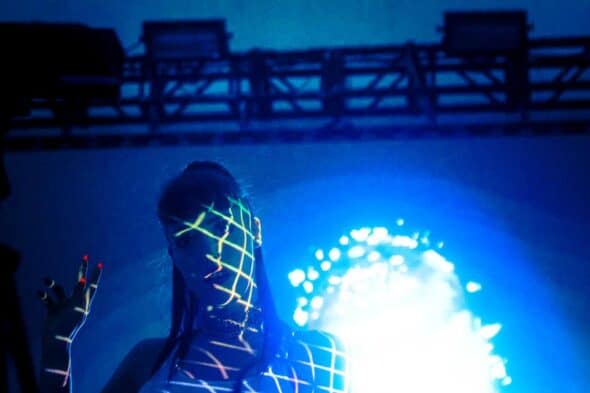 That makes especially sense right now as clubs are forced to resort to the digital world. The work you are going to present together with Sinjin at Unsound – was it a commissioned work especially for this edition? Could you explain a bit what we can expect?
Zora Jones: dreamRooms;(), the performance at Unsound this year, is a collection of experiments we've made in lockdown while building our new AV live set.
You grew up in Austria and moved to Barcelona still a teenager. There you began DJing. How often do you return to Austria and what were the reasons you never thought of returning?
Zora Jones: I return to Carinthia roughly once a year to visit my mom … I lived in Austria for the majority of my life and the world is quite big, I still haven't seen all of it so there's still a lot left to explore! Living and travelling in different countries expands your view on life and your surroundings, which I enjoy and I think is really important. I learned a lot on my travels in the past years.
Thanks for the interview!
Shilla Strelka
Links:
Zora Jones (Facebook)
Zora Jones (Instagram)
Fractal Fantasy