Austrian artist, OSKA has been nominated for the MUSIC MOVES EUROPE AWARDS (MME) 2023! The MME Awards are the European Union prizes for popular and contemporary music that celebrate the emerging artists who represent the European sound of today and tomorrow. OSKA is one of 15 nominated artists and is eligible to win one of 7 Music Moves Europe Awards to be presented at the Awards Ceremony on 19 January, 2023 at the Eurosonic Noorderslag (ESNS) festival.
OSKA
Growing up in a small village in Lower Austria, OSKA moved to Vienna at 18 to study her first love: music. She started busking in streets and squares of the capital while also studying pop and jazz singing. She signed to Nettwerk in 2020 and released her debut EP Honeymoon Phase to critical acclaim. The five songs on the album have amassed more than 4 million Spotify streams and won her the XA Music Export Award at Waves Vienna Festival 2020.
In 2022, OSKA unveiled her debut full-length album, "My world, My love, Paris". 
"For so many years making my first album was the biggest thing in the world to me. That's probably also why it took me so long to make it. I always wanted it to be special and at times was scared that I wouldn't like it five years from now or that I couldn't identify with the music some time after the release."
History, family, and legacy are touchstones of OSKA's music. Legacy can mean different things to different people. For some, legacy is simply about blood ties. For others, it's about making positive decisions that will impact future generations. For OSKA, legacy is about both of these things. It's a theme that looms over her remarkable debut album, "My world, My love, Paris". Ultimately it serves as a snapshot of a young woman attempting to make sense of getting older in an increasingly uncertain era.
Public Choice Award – Vote!
For one of the awards, the power lies in your hands! VOTE for OSKA for the Public Choice Award via this link.
This link will stay online until 23:59 on January 6th, 2023. The artist with the most votes will become the winner of the Public Choice campaign and take home the prize!
THE EUROPEAN SOUND OF TODAY AND TOMORROW
The Music Moves Europe Awards is the European Union prize that celebrates the emerging artists who represent the European sound of today and tomorrow. Every year, outstanding emerging artists receive a Music Moves Europe Award in recognition of their international success. The nominees are selected through a process in which the data of the Music Moves Europe Charts is combined with recommendations from music professionals from all over Europe.
The award is organized by Eurosonic Noorderslag (ESNS) on behalf of the European Commission, as well as the host of the the awards ceremony on January 19, 2023.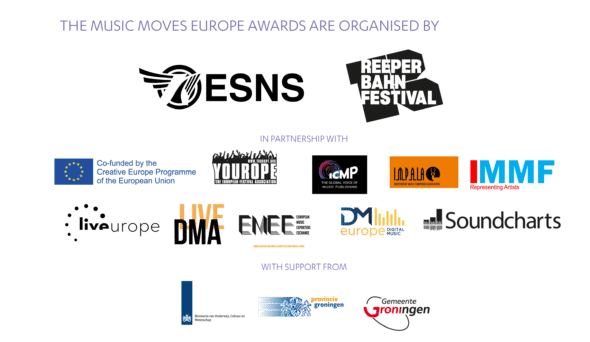 LINKS
Vote for OSKA for the Public Choice Award!