The photographic series by New York-based Austrian artist, HELGA TRAXLER, entitled "Passion Pays the Bill" picks up fragments of a variety of stories and careers in its depiction of eleven musicians in unique environments, chosen by the artists themselves. The series premiered at a solo exhibition in Linz at the Brucknerhaus in autumn 2022. But the show will go on… Traxler will continue the series into 2023 with a further selection of musicians. While we anxiously await what's in store, let's take a look at what has already come to life.
Passion Pays the Bill
The photographs shown in the exhibition play with those themes that often appear in free artistic work and have retained their relevance to this day: Intuition, self-doubt, esteem, stability and role models. "Passion Pays the Bill" picks up fragments of very different stories and careers and shows eleven musicians in an environment that was individually chosen by them. However, something unites the artists: their passion, their courage, their network, their stamina, as well as their talent and ability to make a living from their music. Excerpts from the conversations that took place between them and the photographer in the run-up to the photo shoot shed light on the parallels that still exist today with the great, often underestimated Anton Bruckner, who only gained attention and recognition late in life, while offering a glimpse behind the scenes of each individual personality.
something unites the artists: their passion, their courage, their network, their stamina, as well as their talent and ability to make a living from their music
In her portraits, the photographer uses the historical example of Anton Bruckner to show parallels to the present; she processes them in modern visual language and thus also develops connections to her own artistic activities.
The opening was accompanied by a DJ set by Linz musician and sound designer Abby Lee Tee – who is inspired by Bruckner's innovative spirit and his passion for improvisation, but who, in the continuity of his work, does not let expectations of classical music turn into a dogma.
The participating artists were given a stage, not only in the photographic works, but also in the musical setting during the opening, thus referring once again to their professional work.
The opening of the exhibition was on Sep. 20th, 2022, ending on the 9th of Oct., 2022.
The MUSICIANS
CLEO PANTHER
Jazz. Lives in Vienna and London.
Studied jazz singing in Vienna. For 8 years, she performed as lead singer with Parov Stelar.
Location: 14th district, Vienna
"At 30 I was ready to stand on the stages of the world. I've worked my whole life towards touring and performing internationally, I see that as my strength as well. I also identified very much with the familiar role as lead singer and then had to ask myself: what will be left of it when this reputation and stability breaks away? It was a long process to go and take the step into the solo career and into the big open. The new EP is a processing and reflection of this intense time. I knew that this big decision would tear a hole in my life at the beginning, but I made it consciously. The birth of my son has motivated and focused me extremely."
MARINA ZETTL
Indie-swing, lives in Lower Austria and Vienna.
Lead singer of the band Marina & The Kats. Studied jazz singing in Graz.
Location: 14th district, Vienna
"In my early days, I tried classical piano and thus tried to realize my dad's dream – he would have loved to become a musician. I only found my way to singing later. You have to grow a thick skin to be able to ignore a lot of things on stage. As soon as you're in the public eye in any form, you expose yourself to evaluation. Because of my height, people have always – without my consent – put their arm around my shoulders or told me how cute, small and sweet I am. You don't want to hear something like that as a grown woman. Setting boundaries is very important. The audience doesn't care if you're doing well or not – they want to have a nice evening and they hold you responsible for that. You have to function. The past 2 years of the pandemic have shown me what I still have to say as a singer, and to no longer be afraid of not living up to my own standards, as well as others'. I have never questioned my profession over the past 17 years of self-employment. If you know what you want and only want that, then it also works and you can build on that and have faith in it".
RACHELLE JEANTY
Singer, percussion player, mediator. Lives in Berlin and Vienna.
Location: 14th district, Vienna
"I often remember my father's words, 'Carry it with dignity and don't stoop to the level of those who don't respect you and your work.' There are two sides of me that make me live, survive and thrive: the creative artist and the entertainer. I started in the music business at 17 – now I'm 53.
Just when I took the step into my musical independence 15 years ago, I was cheated by my manager in the worst way, which made me doubt my role and my talent. But I kept going anyway. One thing I know for sure is that if the devil lives anywhere, it's in the music industry. In my mid-20s, I performed as a backup singer for Celine Dion on a world tour for two years. An interesting experience, but one that absolutely had to have an expiration date. I needed more life energy, more authenticity, less 'white corporate'. It was and is a challenging journey as a black woman. In 2022, it is still the case that I feel unsafe as a black person, especially in very traditional and conservative environments. Recently, I was physically humiliated on stage. Unfortunately, this is still part of my reality to this day. But: my music serves as therapy for me, and in my latest work, 'Break Free,' issues like sexism and racism are at the forefront. Because it's necessary, because it's enough."
MATTEO HAITZMANN
Violinist, performer, composer, lives in Berlin.
Studied jazz and baroque violin at the Anton Bruckner Private University in Linz. Studied solo/dance/authorship at the University of the Arts in Berlin. Part of the quintet Alma (folk music), solo artpop debut ("Those We Lost").
Location: Leogang, am Asitz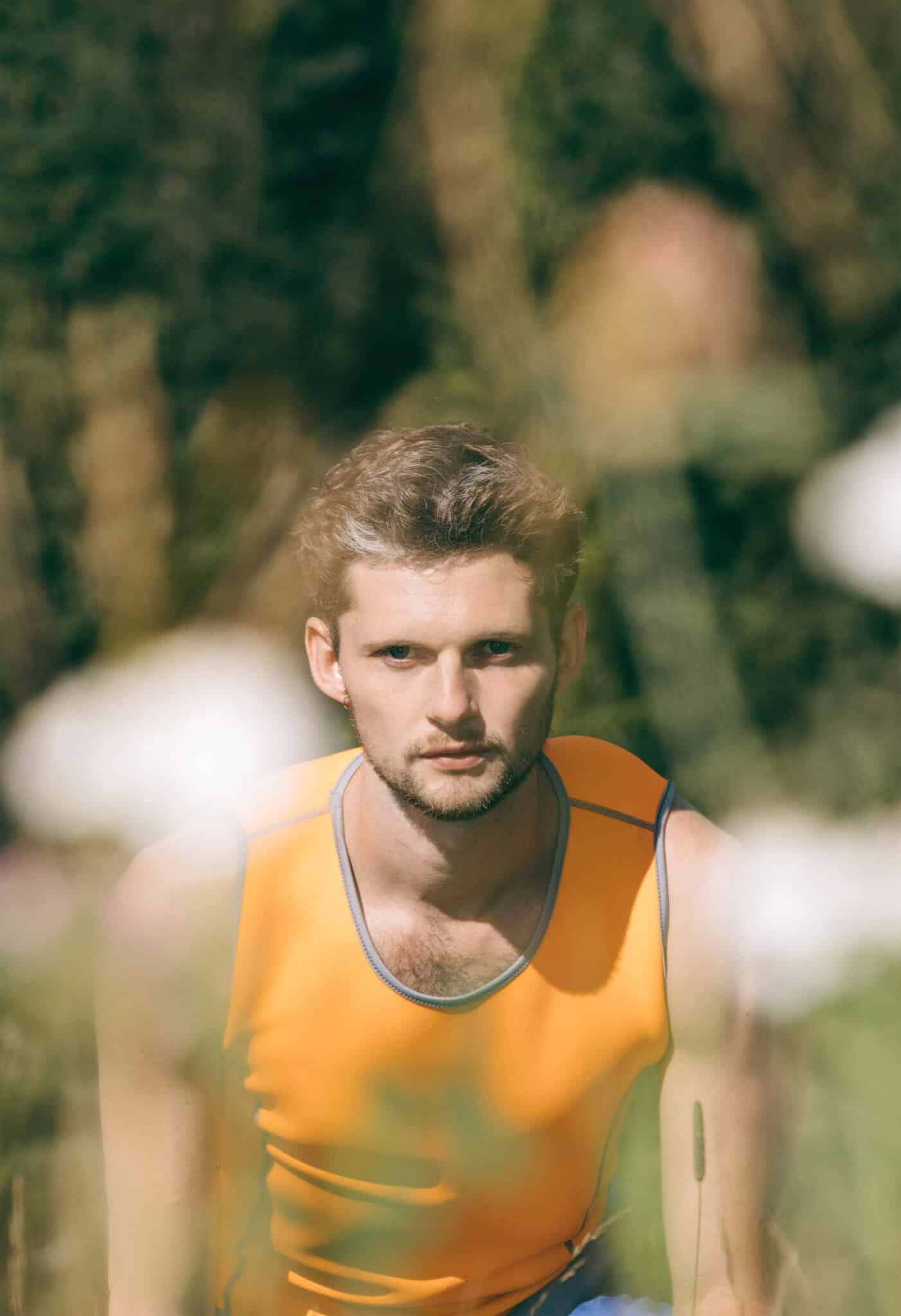 "My childhood and youth in Unken were strongly influenced by folk music and tradition. At 16, I decided to study violin. My father's reaction to this: 'But first you learn a safe profession'. I think as an artist you always feel a certain urge for validity, which goes hand in hand with the desire for recognition and the insecurity about your own artistic ability. To be able to work as a freelance artist in today's world, you have to manage the balancing act between honest aesthetics and authentic sound language, and at the same time find an interface between topics worthy of promotion and your own identity and interests. Simply making music is no longer enough for me in this day and age. You have to take a clear position, convey clear messages and try to reach people outside your own mindset. But nevertheless: finding an authentic (sound) language was and is always my top priority."
ED NEUMEISTER
Lives and works in New York and Vienna. Jazz trombone, modern classical with world music and some funk.
Composer, conductor, mentor and band leader. Studied classical music and has autodidactically approached jazz.
Location: Naschmarkt, Vienna
"When my parents told me that music was a nice hobby, but that I needed to work something decent to be able to afford to live, I saw this as even more incentive to just do my thing. My goal has always been to make a living from my music. I've been doing this for 40 years now and I'm lucky that there have only been a few phases where I've had to take on other day jobs. Of course, there have been the 'how do I pay my next rent' moments as well, but it's always been worth the effort and expense. I had the chance to play with Frank Sinatra, Ella Fitzgerald and Aretha Franklin. I recently turned 70, it's been a long road to get here, but music is my life – my whole life and I wouldn't do anything else looking back."
Vocalist, performer, composer and multi-instrumentalist. Lives in Vienna and Berlin. Studied biology in Canada and graduated in music in Vienna.
Location: Mumok Vienna
"I had two dreams – one was to become a singer and one was to become a vet. Music triumphed. During my studies in Vienna, I met a few singers who had their own unique style of music, and some of them were also able to make a living doing it. I found that extremely impressive and desirable, to sing outside of traditions and norms, to express a personal story, and to be the sole decision maker of one's own music and career. It was a long process for me to become that kind of musician. It took me almost 10 years to be able to make a regular income from my music so that I can make a living from it. Not to mention that the process of becoming in music itself, fortunately never ends. You definitely have to find methods and ways to learn to deal with uncertainty. Every year is a gamble. Just having a "roof over our heads" is so important. The privileges we have can't be taken for granted and need to be nurtured. These are the things you learn when you migrate and get out of your comfort zone. As a freelance musician, you have to be extremely flexible, willing to work under a lot of pressure and get involved in a wide variety of projects. The ability to survive all these years with what you create makes you stand out and visible to others. As an immigrant musician, that's been one of the biggest challenges – surviving, and making sure my music does, and gets recognition as something innovative and valuable."
Singer and composer. Lives and works in Vienna.
For 8 years, she was the singer of the Viennese electropop formation Bunny Lake. Since 2018, she performs under her own name.
Location: Studio, 2nd district, Vienna
"The transformation you go through when you become a mother is immense. Within a very short period of time you are a completely different person, but you are still seen by society as the 'before' one. That influences the creative process immensely. After Bunny Lake ended, I didn't have to compromise anymore, although it would have been so easy to keep the "Cash Cow" project going safely. I wanted more – didn't know where my solo project was going musically for a long time. Only the basic theme that the songs should reflect my life so far was clear. Learning to take the time you often need to be creatively productive is a luxury, but extremely important. It's the only way to constantly learn to rediscover the energy and relevance of your own work. I'm not a circus horse, and I only play on my terms."
GERD HERMANN ORTLER
Composer, Classical Music. Lives and works in Vienna.
Studied saxophone at the MUK in Vienna and composition at the University of Music and Performing Arts Graz.
Location: Roberto American Bar – Marco-d'Aviano, 1st district, Vienna
"Music is for most people something between myth, glorification and hobby. A living composer is especially exotic, but for me, on the contrary, the most natural and the only profession I wanted to take up. I consider it a great privilege to be able to make a living from my music and have learned in the last 13 years of self-employment that you grow not only with experience but also with your network. Your clients must absolutely want you – and above all value you and what you do. But beyond career considerations, the most important thing is to maintain your creative nature and let your inner child get up and play every day."
ABBY LEE TEE
Sound Design, Electronic Music, Field Recording. Lives and works in Linz.
Started an apprenticeship as a bookseller and then dedicated himself to music.
Location: a beaver habitat near Sandl, Upper Austria.
"You can usually find a way to pursue your passion even with little means. However, to earn enough money with it, it takes a lot of time and without privileges and support, even in a rich country like Austria, many 'dry spells' are unfeasible. Also, the idea that quality prevails does not correspond to reality. Nevertheless, there are few things more fulfilling than dealing with sound worlds – especially the non-human, transient and unpredictable ones."
SABINE STIEGER
Austro Chanteuse. Lives and works in Vienna.
Studied jazz and popular singing at the Bruckner Conservatory in Linz.
Location: Kieswerk, St. Valentin/Upper Austria
"A concept is always stronger than any individual. I always try to be the best version of myself and not to twist myself. My music works because I never followed a trend. I've never tried to be hip and I've always worked in a niche, just like Bruckner did."
About Helga Traxler
Helga Traxler, born in 1984 in Freistadt/Upper Austria, completed her bachelor's degree in photography and graphic design at the Linz University of Art. She spent two semesters at the Faculty of Fine Arts in Lisbon before – back in Linz – completing her Master's degree in Visual Communication with a focus on photography in 2012. She is the mother of a young son and has been living and working as an independent photographer in Brooklyn/New York since 2012. Her work focuses mainly on portraiture and behind the scenes excerpts, blurring the lines between fashion and art. She often combines a playful and sensitive approach with great attention to detail and recognizable color schemes.
Traxler's work has been featured in publications such as New York Times T-Magazine, New York Magazine/TheCut, Die Zeit, Der Standard/Rondo, GQ Germany, Die Presse, and Falstaff as well as in a wide variety of solo and group exhibitions in Austria (Vienna, Linz), Portugal (Lisbon), and the United States (Washington DC, New York). Her clients include: New York Times, Rauschenberg Foundation, Chanel, Ryan McGinley Studios, Condé Nast Germany, Cartier, Pier59 Studios, Financial Times and many more. In 2010, she was awarded the Talent Scholarship in the category of Photography by the State of Upper Austria. The Gap listed her as one of the 20 Most Interesting Photographers in Austria and Culture Trip New York included her in their list of "10 Emerging NYC Photographers You Should Know".
PASSION PAYS THE BILL: Future Plans
Helga Traxler: "'Passion Pays the Bill' is the title of a solo exhibition at the Brucknerhaus that I curated, planned and implemented at the invitation of the Brucknerfest 2022 in Linz.
Working with the musicians portrayed and the feedback from visitors made me aware once again of how many interesting, creative figures there are, and that these many voices and faces should be heard and seen. A recurring theme in my conversations with the artists were parallels in the way they work and think, and the often precarious working conditions in the music business, and in the self-employed creative scene, which hardly seem to improve.
The Austrian music landscape has a lot to offer and it is a great interest of mine to photograph even more talents, and to present the pictures to the broader public."
Translated from the German original by Itta Francesca Ivellio-Vellin.